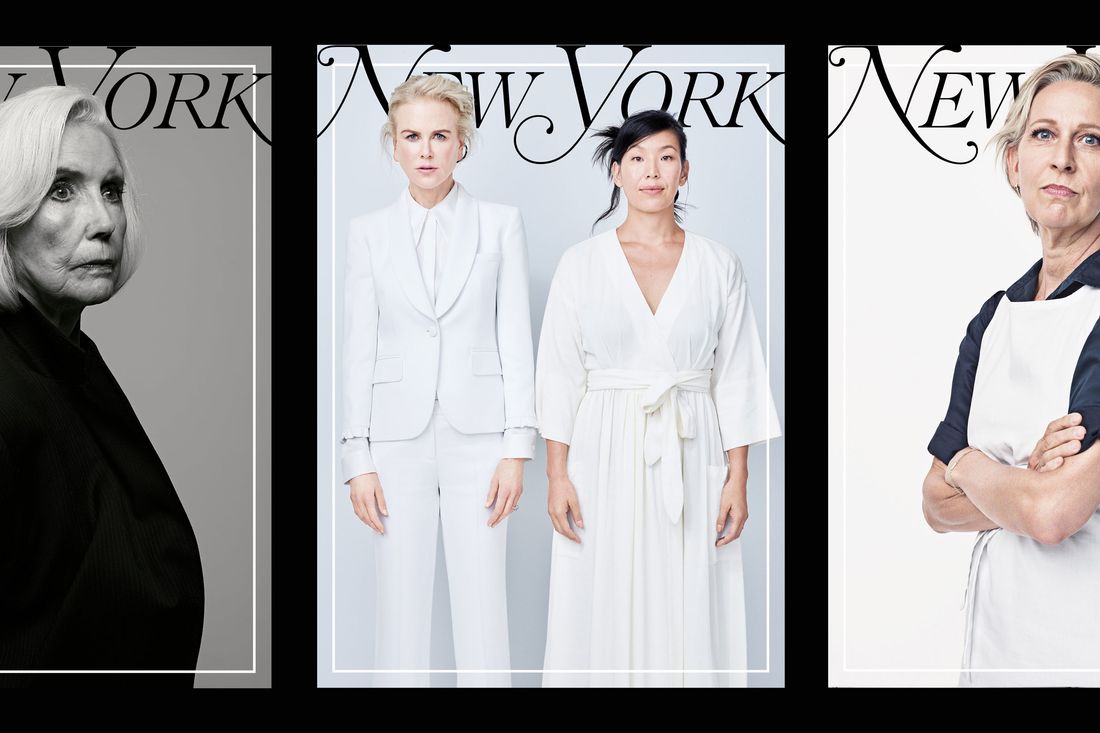 Women and Power isn't a series about women's empowerment. It's a series about women and their relationship to power — how they get it, how they lose it, how they wield it, what they sacrifice for it, and, ultimately, what they hope power will help them achieve. It's divided into four chapters that will be published on the Cut throughout the week. Click here to read more about the project and the women who participated.
Gabrielle Hamilton and Ashley Merriman Dreamed of Writing the Second Chapter in the #MeToo Story. Instead, They Got Scorched.
By Maggie Bullock
Job: Chefs at Prune
Awards: Hamilton is a four-time James Beard Award winner
For a Few Weeks: Hamilton and Merriman cheffed at the "ground zero" of restaurant sexual harassment, the Spotted Pig
At 11:30 on a weekday morning in late August, the chefs Gabrielle Hamilton and Ashley Merriman were both a little jumpy, though they expressed this at very different frequencies. Hamilton, who moves through the world with spring-loaded intensity, vigorously dissecting every exchange, was pinging around Prune, the 30-seat restaurant she planted here in the East Village 19 years ago this month. In between repositioning chairs and wiping up the odd overlooked spill, she fired questions at me: What exactly did I come here to ask? Where was I going to start? Easy stuff first or hard? (The two women agreed: Hard stuff first.) Merriman, meanwhile, looked as if her pilot light had momentarily flickered out. A miserable cold had reddened her eyes and fogged her voice, and standing there propped against her comfort zone — the counter of the open kitchen that she and Hamilton have co-captained for three years — she looked as if she were debating whether to stick around or go home and pull the covers over her head.
But restaurants don't do sick days. With magenta metal stools still up on the bar from last night's shift, the "Pruniverse," as Hamilton and Merriman lovingly refer to their place, reliably began to grind to life. A prepper, a porter, and members of the office crew filed in. Eventually, Merriman sat down and curled herself around a plate of spaghetti and meatballs that had been prepared for the staff's pre-service family meal. For Hamilton, there appeared a single, lovely pouf of chocolate soufflé — the efforts of an up-and-comer showing off his stuff for the boss. According to one fellow chef-owner, the thing we're observing here, this Pruniverse, "is a cult." To be clear, she says, that's a good thing. "You believe in Prune, you work for Prune. You live the Prune lifestyle. That's what every restaurateur wants: people who live and breathe the job."
If Merriman — who competed on Top Chef, cheffed at Butter, and ran the kitchen of the Waverly Inn — seemed hesitant, perhaps it's because her most recent interview, for the food-world site Eater in June, was eviscerated by a furious Twitter horde. Over the previous four months, Hamilton and Merriman had been called callous and cynical by their peers; Hamilton had been accused of "giving a hall pass to a predator" by a male colleague, no less, at a ritzy food festival for which she was assigned a bodyguard; their staff, Hamilton said, has been "ferreted out and yelled at"; the foreword she wrote to another chef's book was yanked before publication. Together, they'd been charged with setting back their industry, the #MeToo movement, and womankind in general.
[Read the Full Interview With Hamilton and Merriman Here]
Elizabeth Diller Killed the Phallus
By Miranda Purves
Job: Founding partner of Diller Scofidio + Renfro 
Was Named: The world's most influential architect by Time
Designed: A building made of water vapor on a lake in Switzerland
Architecture is about power — if power, at its most fundamental, is the ability to make people, time, and space move in accordance with your will. This particular form of power set the bedrock foundations of the patriarchy: Women make babies; men make cities. Thus, when someone other than a white-male guru enters this game, it's high risk.
Which is why it's not surprising that Elizabeth Diller, at 64 the tacit king of the firm Diller Scofidio + Renfro, is a master of diplomacy, an elegant evader of sticky political discourse. Realizing her visions — the High Line, the Broad museum in Los Angeles, Lincoln Center's reconfiguration — required gaining consensus and millions of dollars from the ruling class.
Still, it's infuriating, as well as sympathy inducing, to hear her claim that, in her ascent to become one of the globe's most sought-after architects, "I didn't feel any barriers. I can only say that maybe I'm the lucky beneficiary of the women's-lib movement that preceded me."
Is Diller speaking of the same profession from which Richard Meier just retired after five women accused him of harassment? The one in which a "Shitty Men in Architecture" list recently circulated, samizdat style, to a loud all-female chorus of "It's about time!"? Diller's "strong will and a healthy dose of naïveté," as she describes her career approach, was certainly a winning formula for her. As the 20th century morphed into the 21st, the "Bilbao effect" was the defining architectural influence. Frank Gehry's phallus-as-viewed-on-acid museum in Spain, completed in 1997, brought tourists in droves and spawned a decade of grand and grandiose museum expansions. But when the first section of the High Line was revealed, in 2009, the Bilbao suddenly went the way of the Gothic cathedral. The High Line, that gentle gash, radically reinvented urban institutions — and it did so by leveraging femininity. It's an aerial park with public art amid butterflies. Its fragility is its strength. Its lack of walls is what makes it feel private. As a reuse project, it's more progressive than any new buildings, which still follow the old, deadly egoism dictating that the future emerges only by destroying the past. The High Line's framing of local flora and fauna alongside cars rushing down Tenth Avenue persuades — never forces — us to reflect on what our carbon consumption costs.
Diller's current controversial expansion of MoMA, which (despite her best efforts, she says) involved tearing down a pleasingly accessible folk-art museum, looks more like what one expects from a big-deal architect. But at the same time, she's wielding her Establishment power to scale up the kind of experimental projects she and her husband, Ricardo Scofidio, specialized in when they started the firm, in 1981, and did things like plunking down 2,500 cones in Columbus Circle to demarcate traffic flow and calling it architecture. Diller and her firm created Moscow's first public park in 50 years; she co-created last week's free Mile-Long Opera on the High Line with David Lang, Claudia Rankine, and Anne Carson, featuring 1,000 singers, many from lower-income areas across the boroughs. "Power to me is being able to pursue where my curiosity leads me and to challenge myself to do something good in the world," she says.
She pauses. "I don't have to do anything for anyone that I don't want to do. That's really it in the end."
Nicole Kidman Married Tom Cruise for Love — and Got Protection
Job: Actress
Received Her First Academy Award Nomination: In 2002, for Moulin Rouge!
My power in the industry is being able to go, "Can we get this made?" And people saying, "We'll give you some money." And then I get to make the choices: "I want this person cast, I want this director." It's astounding when people listen. But I still don't have a lot of power. Destroyer was hard to get made. You have a female director, Karyn Kusama. You have me in a lead role as an avenging undercover cop who looks the way I look in that movie — not glamorous. It's about a very complicated, angry woman. People are not going, "We can't wait to make this film!"
Jane Campion was the first great mind to take an interest in me. She pulled me off a stage in a local theater where I was doing Sweet Bird of Youth,playing the princess at 14 years old — ridiculous! I just went on a hike with her, and one of the important things to emphasize — women helping women. We share … information, books, podcasts, ideas, tragedies. It's very different from networking, which sounds clinical. It's going, "I'm your safety net," or "I'm here if you need to vent."
As to whether a woman has ever held me back, I wouldn't know, because a lot of times it's insidious, right? But I'm from a family that's primarily female, so my ability to navigate relationships with women was set very early.
The first powerful decision I made in my life was buying an apartment at 19. I paid cash — I'd saved all my money. It was tiny, a studio on top of a sewing shop in Sydney. If everything went awry, I knew I had a floor to sleep on.
Being married to Tom Cruise at 22 is something I'm always reluctant to talk about, because I'm married now to the man who is my great love [Keith Urban], and it almost feels disrespectful.
That said, I got married very young, but it definitely wasn't power for me — it was protection. I married for love, but being married to an extremely powerful man kept me from being sexually harassed. I would work, but I was still very much cocooned. So when I came out of it at 32, 33, it's almost like I had to grow up.
Of course I've had #MeToo moments — since I was little! But do I want to expose them in an article? No. Do they come out in my work? Absolutely. I'm open and raw. I want to have my well of experience and emotion tapped into, used — and I'm not just talking about sexual harassment. I'm talking about loss, death, the full array of life. But it has to be by the right people so it's not abused again. I'm making a movie with Charlize Theron and Margot Robbie about Roger Ailes. [Kidman is playing Gretchen Carlson.]
Winning an Oscar for The Hours, in 2003, I didn't even notice the power then. I don't know if it's my self-esteem, but I still struggle to stand in that place and say, I've earned this. That's probably good, because it keeps me in a state of wonder and humility and going, Wow! You want me? —As told to Holly Millea
Lena Dunham Didn't See the Pitchforks Coming
Job: Writer and Executive Producer of HBO's Camping 
Her Girls Character Famously Said: "I think I may be the voice of my generation. Or, at least, a voice of a generation."
When I was little, I wasn't thinking I was going to be on this global, global stage. I did not have any sense of wanting the world to be mine, but once you start — once you make an independent film, which gets a slightly bigger independent film, which then gets you a job making television, which then has people recognizing you, which then has you going to parties where you're getting to chat with a range of iconic action stars or whatever — you're suddenly on the treadmill. It's taken me eight years to realize that stepping off the treadmill was not just okay but a wise thing to do. I just thought, It's moving, so I better keep moving with it.
I first realized I was powerful when I felt all of the outcry around my book. I was like, Why is this happening? I just wrote a little book about my feelings. I realized, Oh, no, I have a really big audience that cares very deeply about what I think. It was scary because it wasn't finding out I was powerful because suddenly I was being given a trilogy of feminist space movies; I was finding it out because people were mad and they were coming with pitchforks. Then probably a year after Girls, I was so sick [with endometriosis] but I was still having to feed the meter of my own career, and I thought, I'm willing to accept an eighth as much power for eight times more freedom.
I think my relationship to what I consider powerful has come back to what it initially was: If I can make a life making my work, if I can decide what I want my day to look like, that's everything. Hollywood tells you that goal, which is such a magical, mystical thing that very few people get to do, is not enough. —As told to Allison P. Davis
Pamela Liebman Rolled Her Eyes and Went to a Strip Club
Job: CEO of The Corcoran Group
Her Start: Was hired as a broker out of college
Dates Her Interest in Real Estate: To a childhood fascination with skyscrapers
I remember one time, oh my God, this business guy was like, "Come on, you're coming with me," and the next thing I know, he takes me to a strip club. I was like, Okay, if this is where you really want to go. We were trying to do a deal together, and so I just went along with it. Did I enjoy it? No. Did I ever go back? No. I did get the deal. I think, honestly, he didn't care so much about going there; I think he was testing me, to see how far he could push me. It was a power trip on his part. I thought, He's not going to scare me off. You've gotta figure out in those cases how to decide what's not okay.
On the other side, as a CEO, I've really tried to learn to be better at offhanded comments that people may take to heart and get crushed by. I might walk down the hall in my office and see somebody's not dressed appropriately and say something like, "What the hell? You thought those jeans were okay today?" To me, I said it in a way that they're not going to do that again, move on. I forget about it five seconds later. But to them, it lasts for a really long time. And even though I don't think I really mean anything by it, just the nature of my title makes my words more powerful. —As told to Jenna Marotta
­
Tammy Duckworth Says Damn Straight She Fights Like a Girl
By Rachael Combe
Job: Illinois Senator
On Donald Trump: "I swore an oath … not to mindlessly cater to the whims of 'Cadet Bone Spurs' and clap when he demands I clap."
Tammy Duckworth, senator from Illinois and Purple Heart–decorated Army helicopter pilot, is in the middle of a detailed rant about identity politics and discrimination, when she comes to a screeching halt. She blinks. She's blanked on a name. "God, he's my friend," she says, smacking her forehead. "I didn't get any sleep last night. I got in late from Illinois." Duckworth and her husband split their time between Chicago and D.C. "My older girl was watching My Little Pony on YouTube. Everything was calm, my husband was making dinner — then I looked over and she'd gone down the rabbit hole watching scary videos. She had nightmares until 3 a.m. — and then my 6-month-old started waking every hour."
"Mike Honda!" she proclaims triumphantly and barrels on to her point: Honda, the former California congressman, lived in a Japanese internment camp during World War II, and his perspective was vital during debates on, for example, Trump's Muslim travel ban. "Or think of McCain with torture. It's not identity politics. It's about lived experience."
As an Asian-American, female disabled veteran who was the first senator to give birth in office, Duckworth has had plenty of that. Motherhood has been one of her most eye-opening adventures. "Before I had my babies, I was fully supportive of breastfeeding, but I did not have insight on what it's like to have to pump breast milk in a public toilet stall. It spurred my legislation requiring airport lactation rooms," she says. "When I lobbied the Senate to change the rules so I could bring my baby on the floor for votes, Senator Blunt, the Republican chair of the Rules Committee, came forward and said, 'I'm gonna make it happen.' Roy Blunt?" She pauses and makes a who-woulda-thunk-it face. "But it turned out that he'd brought his young kids onto the floor of the House. He remembered how nice it was."
Duckworth lost both her legs in 2004 in an attack on her helicopter in Iraq; her husband later lost his job because he took too much time off during her recovery. This year, Duckworth didn't take maternity leave, because Senate rules require in-person votes with no exceptions for new mothers. Not surprisingly, paid-family-leave legislation is a high priority for her. "It's an economic loss," she says. "In the military, new mothers [often] have to report to duty after six weeks of leave — even six weeks after a Cesarean, even when they're stationed in Afghanistan — and they get out. It took a quarter of a million dollars to train one helicopter pilot in the 1990s — it's more now — so we're blowing that by telling the female pilot, 'Sorry, you have to choose.' "
Duckworth sees herself as someone able to translate progressive ideas for conservatives after her years spent in the male-dominated military. She also learned how to handle bullies, as when soldiers called her "Mommy Platoon Leader." She rolls her eyes. "Mommy. It was meant to be an insult, and I bought into it. I should've said, 'Yeah, I'm taking good care of my soldiers and it makes them more deadly. What's wrong with that?' But I was 25 or 30, hypersensitive, the first female commander of my unit," she says.
"Now I stand up. 'Damn straight I fight like a girl, and I'm going to beat you doing it.' "
Besides, as she will be the first to point out, being a real mother takes at least as much endurance as the military. "I was pumping breast milk an hour ago and I fell asleep at my desk," she says. "As we used to say in the Army when we were in the desert, 'It sucks, but it's my suck. I'm going to own my suck.' "
People Really Don't Like It When You Say It's Okay to Be Fat, Notes Lindy West
Job: Author
Her Book: Shrill: Notes From a Loud Woman, is being adapted into a show for Hulu 
On leaving Twitter: "It's unusable for anyone but trolls, robots, and dictators."
Women are conditioned to subsume our own needs to the needs of others and to try to make everything okay for everyone, emotionally and practically. And that becomes really insidious when women aren't conditioned to prioritize their own safety and even their own sense of self. So to me, at this point, power is throwing off those expectations. I do think I've cultivated a skill for saying what I believe, even when it's unfashionable or unpopular.
People, for example, really don't like it when you say it's okay to be fat and you don't have to spend your whole life and all your money trying to lose weight. Your life can start now even if you're fat. You don't have to apologize, and you're worth the same amount of respect as any other person. That's very threatening, because people, I think, have a lot of self-worth and money tied up in the diet industry, and it's comforting to place people on a hierarchy and say, "Well, I'm better than those people because I weigh less."
So I've spent the last, I don't know, six years just saying that I'm fat over and over and that it's fine. I knew that there was power in that, because it was so powerful in my life when I discovered the idea of fat acceptance in books and blogs and I realized I could say to people around me, "You're not allowed to treat me this way, and I don't care what you think of me."
As soon as I did that, my whole life changed. I mean, I met my husband literally the next week. Not that it's a magic trick. It's a coincidence, but it's also bizarre to me. I started working at Jezebel, which was the beginning of my national and international writing career. Being outspoken and saying unpopular things, it's hard, and people are mean to you when you do it. But I'm very good at it now. — As told to Gabriella Paiella
Lilly Ledbetter Is a Law
Retired: Factory manager 
Spoke: Twice at the Democratic National Convention
Favorite interview: Stephen Colbert
It all started with an anonymous note. I was on a night shift at Goodyear, where I'd worked for 19 years and ten months as a production manager. The office was quiet and empty. I was doing some admin tasks before my shift and reached into my cubbyhole to see if I had any mail. Out dropped this torn piece of paper. It had my name alongside three others and showed our base salaries. Mine was exact to the dollar: $3,727 a month (without overtime).
The others were men, and their salaries were enormous. My body turned hot. Does everyone know? Is everybody in the plant laughing behind my back? I started to calculate the money I'd missed out on. It wasn't unusual for me to work 12-hour shifts seven nights a week. I never turned down overtime. It didn't matter if it was my father's retirement party. I just went by, had a sip of Champagne, and said, "Dad, gotta go." I worked because I needed the money.
When I saw that note, I thought, How on earth can I stand on this factory floor for another 12 hours with people staring at me knowing this? But I had to get it together because I couldn't afford to miss the shift. I was paying my kids' college tuition, my mortgage, car payments. I was 59 years old and two years from retirement. I went into the ladies' lounge and paced, trying to get it together. But when I got on the floor, I couldn't concentrate. I realized, Oh my gosh, my retirement is based on what I'm earning. Lord, I can't let this go. When I got home, I told my husband. I said, "This is too devastating, and this isn't something I'm asking for as a gift. This is something I earned. I have to go to the EEOC and file a charge." I said, "If you object, I'll reconsider, but this is something I have to do." He said, "What time do you want to leave?"
I'd filed a sexual-harassment charge in the early '80s, and Goodyear blew it all out of proportion. All I did was ask to be moved away from this man putting his hands all over me and talking about his sex life. After that, everyone acted like they'd die if they got too close to me. People were promised promotions if they testified against me. So at that time, I didn't want a lawsuit. All I wanted was to work and send my two children to college and save for my retirement. That's all I wanted.
When you're in this position, you are embarrassed. I didn't want to sound like a crybaby complainer. When the EEOC case officer finished hearing my salary story, she said, "Mrs. Ledbetter, these people have been messing with you for a long, long time." The agency found in my favor, and I was told it was one of the strongest cases they'd seen but it would be faster if I took the case on myself. So I got a lawyer and filed a charge in March of 1998; we didn't get to federal trial until 2003. In 1996 I'd been given a top-performance award, and my boss got on the stand and said, "Well, she didn't really earn a top-performance award. I just noticed how low her pay was, and I could give her a bigger raise if I gave it as an award." And the judge said, "So you people recognized you were discriminating against her?" That didn't go over very well. Two other female employees testified. One was asked why she never complained about her pay. She said, "I was a divorcée supporting a handicapped son, living paycheck to paycheck. When I got the job, I was told if I discussed my pay, I'd be fired."
The jury found in my favor that Friday, for $3.8 million. Of course, I never saw that money and then they won the appeal. When my lawyer called, I was at lunch with my husband — we left before we even ordered. When I got home, NBC called. I gave it a lot of thought and decided, Lilly, you don't have anything to be ashamed of. This decision is unfair. Then Linda Greenhouse from the Times called. She said, "If you'd been in the courtroom and heard Ruth Bader Ginsburg, you wouldn't even care that you lost. She burned those people."
In 2007, I got a call from Congressman George Miller. He said, "Mrs. Ledbetter, we'd like to name the fair-pay bill for you." It just took my breath. What an honor. Shortly after the bill passed, I got into a cab and the driver said, "Oh, I know who you are. You're the equal-payday lady." He'd heard me on the radio and went home and told his wife, and she proceeded to stand up for herself at work and came home with a $6,000 check. —As told to Alexa Tsoulis-Reay
Christine Halliquist Found Out What It's Like to Not Be Heard
Currently: Running for governor in Vermont
First: Openly transgender major-party nominee for governor
I transitioned in 2015. In 2010, I sought out a transgender counselor, she was great. As Christine, I felt full of shame, I didn't have confidence, and I wanted her to work with me so I would be ready. It took us five years. So when I transitioned, I was fully ready psychologically. In early 2015, I Googled to see what other CEOs had transitioned, but there weren't any, so I went into project-management mode. I put a plan together. I literally managed coming out to my staff as if it were a project. The shifts in power were surprising. It's one thing to read about it and think you understand gender dynamics, but it's another thing to experience it firsthand. Immediately, the first week of transition, I noticed some things — actually, my daughter helped point it out. I'd have dinner with her every couple of weeks. So it had been about a week and a half of transition and she asked, "How's your transition going?" and I said, "Well, I think people have transphobia." And she said, "Tell me more." So I said, "I was in this meeting, and I said something in the morning, and I was with a bunch of men, and they didn't hear me. And I said something later on, and they didn't hear me. And then later that afternoon, the men said, "Oh, yeah, Christine said that this morning." And my daughter said, "Welcome to becoming a woman."
I never had a stranger tell me to smile while walking down the street, but when I became a woman, that started to happen on a regular basis. At first, I was angry. I just wanted to yell at them and be like, "Who the hell are you to tell me to smile? I want to punch you in the face!" But I got over it. I recognize that there are all kinds of subtleties even in the most well-intentioned men; there were subtleties in the language that I didn't notice before. To test this theory out, I went on a national platform for transgender folks and I asked, for those who transitioned from man to women, how did you feel? And there was a sense of a loss of power. There was a sense of loss. But for women who transitioned to men, they felt a sense of empowerment and excitement.
I've been through the Emerge training, which is training for women in politics, and you walk into a room with my fellow Emerge graduates and we're all like, "Oh my gosh, I feel like I didn't do that speech very well." Another one will be like, "Are you kidding me? You hit that one out of the park." The common theme of women is you do something and then you say, "Oh, I didn't do it well enough." But I've got these other folks around me who are so supportive that it helps you stay positive. I would have held that in as a man, and I will tell you, I don't feel as alone as a woman. —As told to Alexa Tsoulis-Reay
Lauren Simmons Studies the Power Moves of the Male Animal
By Lauren Levy
Job: Stock trader. If one of the guys "does something uncomfortable, I immediately have that conversation, like, 'Hey, you crossed a line' "
Lauren Simmons, a 24-year-old stock trader at Rosenblatt Securities and the sole female stock trader on the NYSE floor, learned a few things as a de facto anthropologist of White Male Behavior:
1. Act like you know what you're talking about. "You know how people see privileged white men and they have this confidence and they take control of the room? I love that. And you can obviously use it as a negative thing, but you can for sure use that as a wonderful thing. They may not know everything, but they will definitely go into a room like they know everything."
2. Commit to your decisions. "As a trader, you have to make decisions within microseconds. But when something wrong does happen, they'll own it. I once watched someone make a multimillion-dollar error, own up to it, and move forward. So when I made my $3 million mistake, I just had to do the same. No one was happy about it, but we worked together to fix it."
 3. Relax, everything will work out. "They're very good at 'whatever's meant to be will be.' Someone recently came into work and said, 'I'm so depressed and want to jump off a building.' He had recently been asked for a divorce and everyone else was just laughing. I was like, 'Huh, are you serious?' They're very optimistic. They have the mind-set that things don't work out because something else will come along."
4. Confrontations aren't bad. "As uncomfortable as confrontation is in most settings, I've learned to like it. One time a guy made a comment to me that was something to do with how attractive I was. I looked at him and said that was not okay and also had five other men say that was not okay. "
5. They have weird traditions. "Whenever we have a three-day weekend, at exactly 3:45 p.m. on Friday, the guys start whooping. I remember the first time I was down here, I was like, For sure, I definitely work with 5-year-olds.
Someone had to explain to me that they always do this. That's something I enjoy now even though to this day I don't participate in it. It's too weird."
­
Laverne Cox Felt a Lot of 'Survivors' Guilt
Job: Actress
Nominated: For an Emmy for Orange Is the New Black
The month I was on the cover of Time magazine, five trans women were killed. So I felt a lot of survivors' guilt. A feeling like, Why me? Season one of Orange Is the New Black — that was powerful. It changed the way people perceived trans folks, it inspired people to transition. But, you know, I moved to New York in 1993 and I shot Orange Is the New Black in 2012. That is 19 years. And in 2009, when I was shooting my own show on VH1, I thought that starring in my own TV show should make all of the pain of my childhood go away. It didn't.
I realized in that moment that it's an inside job. That there is nothing in the material world that is going to really fill my soul and heal me. I have to do that work. That was nine years ago, and I really just started to do a deep dive into the pain and the violence I experienced as a kid. It was time for me to slowly begin to say, "This happened. This is horrible." Oprah reminds us that we cannot be in our own power if we do not know who we are.
People are obsessed with the artifices of femininity, and so certain kinds of trans women, who look a certain way, fit neatly into that. I am aware of that, but I don't go into this uncritically. I do my photo shoots because I want to feel myself and I want to live and all that stuff, but I also understand that it is functioning in consumer capitalism in a very specific way. I am aware that with certain lighting or angles or whatever, I am able to embody cis-normative and arguably white-supremacist beauty standards. So I don't make my aesthetic choices without that knowledge. But I also have the right to make them.
If you're attracted to men, finding the right male partner who is not threatened by your power, who is not intimidated or in competition with you, that is an issue. I've met a lot of men who thought I was too smart, I was too artsy. That's fine. All of it's fine, but I was too empowered and they can't handle it. I dated a man who was so evolved in so many ways, but he was just more sexually turned on by women who were not as attractive and who weren't as successful. So I think one of the big challenges of feminism has been that everybody needs love. Are you going to embrace feminism, when being in your power becomes synonymous in the patriarchy with being alone? — As told to Anna Silman
[Read the Full Interview With Cox Here]
­
Whitney Wolfe Herd Hated How Much She Wanted to Be Liked
Job: CEO and founder of Bumble
Reportedly: Wakes up every two hours to check her email
Ironically: Didn't meet her husband on Bumble
The first two or three years of Bumble, I wanted everybody to like me. The person dropping off lunch, everybody. I was so desperate for validation because people assumed a woman like myself leading a company was a B-I-T-C-H. It plagued me. Men don't act like that. Trust me, I've been in the room with my fair share of "powerful men" and I've never met one that is vying for validation. It's very recently that I said, You know what? I'm not practicing what I preach. One of our values is kindness. I'm not being kind; I'm just being nice. Being nice is not genuine. It's not accountable.
With Bumble, our goal from day one was, How do we give women the power and control from the very first second — the hello? If you can redistribute the power in connection, you eliminate a lot of these imbalances of power and a lot of the struggles that come with that. You drive down the street in any city, and you'll see billboards for all sorts of things like cancer prevention or smoking awareness, but there's really no awareness around misogyny. No one is promoting the dangers. And misogyny is really at the root of the majority of women's struggles around the world.
It's really easy to call something a gimmick. To say that's just their shtick. But Bumble and the way we encourage women to make the first move, it's so much more than just sending a "Hey, what's up?" This is about really turning these archaic standards of who is allowed to contact who, and when you get into the psychology of this, it's very dangerous. If you think about abusive relationships, why are women getting into these positions? We as women are assigning all of our value to men having to approach us. "Oh, I want to be courted. I want to feel small. I want them to feel tall."
I just went on a business trip to Asia, and I felt very marginalized in several situations. When I make points, the remarks I get are like, "Well, maybe my wife would understand what you're saying" or "I bet the women in our office would relate." As though these are concepts that are foreign. Or that only women would understand. — As told to Madison Malone Kircher
'I Am Not the Enemy,' Thought Carrie Brownstein
Job: Musician, director, writer
Co-creator: Portlandia
Also: Guitarist and singer for Sleater-Kinney and Wild Flag
In high school, I was in a community of mostly young men who were playing music, and I felt like the only way I could play was to have a kind of self-mocking attitude. I formed a high-school band, and our whole ethos was just to not take ourselves seriously even though that's what we wanted to be doing more than anything. I guess we feared that we wouldn't be taken seriously.
Later, my band Sleater-Kinney was part of the waning days of a movement called riot grrrl that had really clawed and scrapped to take up space within the punk and indie communities. Once, we were onstage and my bandmate Corin Tucker was having an issue with the monitor system, which is how musicians hear themselves, and the man running the sound was annoyed that she was questioning his prowess as a sound guy so he shut off the PA. And I thought, Wow, we have no power here to even perform the songs we wrote. It was a big wake-up call.
Another time, we played this show in Atlanta on an early tour, probably in 1996, and all of these women jumped onstage and took their shirts off and it was so chaotic and so freeing. I felt bowled over by a collective sense of relief from the crowd that our music was providing a momentary soundtrack to a form of self-expression that defied expectations of how an audience should behave or how women should behave or how they should look or whether they should hide their bodies. There was so much agency in that room, and it was very intense and very awesome.
It was hard for me to figure out if there was a way to be ambitious and not sacrifice my sense of ethics or my sense of self-worth. There was a festival in Olympia in the year 2000 called Ladyfest that espoused to be a showcase and celebration of female and female-identified musicians, and I was very eager to participate, and I remember that Sleater-Kinney and myself personally were criticized for being a focal point of the media as we were trying to promote the festival. I remember sitting in the planning committee and feeling terrible about myself that I had achieved enough success that the press wanted to write about us. I felt very guilty, and I just thought, Oh my gosh. This is a strange feeling 'cause I'm supposed to be surrounded by allies and peers and instead I feel like a pariah. It was a huge conflict for me, and I wasn't sure if the dedication I had put into this community was paying off. I just kept thinking, I am not the enemy.
I think we see this happen over and over again, where communities and subcultures and movements that espouse inclusiveness end up feeling highly exclusive. Especially in America, ambition is very tied to this idea of individualism, and I just started to think, Well, ambition can be about being ambitiously compassionate or ambitiously altruistic or ambitiously helpful or ambitiously curious. It's about applying that idea of optimism and diligence to things that are not just about money, you know, and not just about materialism. And I think once I do that, then I feel okay about the way I've moved through the world.
I see Patti Smith still performs, but there's not a lot of women artists, like, playing music that's aggressive or irascible once they hit their 40s or 50s. I loved playing music when we went back out on our last tour, and we're writing another album, but I think it's difficult to see a path that is lit up ahead of us. But I think we've always been comfortable forging our own path, and hopefully we're just laying down tracks behind us so that people don't feel like they have to leave this all behind once they hit their 30s or 40s, that there are ways of redefining what it means to age as a woman.
There is a moment onstage in the middle of one song, where I climb on top of Janet's kick drum (Janet Weiss is our drummer) wearing a guitar. I get on top of her kick drum, lift my guitar over my head — and I always just feel like a superhero. I'm completely aware that what I'm doing has a high difficulty rating. I just feel like an Olympian. That to me is like a weird childlike moment because it's just sort of a physical feat of balance and coordination, but it also symbolizes to me the ability to keep surprising yourself. — As told to Anna Silman
Mary Harron Knew She Had to Ax Leonardo DiCaprio
Job: Director
Credits Include: American Psycho, I Shot Andy Warhol, and TV mini-series Alias Grace
People talk about how violent my movies are, which is funny because compared to an average film, mine aren't that violent. When American Psycho premiered at Sundance, I was seven months' pregnant and this woman said to me, "How can you, a mother — how do you do this terrible movie?" It's like, you can be a woman and make films but only if they fit within certain parameters.
American Psycho was a real power struggle. I got a phone call from one of the producers saying that Lions Gate, the studio, was going to cast Leonardo DiCaprio as the main character, Patrick Bateman, even though I'd already cast Christian Bale. Yes, DiCaprio was huge, but he was just coming off Titanic and was the heartthrob of millions of adolescent girls. Casting him as this crazy misogynist serial killer seemed like a terrible idea, for him and the movie. I knew the film would only work if I was able to exert real control over the tone, and that wouldn't be possible with a big star. There would be enormous pressure to soften the script.
I said I wanted to stick with Christian.
He wasn't well known then — an advantage in my eyes, as he could disappear into the role. And he brought a great sense of humor to it. Lions Gate had approved him if I surrounded him with bigger names. So by then we had Reese Witherspoon, Chloë Sevigny, Willem Dafoe, Jared Leto. But that wasn't enough.
Lions Gate fired me, and I got scared that no one would ever want to work with me again. But a few weeks later DiCaprio decided to do The Beach instead, and Lions Gate wanted me back, without Christian. I said okay, and I felt if I just played my cards right, I'd get him. So finally, months later, we move into production with Christian in the lead. Of course, he was brilliant.
That experience was the biggest gamble I've probably ever taken in my career. I had to stand my ground again on Charlie Says [due in 2019]. I wanted Matt Smith for Charlie Manson. And the girls — I didn't want to cast established Hollywood names.
For me, the Kavanaugh hearings evoked the world of American Psycho. One of Kavanaugh's classmates said that he felt Kavanaugh was more interested in showing off for his friends than he was in girls. That is true of Patrick Bateman, and it also reminded me of some of the boys I knew at Oxford: privileged, macho young men who'd gone through that prep school to university to banking pipeline. Their true focus was always on each other, whether as friends or rivals. It was almost like girls weren't quite real to them. — As told to Holly Millea
Young Jean Lee Rejects the Notion That Kindness Is Girlie
Job: Playwright and director
First: Asian-American woman to have a play produced on Broadway (Straight White Men)
Once Called: "The most adventurous downtown playwright of her generation," per the New York Times
I am of the belief that a person has the most power when they're the most generous and collaborative and kind. To me, that is what gets power. But I think that approach gets gendered as feminine and therefore weak and ineffective — even though I think it's actually the most effective strategy. I don't think of it as just being something women have to resort to. But obviously I know nothing about actual power in a capitalist society. Straight White Men was kind of a prank that somehow ended up on Broadway, and [the Hayes Theater, where Straight White Men played] is the smallest house on Broadway. So I've been on the absolute lowest rung of capitalistic power in the lowest field in the lowest sector.
But I do feel like there's another form of power, which is influence: the power to say something publicly and have people care about what you have to say. Like, in the nonprofit-theater community, there aren't a lot of people I can think of who wouldn't take a phone call from me to express some concern about something that's happened.
That's a form of power:, to have people care about your opinion. —As told to S. I. Rosenbaum
*A version of this article appears in the October 15, 2018, issue of New York Magazine. Subscribe Now!