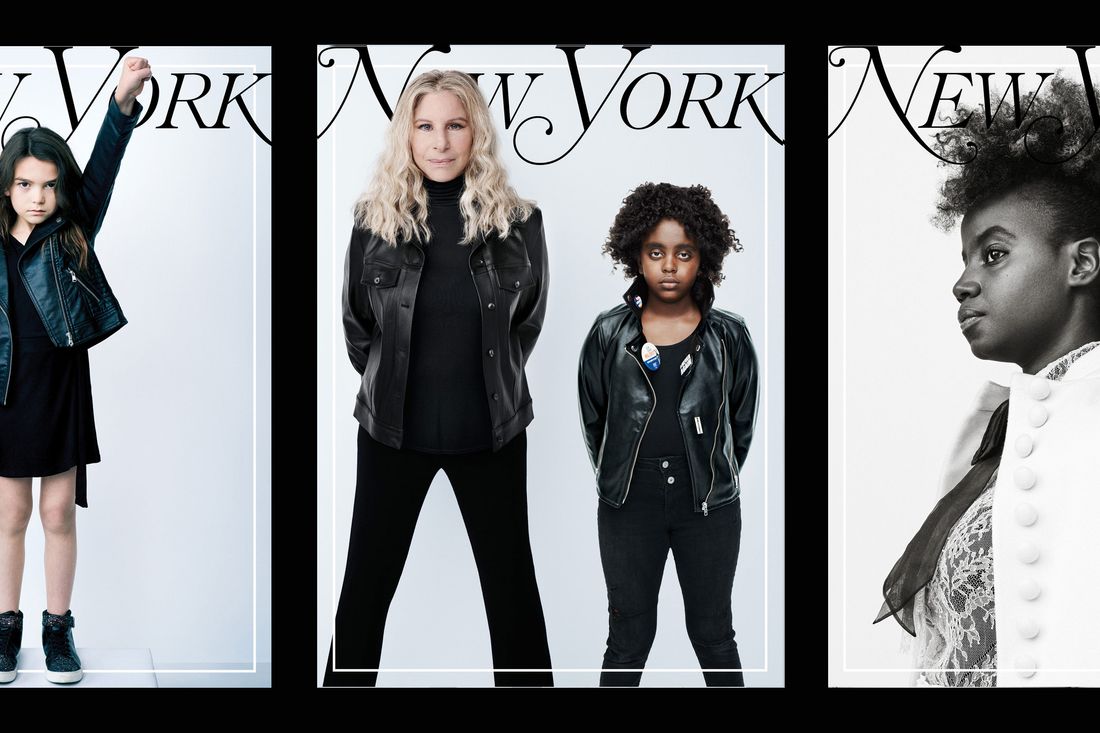 Women and Power isn't a series about women's empowerment. It's a series about women and their relationship to power — how they get it, how they lose it, how they wield it, what they sacrifice for it, and, ultimately, what they hope power will help them achieve. It's divided into four chapters that will be published on the Cut throughout the week. Click here to read more about the project and the women who participated.
Naomi Wadler Staged Her First Walkout at Age 10
Currently: A sixth-grader at Maret School in Washington, D.C.
Spoke: At March for Our Lives
Favorite Book: Harry Potter and the Order of the Phoenix
As you may know, Courtlin Arrington was a black female who was killed in her school in Birmingham, Alabama. My mother showed me an article about it, and I noticed that her story wasn't all over the front pages of newspapers like it would've been if she were a white girl. That made me angry. After Parkland, my friend and I organized an elementary-school walkout. I was interviewed about it, and the video went a little viral. Then George Clooney called us on the Thursday before the March for Our Lives. The march founders had him make the call because they thought he could convince my mom.
I had about 24 hours to write my speech. Writer's block is an understatement. I was freaking out. I watched speeches by Ryan Deitsch, Emma González, and Cameron Kasky repeatedly, to the point where it got annoying. I wouldn't believe me if I were you, but when I was up onstage I thought, This is really fun, I like this. In the middle of my speech, everyone was clapping.
I was about 5 when Trayvon Martin was shot, and my mom explained that some men thought he was scary because he was brown. That really confused me. Then I'd be reading my book and look up at the news and see people saying that he shouldn't have been wearing that hoodie, that he wasn't dressed appropriately — that confused me even more. When I was in preschool, a boy asked me why I was brown, and I've had derogatory terms thrown at me, so I've known these things my whole life.
I already know what I want to be. I want to be the executive president of the New York Times or a photographer. The Times has never had a black female president; in fact, the majority of their board is white men. I want to vote in every election possible. — As told to Alexa Tsoulis-Reay
Barbra Streisand Rose to Power — Only to Give It Away
Known as: Peabody-Emmy-Grammy-Oscar-Tony-winning filmmaker, actress, and singer
Starred on Broadway: In Funny Girl at age 21
Once: Produced and starred alongside Kris Kristofferson in the 1976 remake of A Star Is Born
In 1976, people in Hollywood weren't used to a woman being in control. I was producing the film for First Artists, a company originally set up for Paul Newman, Sidney Poitier, and me. In exchange for no salary up front, we could make our own films with full creative control and a piece of the back end (which we only got if the film was a hit). My budget was $6 million, and any penny spent over that had to come out of my own pocket.
So I was completely responsible for the money and content. I wanted to update the characters and their relationship to reflect the times. I didn't want my character to change her name. I wanted her to write her own songs, and when we didn't have a love theme, I composed the music myself … "Evergreen." I also decided that we had to sing live instead of lip-synching like most movie musicals. It was the only way to get the reality I wanted — and I'm a terrible lip-syncher.
I also had final cut, and when the studio executives didn't like the director's version, I had to work with the editor to recut the movie. Actually, it's kind of ironic. I wanted the character I played to be a liberated woman, and yet I stupidly gave away the title of producer and took a lesser one. I even cut certain scenes of mine so I would have less screen time, because I didn't want to attract more criticism.
Happily, A Star Is Born turned out to be the second-highest-grossing film of the year, after Rocky. Phew!
Lately, I'm grateful to have music in my life to stand up to power. The first single from my new album, Walls, is called "Don't Lie to Me." We have a president who lies without guilt, and I just can't watch. I have to speak out or, in this case, sing out about my feelings. — As told to Holly Millea
Channing Dungey Was Now Their Boss
Job: President, ABC Entertainment
First: African-American president of a major TV network
Early model for a powerful woman: Her professional, glamorous childhood doctor
When I got promoted to run drama at the studio, it was a small team. Now I am the boss of the people who, the day before, were my colleagues. We went to lunch in the private dining room over at the rotunda. That was one of the weirdest lunches, because you are suddenly in charge and it's not the same thing as when your boss is on vacation and you're pretending to be in charge. You can't help in that moment but feel sort of like you're pretending. I've worked very hard to attain every goal I have attained, so I don't ever feel like I've sat somewhere I hadn't earned the right to be sitting. But it doesn't change the fact that the first time you're sitting there, you're like, "Wait, I'm sitting here?" I remember being a young executive in features and people still referring to female executives as D-girls, or development girls. Every male executive or big producer would have a bunch of women doing the notes — I was once passed over for a promotion because I was told I was really good at doing notes and things that would probably fall under the D-girl category. But I wasn't out there enough, I wasn't enough of a rainmaker, I wasn't participating in male-bonding activities like basketball and white-water rafting. It wasn't ever quite specified in exactly the gender terms, but you could read the situation pretty clearly. — As told to Phoebe Reilly
Of Course a Man Promoted Susan Wojcicki
Job: CEO of YouTube
Early Days: Google was started out of her garage in 1998 — she rented it to Larry Page and Sergey Brin
Called: "The most powerful woman on the internet"
The people who opened the door for me were men. The reality is that most positions of power right now are held by men, and so men need to be the ones who are opening the door. There was this time in my CEO role at YouTube I wanted to go to this conference and I didn't get an invite. I spoke to everyone: "How do I get an invite to this conference?" I must have spoken to like five different people in different positions of power, and I couldn't get it. Then I actually went and spoke to [tech executive] Bill Campbell and he said, "I'm gonna fix this for you," and within a day, I got that invitation. I realized in that moment that power is something that is passed from one person to another. He was in a position of power, and he made a decision: "I'm going to use my power to help Susan." You need the people who are in positions of power to say, "I'm going to open the door." — As told to Madison Malone Kircher
Dee Rees Can Wait for the Things That She Really Wants Now
Known for: Writer and director of award-winning Mudbound
Developed: Her first film from her NYU graduate thesis
Currently: Directing an adaptation of Joan Didion's The Last Thing He Wanted
Early in my career, things were conditional. It was: "You can have this if that" or "If you work with this person, or hire this person, you can do this." After I made my first feature film, Pariah, all this young-adult fare got thrown at me. I was going up for everything. It was a moment where I felt like I had to interview for things, even those things I didn't want. I remember I was going to interview for a horror movie, and I just didn't want it. So I canceled, but that came at a cost. It felt like, "Okay, I'm sacrificing money, I'm sacrificing working." I had to wait so long before I was offered Bessie [a biopic on blues singer Bessie Smith]. Even then I took a writing job first, hoping they'd hire me as a director. They did. That was the critical turning point for me. After that, I knew I could wait things out without having to give up a sustainable life.
Now, after Mudbound, I have choices. I was able to take a Joan Didion book to a producer and say, "Hi, please option this book for me." I was able to say, "Hi, hire this writer, Marco Villalobos, to adapt it for me. I know you don't know him, but he's great." It's just yes, you can do Joan Didion, you can have the cast you want, you can have the creative.
My strength is probably my downfall: I'm a straight shooter. So I kinda say what I think. You just understand that it's gonna get received differently as a black woman. So for me, I don't change how I am or the content of what I say, but you also know that it's gonna get processed differently. Like with Serena, I don't think she was wrong for standing up [at the U.S. Open], I was there. But because of the package she's in, it gets received differently, it gets talked about differently. The language used to describe it is hyperbolic. I think we all have known that since kindergarten. — As told to Allison P. Davis
­
To Binky Urban, 'Power' Is a Male Word
By Lisa Chase
Job: Literary agent
Represents: Four Nobel laureates, Toni Morrison, Kazuo Ishiguro, Malala Yousafzai, and Nadia Murad
Amanda "Binky" Urban started on the road to becoming a super-agent in book ­publishing thanks to a chance encounter with Mrs. Geffael, formerly of Short Hills, New Jersey, on June 5, 1968. Back then, Urban, 21 and freshly graduated from Wheaton College, wasn't expected by anyone in her milieu to go to work at all. She'd been raised in affluent Summit, New Jersey, where "the dads had big jobs in New York and the mothers stayed home."
"My dad woke me that morning," she recalls, "and said, 'Bobby Kennedy's been shot.' I said, 'I don't want to sit here and watch television all day. Can you wait while I get dressed and take me' — on the Erie Lackawanna, the train with the rattan seats — 'into New York with you?' " She was walking out onto Fifth Avenue when she ran into the mother of one of her friends. I said, 'Mrs. Geffael! How are you?' She'd gotten divorced and said, 'I'm great! I'm living in New York. I bought a personnel agency.' She said, 'Don't you want a job?'
"At dinner that night, Dad said, 'So what happened today?' I said, 'I got a job.' He was like, 'Where? Doing what?' I told him, and he completely disapproved: 'If you want a job, you will go to work at Condé Nast.' Which even then was what … girls … did. So I interviewed to be an assistant at one of the women's magazines, and the woman interviewing me made a pass at me! I unapplied for that job. I wanted to take my job." Urban kept getting jobs — in marketing, for a gubernatorial campaign — before ending up on the business side at New York Magazine, where her mentor was the late Clay Felker, the founding editor. It was he who suggested that she become an agent.
How did you get your first agency job?
Lynn Nesbit hired me at ICM. While I was building my own list, she gave me a certain amount of spillover, as you do when you're the rainmaker. One day, she threw a letter on my desk and said, "You might want to follow up." The letter read, "Dear Ms. Nesbit, I've never had an agent before, but I'm thinking now of getting one, and if you're interested in talking to me, please call me before noon Rocky Mountain time at this phone number. Signed, Cormac McCarthy."
So I called him and said, "I'm not Lynn Nesbit and I'm just starting out. But I'll work hard for you." He said, in his gravelly voice, "Well, that sounds fine to me." I did some research and realized that none of his books at Random House had ever sold more than 2,500 copies in hardcover. Sonny Mehta had just taken over at Alfred A. Knopf. I called him and said, "Do you want to publish Cormac McCarthy?" Sonny said, "I'd love that." I called Random House and said, "Is it okay if I move Cormac McCarthy to Knopf?" and the head of Random House said, "I can't believe I'm picking up the phone to talk about an author who's never sold more than 2,500 copies. Of course you can." And the next book was All the Pretty Horses … It's such a great story.
What was your first big deal?
My first six-figure deal was almost 40 years ago. It was about how, in these remote villages in Africa, women read their vaginal mucus for birth control. I was in my early 30s, and there were women having trouble getting pregnant. I called Jason Epstein, the head of Random House. If you know Jason, the last thing in the world he wanted was to hear about vaginal mucus. But I pitched him this book, he read it, and he made me an offer of $100,000. It just sold for years.
Is it correct to think of agenting as a female-dominated profession?
Totally. When I started, there was a lot of that nurturing quality attributed to agenting. I had a formative experience with Toni Morrison. When Lynn left ICM, Toni invited me to lunch. She said, "I love Lynn. She's been my agent for a long time. And she's also become a really good friend. Which means when we get on the phone, we talk about our boyfriends, our love lives, our kids. I just want somebody who can pay attention to my business. Can you do that?" And I said, "Yes, I can." That was a great life lesson. Some of my clients are among my best friends, but I always try to be vigilant that I'm in their lives for one big reason: to make them money.
How do you feel when people say, "Binky Urban is the most powerful literary agent in New York?"
I don't even know what that means. You know, power is such a male word. What I care about is being effective, respected. The only way that could mean power is that I've got a lot of great authors and publishers are less apt to screw around with me.
Do you remember a time when you realized they were less apt to mess around with you?
When American Psycho was killed by Simon and Schuster. Dick Snyder, S&S's chairman at the time, called and told me that they were canceling the contract. The book was literally about to be published! I thought, The best thing I can do is place this book with America's premier publisher, and that was of course Knopf. I called Sonny Mehta, and I said, "I don't care what you pay for this book. But I think it should be published right away because it's going to get a lot of press. Your imprimatur will help people understand what this is." He published it like a week later. It was really fun pulling that off.
Have you ever done the calculation? I have X million best sellers in print?
I don't even know how I'd do that. However: two Nobels for literature and two for peace, but who's counting?
[Read the Full Interview With Urban Here]
No, Ilhan Omar Didn't Have to Ask Her Husband's Permission to Run for Office
Currently: Running for congress in 2018
Job: Representative in the Minnesota State Legislature
First: Somali-American lawmaker
Name Means: "Inspiration"
One of the things that people used to ask me on the campaign trail when I first ran was "Did you have permission from your husband and father to run for office?" My dad and my husband would always say, "Oh, these people must not really know you." It's been interesting to see the ideas that Western societies have about women in the East. It sounds strange, but I don't know if I've ever had a moment in my life where I didn't feel like I had power. When I was younger, my grandfather used to say, "You're an Arawelo. Make sure that you are present in school and in your day as an Arawelo." Arawelo was this powerful queen who ruled a kingdom that was very productive, just, and righteous. I don't know if she really existed. I'm a minority, but I'm also in the minority in the Minnesota House, and that can render you ­powerless even though you have the same election certificate as everyone else. And so as a freshman legislator, I ran for leadership and became the assistant minority leader. I wanted to have the ability to not just have a seat but to try to get the best seat possible. — As told to Gabriella Paiella
Ai-jen Poo Couldn't Get the Nanny-Slave Out of Her Head
By Lauren Hilgers
Job: Executive director of the National Domestic Workers Alliance
Author of: The Age of Dignity: Preparing for the Elder Boom in a Changing America
Once: Was Meryl Streep's date for the 2018 Golden Globes
In large part thanks to the National Domestic Workers Alliance — co-founded by Ai-jen Poo — eight states have extended basic labor protections, such as overtime and one day of rest in every seven, to the people who care for our children and our elderly and our homes. The NDWA also pressured the Obama administration in 2012 to issue similar Department of Labor rules covering more than 2 million domestic workers nationally.
The stories of workers, Poo says, are a main tool to force political change; they rise to testify "every time we engage with legislators, every time we have a public event." Here is one story she can't stop thinking about:
"It was a young woman who worked for executives at a technology company in Texas. They'd gone to Jamaica to recruit her to work as their live-in nanny, to help raise two or three kids. She was 15. They promised her mother that she'd get a salary and that she'd get to go to high school in the United States. She went, and they cut off all communication with her family. They never paid her or her mother. And she was there for 15 years. They stole 15 years of her life.
"She saw a newspaper article about a trafficking case that I was working on, and she got our number somehow. Over the course of many conversations, her story unfolded. We got her a lawyer, and there was a question about pressing criminal charges because the parents had essentially enslaved her. She said no: She didn't want to do that to the children.
"One reason she'd been able to escape was because one of the children was old enough to know that something was wrong about the way she was treated — and one of the kids took money from their piggy bank to help her."
The Women Who Were Out to Get Reshma Saujani
Job: Founder of Girls Who Code
First: Indian-American woman to run for Congress
Once: Gave a TED talk on being "brave not perfect"
Like a good immigrant girl, I spent my whole life trying to do everything right — go to the right schools, have the right jobs, make the right decisions. I thought that if I credentialized myself, I'd be happy. And I woke up at age 33 just totally depressed. I hated my job, I hated my life. I always wanted to make a difference, and I just wasn't. I was working in finance, and so I kinda said, "Eff it," and I decided to run for Congress in a seat where I probably had like a zero chance of winning. It was the first time I feel like I took a genuine risk, and it's changed my whole life.
Running for Congress against another woman really opened my eyes to how we can be our worst enemies. And it wasn't just her, my opponent, but it was the women that I had admired that were part of this democratic process that really ostracized me. They did everything to try to get me off the ballot. They were vicious online. And even afterward, I was like, "Well, okay, you won. I lost, you humiliated me, great. Now can I get a shot at, like, being on community board or being part of my local Democratic club?" And it was like, "No, no, no, no, no."
I made a lot of mistakes in my 2010 race in terms of letting other people take charge of my narrative, whereas in my second race, in 2013, I ran the Reshma race. I ran authentically as me. For my 2010 race, I wore boxy J.Crew suits and I tried to look incredibly asexual. I had my hair up in a ponytail because I didn't want to draw attention to me. Whereas in 2013, I was like, "Mmm, I love a good blowout. I love bright colors." I used my voice. So in some ways, that loss was a little bit harder for me than the first one.
I definitely was influenced by my Asian parents. When I lost my election, my dad sent me an email: "Here are the ten things you did wrong." No care packages, no pat on the back. That's how I was raised, and I have to be careful not to always lead that way.
As a boss, one of the things I've learned is to fire fast. When I was early in my days as a CEO, I'd let my emotions get in the way. I'd draw it out. And I don't do that anymore. I really try to be honest with people. Coddling is a disservice. — As told to Madison Malone Kircher
Brooklynn Prince, Age 8, Already Knows How to Make People Listen
Star of: The Florida Project
How she defines power: "It means that people are strong, and they are brave, and they are kind."
I want to be a director as well as an actress. People will be like, 'Oh, this little girl wants to become a director and have a movie, how sweet!' And once it comes out, they're going to be like, 'Oh, this girl's legit.' — As told to Jenna Marotta
[Read the Full Interview With Prince Here]
­
As a Token Woman, Sherry Lansing Admits She Wasn't 'Sisterly'
Job: Chairman and CEO of Paramount Pictures
Became, at Age 35: The first woman to head a major movie studio as president of 20th Century Fox in 1980
Produced or Greenlit: Fatal Attraction, The Accused, Forrest Gump, Braveheart, and Titanic
I started in the movie business in my 20s — a very long time ago; do the math, okay? — and there were just a handful of women in positions of power. So I am extraordinarily grateful to a ton of men in the business. They gave me the opportunities I had.
I'll tell you how lucky I was. I was earning [$75,000], a nice but modest amount, as senior vice-president of [Columbia Pictures]. Then when I was offered the job as head of Fox, I went to my lawyer Arthur and said, "If you could please get me 25 percent more than I'm earning …" And he said, "I'm going to get it for you!"
So he went in to 20th Century-Fox CEO Alan Hirschfield and said, "Alan, I want Sherry to get X amount of money." And Alan said, "Absolutely not." And Arthur kept on arguing. And Alan said, "Stop, Arthur. Sherry needs to get" — and it was four times more than we were asking — "because that's what men are paid for this job. And if we don't pay her that, no one will take her seriously."
At that time, and this is sad, the women working in the business, we unfortunately had a misconception — or maybe it wasn't a misconception — that there was only room for one at the table. Therefore, we were friendly, but we weren't really, really sisters. We didn't hurt anybody, we didn't try to take any jobs away, but if you only think there's room for one, then you don't share that interview that you had. These women today who are running competing networks or are competing directors — they're best friends and they call each other and say, "Hey, this job wasn't right for me, but it might be right for you!" Today, you could fill a stadium of women in the entertainment industry. Women getting the jobs not because they're women but because they're qualified. — As told to Holly Millea
Paula Cooper Refused to Learn How to Type
Job: Gallerist
Opened First Galley: In 1968 on Prince Street
Has Shown Works By: Sol LeWitt, Donald Judd, Sophie Calle, and Christian Marclay
When I started my gallery 50 years ago, there were a lot of women dealers — they just weren't very important.
But male art dealers weren't into what I found to be valuable or interesting. I think money is very frequently the most important factor for them. I worked for a guy who had a gallery on Madison Avenue, and he always had spreadsheets. He went by his spreadsheets, and his gallery was a terrific failure.
Back then, I was just a young woman. People were very nice to me too because I was a fairly attractive young woman. I think that men are much nicer to attractive women. And when I was younger I think I dressed much better. I don't care much anymore. I mean, I hate shopping. I just hate it. I'm terribly dressed, but at least it's simple. I remember a woman — she was president of the Art Dealers Association a couple years ago — and she scolded me for being so casually or sloppily dressed. I think I had jeans on. I didn't say anything. But now I think she too has slipped.
I never even learned to type — I just never wanted to be tempted to ever fall back on being someone's secretary. I think too many women type.
Independence was always the most important thing to me. I never wanted to work for someone else. People often back a gallery, and I didn't want that. I would never let anyone put money into the gallery or support the gallery, because I never wanted to let anyone else have any control or power. Instead, I worried about money terribly. I would get anxious. I still get anxious. — As told to Rachel Corbett
Bob Bland, Linda Sarsour, and Tamika Mallory Built the Women's March 'Mob' Out of Nice, Suburban Women
By Rachael Combe
Organized Protests: Against Brett Kavanaugh's nomination to the Supreme Court, Trump administration's family separation policy, and the Muslim travel ban
Linda Sarsour, one of the leaders of the Women's March, had an arm around Suzannah Monteith, a 40-year-old mother of two from Virginia. Monteith, wearing a demure sundress and looking nearly sick with nerves, was standing on the sidewalk outside the Hart Senate Building in Washington, D.C., in the blazing, 95-degree heat. It was the day after Labor Day, the first day of Senate Judiciary Committee hearings to vet Supreme Court nominee Brett Kavanaugh. This was nearly two weeks before Christine Blasey Ford's allegations would be made public, but several leaders of the Women's March were already there in full protest mode.
Monteith was in a line of about 200 citizens waiting for their turn to sit in the public gallery of the wood-paneled hearing room to watch history be made. Interspersed among the tourists were dozens of protesters like Monteith. "This fabulous lady has already been inside once this morning but did not disrupt," Sarsour said. "But now she's back on line, ready to go in again." She looked Monteith in the eye. "We need you. I promise you, you're going to inspire so many people."
Monteith nodded at Sarsour. "It's counterintuitive to how you're raised," she said. "You're not supposed to be rude. You're not supposed to yell in a solemn, respectful place."
Once Monteith was inside, she and the other protesters in her group waited for Republicans to start speaking; they wouldn't disrupt the Democrats. Sally from Pacific Grove, California — who'd taken a break from an East Coast visit to her granddaughter to come get arrested (she said she'd given her granddaughter the feminist children's book The Pink Hat before taking leave) — chomped her gum a little manically. Sheila, a woman from Dallas who'd told me she wanted to protect the Affordable Care Act, sat at the literal edge of her seat, ready to spring. Monteith was listening intently, taking visible deep breaths.
Groups of citizens were shifted out about every 15 minutes, so if the women were going to get loud, they had to do it now. And when they finally stood and began to shout — "Stop the oppression of women!" and "Vote no! Preserve what's left of our democracy!" — when the police grabbed the women's shoulders to drag them out (none resisted; I heard one protester apologize to a neighbor for bumping her as she was physically pulled from her seat), I saw relief, triumph, and fear on their faces. In all, 212 protesters, mostly women, would be arrested over the three initial days of Kavanaugh hearings.
[Read the Full Interview Here]
If HBO's Sheila Nevins Twirled Around in Her Tight Jeans, So Be It
By Jessica Weisberg
Retired: President of HBO Documentary Films
Emmy Award–winning films: Going Clear: Scientology and the Prison of Belief, The Jinx: The Life and Deaths of Robert Durst, and Going, Going, Almost Gone! Animals in Danger
In 1979, at the age of 39, Sheila Nevins was offered the top job in HBO's documentary department. This was before the age of Errol Morris or Making a Murderer, when documentaries were understood as the celery of the network's offerings — long, bland, and nominally good for you. "I think I got the job because no one else wanted it," Nevins says. But being "a second-class citizen" had its advantages. As long as she stuck to reality and brought her projects in under budget, she could delve into just about any subject she wanted. She commissioned films and series about masturbation, sex, Nazis, sharks, AIDS. "I felt free," she says.
By the time she left HBO this spring, after 40 years, she'd produced something like 1,200 documentaries and is credited with transforming the genre from celery into something delicious, even indulgent. Still, looking back, Nevins wishes she'd asked for bigger projects and bigger budgets. "I thought I had to behave. For most of my career, I was a good girl."
She did, however, muster the courage to ask for more money. She knew she was underpaid. "I once got a check by mistake for a colleague, it was more than twice my salary," she says. "So every time there was a revolution at HBO, I would go to the new, male boss and say, 'I'm leaving. I love it here, but I can make more money somewhere else.' " She walked away with a raise every time.
She had other tactics for coping in a workplace where she was frequently the only woman in the room and often overlooked. "I was very flirtatious," she says. "It was the only tool I thought I actually had." When men in the office asked her out or paid her a compliment, she always acted interested: "I was very pretty. In that period of time, women did what they had to do to even the score. It was necessary." About ten years ago, she had a second face-lift, a decision that carries some shame for her but that she sees as a boon over all. "You look better, and you can play the game longer. I felt confident to work well into my 70s."
While Nevins says she's a little embarrassed by all the flirting she had to do, by how sweet and obedient she was, she's made peace with her choices. "If they didn't pay me enough for the first 15 years, fuck it, I made up for it later on. And if I told jokes and I twirled around in my tight jeans, so be it. I knew exactly what I was doing, and I never took it seriously."
To Kathie-Ann Joseph, Surgery Is More Than Being Good With a Scalpel
Job: Chief of breast surgery at Bellevue Hospital and surgical oncologist at NYU Langone's Perlmutter Cancer Center
I remember going on rounds and seeing a breast-cancer patient who'd been operated on who had a complication, and the surgeon who had operated on her, who was male, got frustrated and was yelling at her, as if she was the one that caused the complications. And I felt so badly for the patient. The patient started crying, and he left me with the patient to sort of fix the problem. And I remember her saying, "I hope I never have to go through this again. I'm never seeing a male doctor again." That stayed with me. I'm not saying that would never happen with a female surgeon, but I can't see that. Before I became a surgeon, I had a stereotype of what surgeons were (male, old, white), but there's more to surgery than just cutting. Anybody can cut. It's another thing to really think through how you're going to approach the patient to do the right thing for the patient. — As told to Alexa Tsoulis-Reay
Marsha Vlasic Told Lou Reed, 'I Just Can't Do This Anymore.'
By Dee Lockett
Job: President of Artist Group International
One: Of the first-ever female music agents
Steered the Careers of: Neil Young, Elvis Costello, the Strokes, and Iggy Pop
Marsha Vlasic won't tolerate bullshit, and she's seen it all. For over 40 years, the veteran music executive has wielded her power and influence to steer the careers of Neil Young, Elvis Costello, the Strokes, and Iggy Pop. In 2014, Vlasic left ICM Partners after six years to become president of Artist Group International, where she now represents everyone from Billy Joel to Cyndi Lauper to Metallica, and shows no signs of slowing down. "I'm gonna rock 'til I drop," she tells New York over the phone in her thick, vintage Brooklyn accent. New York spoke to Vlasic about breaking ground in the music business as one of the first-ever female agents, falling out with Lou Reed, speaking out against Grammy president Neil Portnow, and the power of saying no.
What do you think was one of the first career moves you made that got you to where you are today?
Those particular maneuvers I never dreamed would be the maneuvers that would get me to where I am. There wasn't a road that was paved out that I followed, or an imprint or a plan. I feel like I was at the right time and place. I guess that being an assistant to three crazy agents in the early '70s prepared me to take the leap of faith and become an agent.
Were these crazy agents all men?
Yes, they were. At that time, I became one of three women agents in the entire business. And there weren't women in record companies and publishing. Maybe a few in PR, but as far as agents, there were only three of us. At the time, I was given the opportunity because one of the three crazy agents I was working for was leaving to go manage one of his bands, and he assumed I was coming with him as his assistant. I was given the choice of — did I want to stay and take his place? It was an unbelievable opportunity.
While climbing that ladder, when did you first start to feel like you had power and influence?
When you don't have to beg for the right credentials, you know you have power. When you can get into a venue and people are waiting for you to arrive, that's one of them. Also, the power to say no, to make choices. The power to represent someone or not represent them and say, "This relationship is not working, and I think we should not be together."
Do you remember one of the first times you felt like you were in a position to say no?
I'll tell this just because he's not with us anymore, so I feel like I'm not talking out of school, but Lou Reed and I were very close, we had a great relationship. But then when he would get kind of unreasonable — I'm saying that kindly — I did one time say to him, "Lou, I can't do this anymore. I just cannot." And he was so upset by it that we resolved it. But there were times like that that were really hard.
You told him flat-out that you didn't think you could continue representing him if things didn't change?
Yes. I didn't realize it would hurt him that much. He really was hurt by it, and it moved me. As tough as everybody may think I am, I'm very sensitive and emotional.
[Read the Full Interview With Vlasic Here]
Kirsten Green Gained Money, Lost the Must-Please Gene
Job: Founding partner, Forerunner Ventures
Raised: Over $650 million for companies including Warby Parker, Glossier, and Outdoor Voices 
I was always a really hard worker, and most often I got rewarded for that. But I remember there was a point where I had been working at Montgomery Securities for four, five years. I worked really hard to get a promotion. Meanwhile, the company was going through the second of what was going to be three mergers, and my superiors said to me, "Sorry, but we're going to move things around and you can't cover those stocks anymore. But we can find you another job." And I thought, Are you kidding me? I have played by every rule here. I have shown up and exceeded everything you've asked me to do, and that's it? It completely changed my mind-set. I went from this person who was like, "I'm going to live within the lines, I'm going to follow the rules, I'm going to please my dad, please my boss," to "Oh my God, sometimes, if you play by other people's rules, you're going to end up with no control." I said to myself, "This will never happen to me again."
There was a time a while ago when I'd get invited to be a board member for a company by someone who'd say, "We're serving female customers. Eighty-five percent of our transactions are driven by women and we're all dudes and we need to have a woman's voice in the room. We'd really love to have you be a board member." I spent a bunch of time being mad about that. Thinking, Jeez, what about suggesting I'm somebody who really understands this business who can offer a smart, analytical perspective of what's going on? Do you want to test my math skills? Because they're pretty good. And then I realized: Who cares? Who cares what gets you a seat at the table? If people wanted me to be on their board because I was a woman, then fine. My job was then to make sure they wanted me to stay on their board because I added value to the conversation. — As told to Alexa Tsoulis-Reay
Ethiopia Habtemariam Got Good at Firing
Job: President of Motown Records
At 35: Became one of only women to head a record label
Signed: Usher and Justin Bieber to Universal
When I was 14, there was a woman [Shanti Das] who came and spoke at my career-planning class. She worked at LaFace Records, L.A. Reid and Babyface's label that had TLC, Usher, and OutKast. She let me shadow her for a day, and that was all she wrote. It changed my life. Anyone that wanted to dismiss me because of my race or my gender, that was their issue. I was so focused on getting things done it was never in my head. As I've gotten older and moved up in my career, the air's a little thinner at top. You become more conscious of it. But I do think there's a freedom in not giving in to the way ­other people perceive you. In the beginning, it was really tough for me. I didn't enjoy firing someone. I used to be like, "Oh, but someone's gonna be out of a job." But if they haven't done the work or accepted the responsibility of what they're there to do, there's really no time for it. — As told to Dee Lockett
Michele Roberts Doesn't Owe Anybody Anything
Job: Executive director of the National Basketball Players Association
On losing her impostor syndrome: "Because I was representing people, I stopped thinking I had the luxury of feeling sorry for myself and second-guessing myself."
I suppose the first time I realized I had power — one might call it talent — was the first time I had a jury return a verdict of not guilty. It was also the first time I was trying a case alone and not with some senior lawyer holding my hand, and a jury came back and acquitted my client. I remember saying, "Thank God," for the client, but also thinking, Wow, I really can move things and persuade people.
When you have a real life in your hands, it humbles you. If I had a guy facing trial in first-degree murder and I lost, that was 20 or 30 to life. That's it. If you're acquitted, then you have an unbelievable future you can mold, now that you won't be in a cage for 30 years. I was a trial lawyer, and the notion is you have to be "tough." Lots of people just didn't think [I was] — "Oh, I hear she's good, but I need a tough lawyer." They assumed that because I was a woman, I was not going to be tough enough. It got better as more people got to know my work, but early on, people weren't hiring me, because they wanted to hire a real tough lawyer, not some girl.
When my predecessor at the NBA [Billy Hunter] left, there were a lot of people who had been in the space for a long time who were salivating at the opportunity to take over. I mean, obviously they're disappointed. "Oh, come on, you hired a woman?! Not only a woman, but a woman that has never been in this space?!" But I've got to tell you one of the things I didn't realize was as much of a virtue as it is: I don't owe anybody anything. I owe everything to my players and to their livelihoods, but I also don't owe anybody any favors. So the players to some extent did want somebody that was baggage-free, and I think they were absolutely brilliant in making that judgment, because, frankly, this is an old boys' school. These guys have played in the same dirt for the last 30, 40 years, and so, on occasion, they will pull that crap: "Well, Michele, you haven't been around, and you should talk to so-and-so. We know, we've been doing this for a long time." And I simply point out, "Well, you've been doing it wrong."
Power's earned. You can get help along the way — people will try on some occasions to help open doors for you — but if you fail, it's probably because of your own failures. I'm a black woman, so I know what it means to have people not only do nothing to help me but to affirmatively try to hurt me. I've lived through that, and I'm still living through that.
They accuse any black woman as successful as me of being an angry black woman. And what I tell them is, "Sometimes I am an angry black woman, but not this time!" [Laughs.] Everybody's angry at some point or another. Not only does that not bother me, because that's not my problem, but if someone wants to define me as that, then they're missing out on a whole lot of what I can do — and what I will do. — As told to Jenna Marotta 
­
*A version of this article appears in the October 15, 2018, issue of New York Magazine. Subscribe Now!