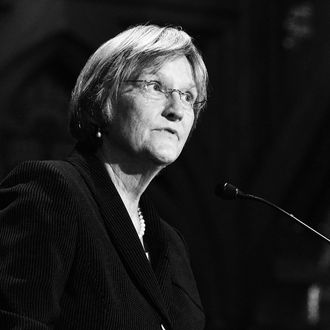 Drew Gilpin Faust.
Photo: Paul Marotta/Getty Images
Civil War scholar Drew Gilpin Faust retired in June after 11 years as the president of Harvard University, the first woman ever to hold the position. She had followed Lawrence H. Summers, who was forced out for saying that "intrinsic" gender differences accounted for the lack of women in science. Faust generated what might be considered the opposite kind of controversy: She was too PC, her critics griped — during her time, the number of tenured female faculty rose by 47 percent.
On banning Harvard's single-gender clubs, including the exclusive "final clubs":
Starting with the class of 2021, any student who belongs to one of these clubs cannot hold leadership positions in student groups or varsity sports nor receive university endorsement for fellowships. "When you have powerful organizations that line women up on the streets and decide whether they're attractive enough to be admitted … that doesn't seem to me an equitable treatment of women in the Harvard community," Faust says drily (as a Harvard student in the '90s, I remember being made to enter one through the side door). Plus, the clubs charge thousands of dollars for membership. These organizations, Faust notes in her careful, academic way, "detract from the general intermingling of students across lines of identity, origin, wealth, class, race, gender."
But some Harvard men, like their kindred-spirit Yalie Brett Kavanugh, "will not be intimidated into withdrawing" and have spent $180,000 in the first half of this year lobbying Congress for a bill that would cut Harvard's federal funding if sanctions continue. Faust doesn't mince words: "It seems to me to invite an extraordinary intrusion of the federal government into what is the business of the university."
On growing up in a family of three brothers in the pre-civil-rights-era Virginia:
"It's a man's world, Sweetie,'" Faust's mother used to say. "She was always trying to put me in frilly little pink things and telling me not to get dirty," Faust remembers. Meanwhile, her brothers were exempt from all the ritualized training in "politeness, manners, curtsying, no ballet lessons." What did she learn? "Being a man meant assuming power and exercising authority, not hiding from it. Feeling so unfairly treated in comparison with my brothers made me sensitive to other kinds of unfairness." She began to notice "the segregated world around" her — she attended an all-white school and church; her family had a black cook and handyman, who used a separate bathroom. Those injustices "seemed far more profound than my having to wear one kind of clothing." At age 9, she wrote a letter to President Eisenhower, informing him she had "many feelings about segregation" and that Jesus loved all races. As a freshman at Bryn Mawr, she skipped her spring midterms to march in Selma. Later, in her scholarly work, she'd write about the slave-owning class and "how seemingly ordinary people come to make a compromise with evil."
On the most difficult decision she made during the economic crisis:
Less than a year after Faust became president, Harvard's endowment, which funds a third of its operating budget, lost $11 billion. In 2009, Faust halted construction on a science-and-engineering building, the Allston Science Complex, that had been trumpeted as key to Harvard's future. "It was going to be built entirely on borrowed funds, and I decided we couldn't risk that," she says. The foundation, which had already been built on the five-acre site, was covered with a plastic tarp — and would sit like that for the next seven years. In 2009, Vanity Fair called it "Harvard's billion-dollar hole in the ground."
On how she earned the nickname "Chainsaw Drew":
In 1999, when Radcliffe went from being a college to a center for scholars, Faust, as its dean, was in charge of eliminating about a quarter of the staff. She did it all on a single summer day, so as not to have to, as she puts it, "spend time in the maw of unraveling." Did she learn anything about how to fire people? "It's so good to be clear. However hard it is, it's harder when you soften up a message so that it's unclear. It doesn't help anybody."
On why image matters:
"You have to think about it when you're in a position of leadership, because what is said about you can undermine your ability to do what needs to be done," she says. She remembers that the Vanity Fair article was "pretty demeaning, in a variety of ways" — among them, the author wondered "why she got the job in the first place" and questioned whether a historian could possibly deal with the financial crisis. (She'd end up leading a $9.3 billion fundraising campaign, the university's largest ever.) The article made her aware of the need to "let the world see a different side" of her and not allow "the stereotypical portrait of an ineffective woman be the only understanding anyone had of me." She went on a press blitz to counter it: appearing on Charlie Rose and at the Aspen Ideas Festival, meeting with the editorial boards of the New York Times and Washington Post.
On impostor syndrome:
"For 11 years, I wandered around the Harvard campus saying to myself several times a day: 'Am I really the president of Harvard?' And now I wander around saying to myself several times a day, 'Was I really the president of Harvard?' It all seems a little unbelievable."
On the Harvard-admissions lawsuit:
In 2014, Students for Fair Admissions (SFFA), a group of Asian-American students who'd been rejected by Harvard, filed a complaint alleging that the school's affirmative-action admission policies use racial quotas that hold Asian-American students to a higher standard and limit the number who get admitted. Faust declined to say much about the active lawsuit ("I think I'll pass") other than that race is just one factor in a holistic formula: "We are committed, deeply committed, to having a diverse student body — diverse in every dimensions you can imagine," she says. "Race and ethnicity are part of that, but we want people who come from different parts of the world, from different socioeconomic groups, have different interests, different perspectives."
*A version of this article appears in the October 15, 2018, issue of New York Magazine. Subscribe Now!