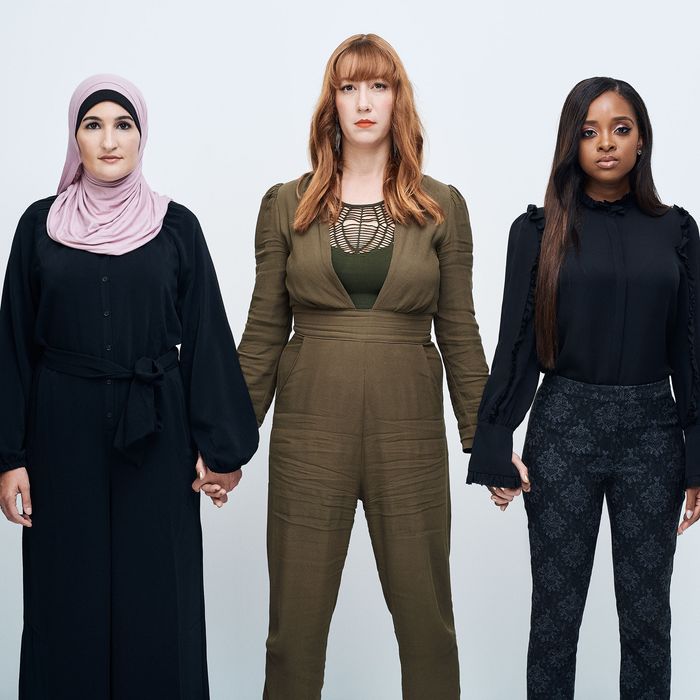 From left, Linda Sarsour, Bob Bland, and Tamika Mallory.
Photo: Amanda Demme
Linda Sarsour, one of the leaders of the Women's March, had an arm around Suzannah Monteith, a 40-year-old mother of two from Virginia. Monteith, wearing a demure sundress and looking nearly sick with nerves, was standing on the sidewalk outside the Hart Senate Office Building in Washington, D.C., in the blazing, 95-degree heat. It was the day after Labor Day, the first day of Senate Judiciary Committee hearings to vet Supreme Court nominee Brett Kavanaugh. This was nearly two weeks before Christine Blasey Ford's allegations would be made public, but several leaders of the Women's March were already there in full protest mode.
Monteith was in a line of about 200 citizens waiting for their turn to sit in the public gallery of the wood-paneled hearing room to watch history be made. Interspersed among the tourists were dozens of protesters like Monteith. "This fabulous lady has already been inside once this morning but did not disrupt," Sarsour said. "But now she's back on line, ready to go in again." She looked Monteith in the eye. "We need you. I promise you, you're going to inspire so many people."
Monteith nodded at Sarsour. "It's counterintuitive to how you're raised," she said. "You're not supposed to be rude. You're not supposed to yell in a solemn, respectful place."
Once Monteith was inside, she and the other protesters in her group waited for Republicans to start speaking; they wouldn't disrupt the Democrats. Sally from Pacific Grove, California — who'd taken a break from an East Coast visit to her granddaughter to come get arrested (she said she'd given her granddaughter the feminist children's book The Pink Hat before taking leave) — chomped her gum a little manically. Sheila, a woman from Dallas who'd told me she wants to protect the Affordable Care Act, sat at the literal edge of her seat, ready to spring. Monteith was listening intently, taking visible deep breaths.
Groups of citizens were shifted out about every 15 minutes; so if the women were going to get loud, they had to do it now. And when they finally stood and began to shout—"Stop the oppression of women!" and "Vote no! Preserve what's left of our democracy!" — when the police grabbed the women's shoulders to drag them out (none resisted; I heard one protester apologize to a neighbor for bumping her as she was physically pulled from her seat), I saw relief, triumph, and fear on their faces. In all, 212 protesters, mostly women, would be arrested over the first three days of Kavanaugh hearings.
This was what Republicans came to call "the mob," and if Trump and the rest of his party are to be taken at face value when they describe this group as "violent," "bullying," and "intimidating," what it says about their perception and fear of women's anger is fascinating. Led by the Women's March and a coalition of progressive groups — the Center for Popular Democracy, Defend Justice, NARAL Pro-Choice America, Housing Works, Planned Parenthood, and ­others — protesters created a noisy, persistent, intrusive opposition to Kavanaugh that made headlines around the country. In the aftermath of the battle, Trump, Mitch McConnell, and other Republican leaders hoping to energize their midterm voters have described the protesters as an "evil" and "violent" quasi-army, paid for by George Soros, intent on overthrowing the government.
There has always been a disconnect between the popular image of the Women's March and the on-the-ground truth of it. The four original co-chairs of the March are a quartet of multiracial New York City feminists: Bob Bland, 35, a former fashion executive and the current co-president of the organization; Tamika Mallory, 38, Women's March co-president and former executive director of Al Sharpton's National Action Network; Carmen Perez, 41, executive director of the Gathering for Justice, a criminal justice-reform group; and Sarsour, 38, executive director of the Arab American Association of New York. They have become some of the most dominant faces of feminism in the Trump era, lauded for their role in turning women's rage and grief in the first days after Trump's surprise 2016 victory into an event that drew an estimated 5 million participants onto the streets nationwide, making it the largest single-day protest in history. They are all mothers, too (in fact, Perez gave birth to her first child on Labor Day), but so woke they shift the entire paradigm of the "cool mom."
The people who actually did the marching were not quite so diverse or radical on the face of it. When University of Maryland sociologist Dana R. Fisher analyzed who attended the 2017 Women's March in Washington, D.C., for example, she found that 77 percent were white and the average age of marchers was 43. More than a third had never been to a protest before, and less than a fifth were a member of any of the 400 organizations that partnered with the March (such as Planned Parenthood, the National Resources Defense Council, Black Lives Matter, and the ACLU).
Still, when invited, these women showed up — and they've continued to do so for feminist causes back home. When Harvard University's Theda Skocpol and University of Pittsburgh's Laura Putnam set out to document "the resistance" that has sprung up in the last two years, they found that "college-educated, middle-aged women in the suburbs" had most changed their political practices under Trump, now making up about 70 percent of participants in local progressive movements.
The Women's March leaders are constantly driving their members toward intersectionality — the idea that the liberation of women, people of color, the LGBT community, and other oppressed communities are all tied together. In past social-justice movements, however, white women have sometimes been regarded as an impediment, either reluctant to participate or pushing aside ­African-Americans and other less privileged groups in search of their own liberation. Remember, 52 percent of white women voters chose Trump.
But now, as many of these white women are beginning to feel their rights eroding, they say they're finally seeing the light of intersectionality and following women of color leftward. As Fran, a 79 year-old retired psychiatric nurse and breast cancer survivor from North Carolina told me, in a sentiment I heard over and over, "The 2016 election energized me and this Kavanaugh thing woke me up!" But Republicans are, if anything, retreating from reality. They seem to be regarding these women with 1950s-colored goggles, hand-wringing about civility and operating under the belief these formerly dependable GOP voters will fall into line if they berate and mock them enough.
By the time I checked in with the Women's March on the rainy evening before Blasey Ford's Senate testimony on September 27, they had set up a temporary headquarters out of an Episcopal church with Housing Works and CPD (the group led by Ana Maria Archila, who would famously accost Jeff Flake in an elevator the next day). About 100 women and a dozen or so men had gathered to strategize. There were tables filled with food lining the walls behind the pews, and some protesters were sleeping in the common space behind the chapel at night to offset the cost of hotels.
The once-tentative newcomers to arrest-as-protest had coalesced into a semi-permanent Occupy SCOTUS force, reinforced by, over the month, a rotating cast of 10,000 Women's March members, plus members of other coalition groups, college students mobilized by the shrugging off of teenage sexual violence, and a cadre of interdenominational clergy who started each day's activism with a prayer circle. There were several children running around the room, from a toddler to a tween in light-up Skechers high-tops and a T-shirt reading "Truly Blessed." A woman on the front steps of the church was handing out crystals and smudging other protesters with dried sage to "remove negative energy."
While each individual I spoke to had different personal reasons for originally getting involved, in a turn of perverse serendipity, Blasey Ford's allegations had created a cross-identity bond much stronger than anything the coalition organizers could have artificially manufactured, even if they did have millions of George Soros's dollars to pay protesters — which, despite accusations from Trump, they did not. There was the health-care worker who was also a domestic-violence survivor; the Crohn's-disease patient who had been assaulted as a teen at debate camp; and the 88 year-old peace activist who empathized deeply with the younger women, who called her "Granny Ruth."
"We are survivors, and yet here we are, thriving," Bland told the group, her cheeks blazing. "We created something much bigger in the last three weeks than just resistance to one Supreme Court nominee. When I look out at everyone here, I see a family. I see an impenetrable force for good. We cannot be stopped!" The room erupted into raucous cheers. Some women openly wept as they sang a protest anthem reappropriated from William Barber's Poor People's Campaign: "Somebody's hurting my sister and it's gone on far too long, gone on far too long."
Paul Davis, the director of national advocacy and mobilization for Housing Works, a nationwide AIDS service and activism group, told me at the church that he'd been criss-crossing the country since the ACA fight, training about 7,000 people in a technique called "bird-dogging": meeting your elected official at town halls or campaign events, telling them a powerful personal story (you have a preexisting condition; you are a rape survivor), and trying to extract a promise to support a certain policy measure, preferably on video tape (Archila with Flake at the elevator was a brief example). "You can't hate someone whose story you know," Davis said. They train birddoggers to "win the room" with empathy for their story — and definitely not to antagonize or threaten anyone. And yet Senators were walking around the Capitol with police escorts last month, terrified of these friendly, empathetic women with powerful stories.
The whole protest had a decidedly femme cast: There was never a whiff of danger (Capitol police only reported arrests for "unlawful demonstration"), but there were dress codes. For the vigil in support of Blasey Ford, everyone was instructed to wear black. The leaders laid out piles of matching black T-shirts reading "I Believe Women" and "I'm a Survivor and I Vote" on the church's dais. Some of the Women's March staffers, in turn, were wearing olive-green Army-surplus-style jackets like the one the First Lady infamously wore to the border to visit migrant children. Except, in place of Melania's cryptic message ("I Really Don't Care, Do U?"), the jackets read "November Is Coming."
There was even a maternal style to the civil disobedience: The leaders carefully detailed the next day's "arrest opportunities" for the group. And after Blasey Ford testified, when many members took advantage of the "opportunity"—including Bland, Mallory, Sarsour, and CNN commentator Sally Kohn—and knelt down in the rainy street in front of the Supreme Court, arms interlocked, singing and chanting, I followed Women's March senior advisor Winnie Wong as she negotiated with police over charges. Wong then took the police chief's directives back to the protesters: If they didn't resist, they'd be released right away on $50 bail. The Women's March provided little white envelopes of cash for those who could not pay the fine, along with a few spare disposable rain ponchos — you almost expected them to break out juice boxes next.
Once arrests began, Wong, an Occupy Wall Street leader and the Bernie Sanders organizer who coined the hashtag #feelthebern, hurried to a the Skyline Capitol Hotel, near the Capitol police processing center, to run "jail support." Just-released arrestees were greeted in the lobby with cheers and hugs and then entered in a log (those who got an envelope of cash but weren't arrested returned the cash). A request for pizza donations was put out on social media, and within an hour supporters had collectively sent at least 55 pizzas to the hotel. Somebody delivered dry socks to pass around. As Kavanaugh raged on the lobby TV at senators about his love for beer, nobody among the protesters drank beer or even Chardonnay. They chatted about how to monitor their kids' screen time and the issues that motivated them to join the protest. Many left quickly to make it home to the D.C. suburbs or onto buses that the Women's March had set up to New York, West Virginia, and Massachusetts. They had sitters to relieve, kids to get to school the next morning, jobs and studies to get back to.
We all know how the story ends: Kavanaugh was confirmed despite the best efforts of the "resisterhood." The morning of Saturday, October 6, before the final vote to confirm Kavanaugh, I managed to catch activist extraordinaire Nadine Bloch on the phone as she stood on the lawn outside the Capitol Building preparing for the day's protests. Bloch literally wrote the book on civil disobedience (Beautiful Trouble: A Toolbox for Revolution). One of the leaders of the World Trade Organization protests in Seattle, she was with Archila when she confronted Flake at the elevator, and is, as NARAL president Ilyse Hogue described her to me, "a total badass."
She half-joked that it was disappointing the Women's Marchers were not the bloodthirsty harpies of Republican fever dreams. "I wouldn't mind if there was an actual riot," she said, sighing. "What we are having is a bit of an uprising." But she supported the group's commitment to nonviolence, citing research by Harvard public policy professor Erica Chenoweth and diplomat Maria J. Stephan showing that nonviolent movements were twice as effective and attracted 11 times more people to the cause. "If people are going to pick up a weapon and hurt each other, they're usually young and male," Bloch said. "But this is a movement of mothers."
*A version of this article appears in the October 15, 2018, issue of New York Magazine. Subscribe Now!