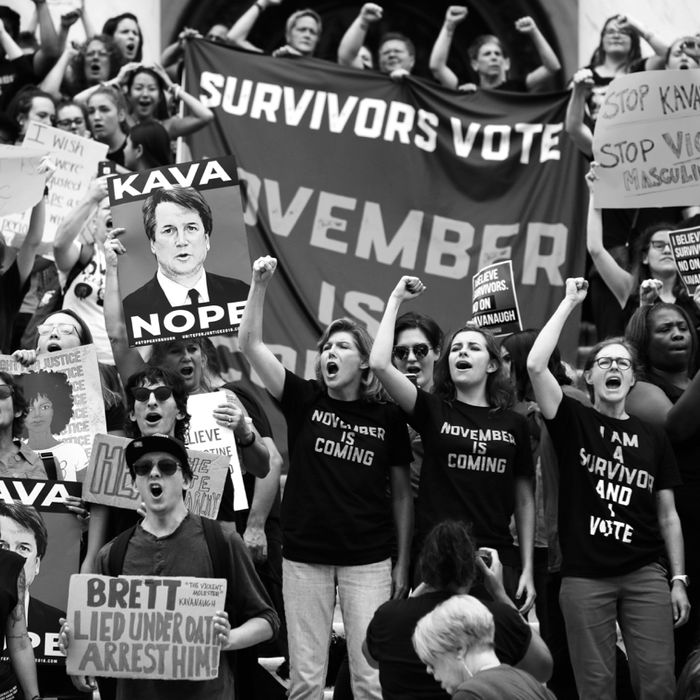 Women protesting at the Capitol.
Photo: Chip Somodevilla/Getty Images
Following Brett Kavanaugh's Supreme Court confirmation, women are coping, organizing and productively raging.
During and after Kavanaugh's confirmation Saturday at 4 p.m., women were screaming in disruption, arrested en masse, pulled off the steps of the Senate building, and dragged out of the Senate gallery.
The GOP, meanwhile, celebrated the "win" for Kavanaugh, who was accused of sexual assault and misconduct by three women and repeatedly lied during his testimony in front of the Senate Judiciary Committee.
Since the beginning of the political battle, many women have called out what they saw as double standards and hypocrisy. A visibly angry and emotional Kavanaugh was trumpeted by the right, while accuser Dr. Christine Blasey-Ford was cast as an unreliable narrator of her own story.
The fight concluded yesterday with a speech in which Senator Susan Collins said she didn't believe Ford — what many women saw as an ultimate betrayal of the women and survivors Collins has said she supports.
Women on Saturday saw the political battle come to a close – but what feels like a new era of protesting begin. They invoked Anita Hill, urged people to vote, mourned, and meditated on the fact an accused abuser was just confirmed to the highest court. Below are some of the reactions.