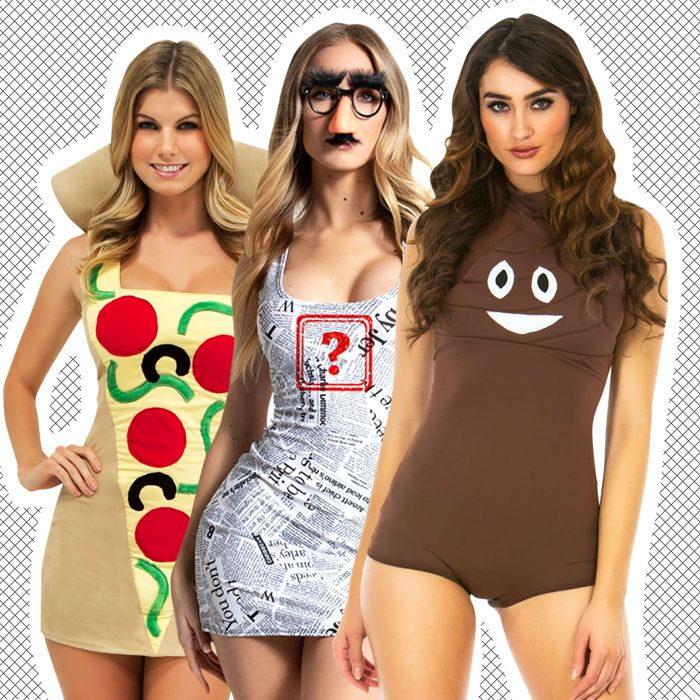 Sexy Pizza, Sexy Anonymous Op-Ed, Sexy Poop Emoji.
Photo: Courtesy of Yandy
What Picasso was to paintings, what James Patterson is to crime novels for dads, Yandy is to sexy Halloween costumes. The online costume emporium, founded in 2005 by a pair of brothers in Arizona, is almost disturbingly prolific, peddling everything from your traditional Sexy Nurses and Sexy Black Cats to the more confounding Sexy Ken Bone and Sexy Poop Emoji … and Sexy Hannibal Lecter and Sexy Yoshi and Sexy Slenderman and so on. (They're not cheap, with some options running upwards of $200.) Most notably, the brand has a remarkable knack for attaching themselves to the viral news cycle, with results that look as if the male gaze has one eye perpetually fixed on an Instagram meme account. But while their most ridiculous costumes have captivated the internet's attention numerous times over, I had yet to see them in person — until Tuesday night, when I had the opportunity to attend Yandy's 2018 fashion presentation.
That's how I found myself at The Standard, a luxury hotel on the west side of Manhattan, walking into a room where the fog machine was working with such gusto that I felt like someone smeared vaseline on my contacts — and not in the sexy way. I, along with about 40 other people, had come out for the launch of the "Hauntingly Sexy" collection. A representative explained to the audience that this theme is a meditation on the duality of man — or, as she put it, that we can be both "spooky and sexy." This, in my opinion, was best embodied by a decorative yet menacing portrait of the Teletubbies:
The fog machine mercifully shut off as a procession of models, mostly women, lined up together on a long platform on one side of the room to display offerings like Sexy Angel, Sexy Witch, Sexy Mermaid and Sexy Rihanna as the Pope at the 2018 Met Gala. There were also three separate Sexy Ancient Egyptian looks; as an Egyptian-American, I can now confirm that our primary area of cultural representation is in the sexy Halloween costume space. The models mainly hung out awkwardly, like video-game characters on the selection screen. One, presumably Sexy Hugh Jackman From That Circus Movie, remembered halfway through that he had a miniature whip and unethustiastically attempted to incorporate it into whatever he was doing. Others chatted with each other, killing time between poses. Every few minutes, the models on the right side would hop off, and everyone else would move over to make room for more sexily costumed people to get on the stage.
I know I'm not Yandy's target customer. While I enjoy Halloween, I tend to go the DIY route; in recent years, my costumes have included John Oates (sensual) and this giant crab I bought for a prop years ago, with no pants on (even more sensual). But their deliberately absurd innovations admittedly make for easy, clickable fodder that — like the royal-face bathing suits, or the RompHim — thrives on the internet. In person, I just felt like a child browsing through my hometown Party City, awash in bleak fluorescent lighting and terrified I was going to accidentally walk into the aisle with the scary costumes.
Soon, it was time to unveil Yandy's two featured topical costumes for the year. The first was "Anonymous Op-Ed," which was a valiant attempt to transform the concept of that New York Times opinion piece written by a member of the Trump administration into something remotely fuckable. The result? A short newsprint tank dress paired with a fake nose, mustache, and glasses. The other, "Cloudy Affair," was their version of a Stormy Daniels getup. But these will hardly be the most talked-about costumes this year.
A few weeks ago, Yandy released their spin on a Handmaid's Tale outfit; called "Brave Red Maiden," it featured a skintight red mini dress, a sleeveless red cape, and a white bonnet. The brand, which has previously been adamant in not apologizing or bowing to online criticism, pulled down the costume the next day. "Our corporate ideology is rooted in female empowerment, and gender empowerment overall," they explained in a statement. "Given the sincere, heartfelt response, supported by numerous personal stories we've received, we are removing the costume from our site." That decision was then met with two new waves of backlash, both from people who felt the initial criticism was humorless and those who are frustrated that Yandy hasn't met their repeated demands to pull down cultural costumes from their site. In particular, indigenous women have started a Change.org petition asking the brand to discontinue their multiple Native American costumes, which bring in a reported $150,000 in revenue per year.
"For us, as a women's brand, we kind of wanted to take it down and show a little respect for that," Pilar Quintana-Williams, Yandy's VP of merchandising, said when asked about the Handmaid's Tale debacle. "We pay a lot of homage to our different cultures and ethnicities and genders and everything like that when it comes to our costumes, so we'll never put anything out there that's really malicious or with any intent to harm anyone or anything like that. We just look at it as Halloween, we don't take ourselves that seriously."
Quintana-Williams also clarified that the topical, news-cycle based costumes are never the ones that sell the most: "Our bread and butter is still going to be cops, vampires, pirates, goddesses."
The night tapered off with the models milling on stage in pairs or small groups, while guests were sent away with pumpkin pails filled with lingerie and candy. And as I, an adult woman, rode the subway home carrying a plastic trick-or-treating bucket conspicuously filled with Starburst and underwear, I wondered what I would be for Halloween this year.