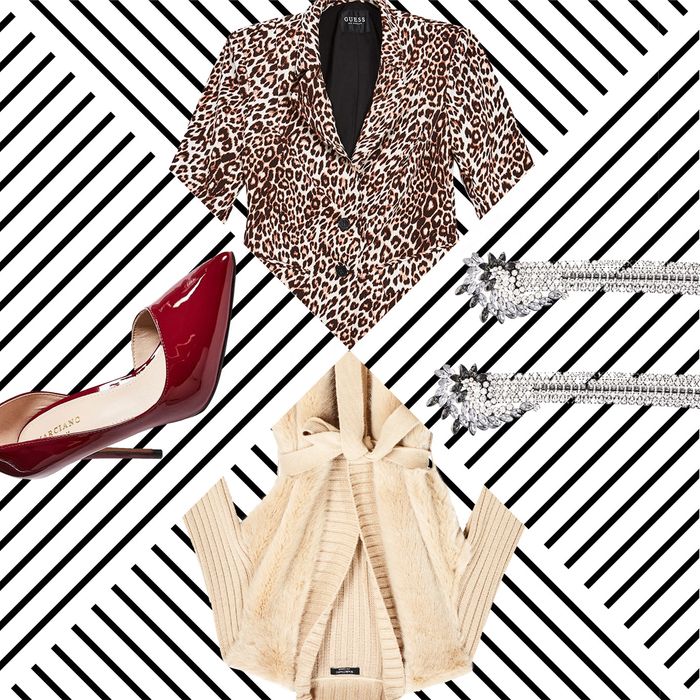 If there's ever a time to have zero chill when getting dressed, it's the holidays. The cold-weather equivalent to wedding season and summer vacations, late November to early January is peak winter-peacocking time. Besides the string of typical invites (quality time with family, catching up with friends, day-of holiday festivities), there's probably an especially fun or formal-ish event or two on your calendar, along with at least one work-related function. To get you through it all in style, we rounded up ten essential pieces from Guess and Marciano for every holiday occasion.
This sweater is suitably relaxed for lower-key gatherings, but stands out thanks to its dolman shape and sequin insets. Create an interesting mix of proportions with wide-leg, high-waisted pants and oversized hoops.
Let New York's most legendary nightclub inspire your next evening look: A long disco dress is perfect for New Year's Eve, or any all-night dance party.
The knit-rib and soft fur panels on this robe-sweater make it a sneakily comfortable way to elevate a simple work look. Wear it to drinks/dinner afterward with tall boots and some gold jewelry.
Big, glittery earrings are the easiest way to look festive. This vintage-inspired style works for a full-on-glamour moment and for a casual cool-girl vibe.
Just because a "little black dress" is supposed to be reliable, doesn't mean it has to be boring. This one's '80s-inspired styling — sequined lace and strong shoulders — feels fashion-forward.
An under-discussed holiday truth is that a lot of functions around this time are, simply, too hot. An airy blouse is handy when the heat is blasting and the room is packed.
When your holiday stress level peaks, cross planning an event look or two off your to-do list and throw this beaded topper over a black turtleneck and jeans. (No judgment if it's leggings.)
Two trends that couldn't be bigger right now: leopard print and blazers. When combined, the result is a piece that's just wild enough for nighttime, but still appropriate for a work-adjacent outing.
Avoid a panicky last-minute shoe purchase by having these glossy, classic heels on hand. The red pops, but they'll still go with everything on this list. (These would also be useful, as would these.)
Swap in this sparkly skirt (which is part of a going-out-ready matching set) to break up your rotation of "nice" black pants. Paired with an oversized sweater, bold lip, and interesting bootie, you'll look innately stylish.
All images courtesy of Guess.
This is paid content produced for an advertiser by New York Stories. The editorial staff of The Cut did not play a role in its creation.