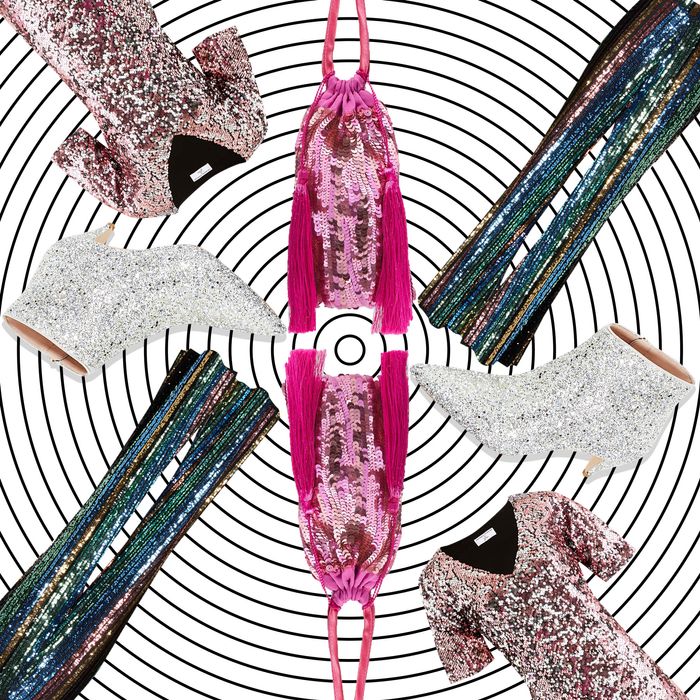 Photo: Courtesy of the Retailers
Much can be said about the pitfalls of sequins. They can be tacky. They're a cliché. They're the territory of hyper-girly teen movies, actual little girls, and Real Housewives confessional booths. But let me pose a counterpoint: Sequins are fun and people should wear them. Don't think about it too hard.
No time of year pushes sequins like the holidays. Maybe it's because it gets dark at 4:30 p.m. and we need all the light and light-reflecting surfaces we can get. Maybe it's because sparkle is one of a few ways to make turtlenecks look sexy (unless you're a Clermont twin). The point is, sequins will make you happy. And there are plenty of ways to make them feel cool.
The No. 1 rule for wearing sequins is this: Pick a lane. Either go head-to-toe like you're about to ride into Studio 54 on a white horse, or dress the sequins down with a pair of light-wash jeans and sneakers. Don't go halfway and wear them with something semi-formal. You either want to embrace the wackiness or be totally nonchalant about it, like you're such a fun person that you didn't even notice your casual grocery-store outfit happens to contain sparkles.
Below, we've rounded up 12 fun sequin items to wear to holiday parties and beyond.
The It-Brand Item
Everybody wants to be a #GanniGirl now. This might look like a going-out top, but add a turtleneck underneath and some Levi 501s and you're in daytime sequin business.
Available in sizes DK34–DK42.
The Double Whammy
When I say "go all out," this is what I mean. Eloquii styled this dress with fishnets and some black heels, which is exactly what you should be going for.
Available in sizes 14–28.
The Dress You'll Keep on Playing With
If the popularity of flip-sequin fabric has taught us anything, it's that people love some multi-colored sequins.
Available in sizes XXS–5X.
If You Just Want to Dip in Your, Um, Toe
Photo: 18-10-17 Accessories AM1 B4 dylanremis W
Tackle wearing sequins one step at a time (sorry for all the puns).
The Beyoncé-Approved Top
Ivy Park is Beyoncé's line, and if Beyoncé wants us to wear sparkle crop tops, who are we to say no?
Available in sizes XS–XL.
The Colorful Top
The jewel tones here are really pretty.
Available in size XL.
If You Love New Year's Eve
Nothing says "I'm here to have fun, damn it" like a gold and black sequin jumpsuit.
Available in sizes XS–L.
If You Want to Pretend It's 2004
This is the bag Paris Hilton, Elle Woods, Sharpay Evans et al would choose.
If You Love the Spotlight
Between the fringe, the sequins, and the figure-skimming silhouette, this look requires confidence. But it's so worth it.
Available in sizes 2–14.
The Barely There Sparkle
If there is such a thing as a subtle way to wear sequins, it's these earrings.
If You Like Your Pants to Be Fun
Having a closet of fun pants is a great hack for easy dressing. That includes these rainbow beauts.
Available in size XS–L.
If You Want to Wear Daytime Sequins
Sequins to wear to brunch the morning after a successful night wearing a different sequined look.
Available in sizes XS–XL.
If you buy something through our links, New York may earn an affiliate commission.