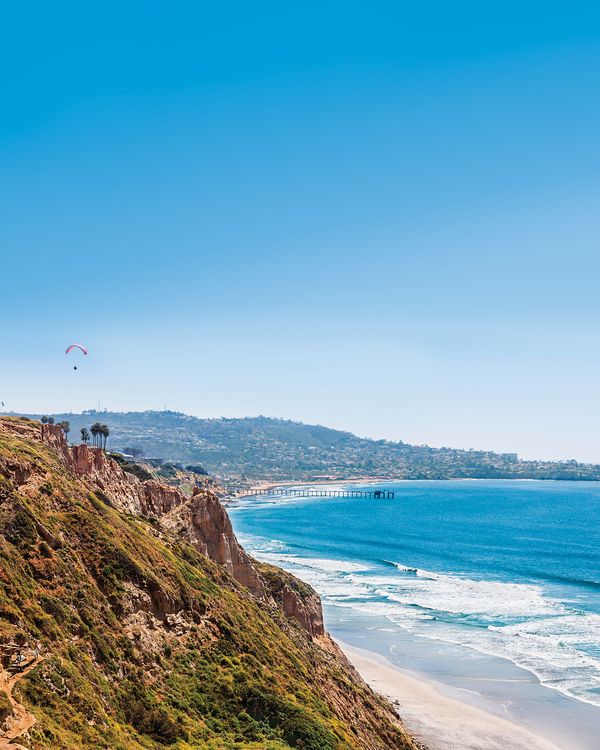 The cliffs at Torrey Pines, San Diego.
Photo: Jo Ann Snover/Alamy
Couples who want to venture to another city — without merely copying their friends' Paris itinerary — can consider lantern-lit bridges in Ghent, Belgium; dog sledding in Harbin, China; and ten other underrated urban escapes.
Stingray Tacos and Ancient Fig Trees in San Diego
You can visit your San Francisco start-up friends anytime. A beach-ier, more low-key city to wind down post-nuptials is San Diego: One minute you're luxuriating in a deep soaking tub at the opulent Fairmont Grand Del Mar (from $469), a Mediterranean-inspired resort tucked into a 400-acre nature preserve with four swimming pools and a Tom Fazio-designed golf course; the next you're lining up for smoked tuna and stingray tacos at TJ Oyster Bar. You can take a spin through the world-class San Diego Zoo, hop on a whale-watching excursion with the crew from Sail San Diego, or snorkel elbow-to-elbow in the popular marine refuge at La Jolla Caves. Or in the sprawling Balboa Park, you'll find a century-old Moreton Bay fig tree with a canopy that stretches 123 feet across; the Mingei International Museum, a showcase of folk art and design (Kenyan beads, Amish quilts, etc.); and the San Diego Museum of Man, which counts scores of Egyptian antiquities among its scholarly collections. Back in La Jolla, hiking trails with magnificent coastal views greet you at Torrey Pines State Natural Reserve, and after working up a good sweat, you can plop down at Rama Thai Massage, where they'll knead out the kinks with a Thai herbal compress. And don't forget to snap a photo reenacting Unconditional Surrender, San Diego's larger-than-life kissing-couple sculpture in Tuna Harbor Park, which artist J. Seward Johnson Jr. modeled after that famous V-J Day in Times Square photo from 1945.
Buddhist Cave Temples and Lotus Mooncakes in Ipoh, Malaysia
More than 650,000 people live in Ipoh, but its artfully decaying heritage buildings and beaming locals lend it a small-town feel. Check into a room with a glass-box shower at Sekeping Kong Heng (from $53) — part of a voguishly industrial microchain with a coffee shop on the ground floor — then head out to experience Ipoh's No. 1 draw: the food. There's the curry mee at Kedai Kopi Nam Chau, the fried pork wontons and cempedak-fruit butter cake at Hoong Tho, and the slippery tau fu fah (an ever-so-sweet puddinglike dessert) at Funny Mountain Soya Bean, which is sure to make you rethink your relationship with tofu. At Foh San, famed as the oldest dim-sum house in town, sweetheart aunties will tempt you with prawn dumplings and lotus-paste mooncakes; at OldTown White Coffee, it's all about the jiggly fresh egg tarts, available only on weekends. Pop a few shirt buttons, then take a 75-minute guided tour of Ipoh­World at Han Chin Pet Soo, a former tin-miners club, gambling hall, opium den, and brothel; or conduct a DIY photo safari along the Ipoh Mural Art Trail. (Lithuanian artist Ernest Zacharevic, who famously left his mark throughout Malaysia's capital, has several pieces in Ipoh — the only difference is you don't have to wait in line to photograph them.) Also unmissable: more than two dozen Buddhist and Taoist cave temples in and around Ipoh, including Ling Sen Tong, with its animated deities and spirals of smoking incense, and Perak Tong, home to a towering Buddha statue and enormous murals hand-painted on the walls and ceiling.
Tesla Museum Tours and Balkan Fruit Brandy in Belgrade, Serbia
Belgrade is one of the oldest and largest cities in southeastern Europe, but it's perhaps easy to miss in the fog of Serbia's complex history. Commence sightseeing with a daylong deep dive at the highly regarded Museum of Yugoslavia. Come evening, catch the sunset in the park at Kalemegdan citadel, a.k.a. the Belgrade Fortress, where the Sava and Danube rivers meet; dig into heaps of meat at a traditional Balkan restaurant like To Je To!; and swig rakija, a bracing Balkan fruit brandy, till your head buzzes in one of the cozy bars in Skadarlija, the city's cobblestoned bohemian quarter. To sleep: Saint Ten (from $205), a 54-room luxury hotel in Belgrade's Vracar district, sits in the heart of the city, just a few blocks' walk from the colossal Byzantine Revival Church of Saint Sava and the Nikola Tesla Museum, devoted to Serbia's greatest inventor (for whom, of course, the car is named). Early risers should take advantage of the lovely forested trails in Košutnjak, an 815-acre urban park. The artsier neighborhood of Dorcol is another easy place to lose yourself by slipping in and out of old coffee shops, browsing the secondhand goods at the Sundays-only Dorcol Platz market, and pausing to admire Bajrakli Mosque, a centuries-old house of worship and the last mosque standing in a city that was once occupied by the Islamic Ottoman Empire. Dorcol is also home to the newly reopened National Museum of Serbia, which had been closed for renovations since 2003. Its considerable holdings include ancient Roman weaponry and coins, rare works by French masters, and more than 6,000 Serbian and Yugoslav pieces from the 17th century through today.
Pan-African Art and a Private Surf Camp in Dakar, Senegal
The PR machine behind Senegal is generally much quieter than that of other African countries, but therein lies the former colonial trading post of Dakar. Its panoramic views of the Atlantic are best seen from the heated outdoor pool at the five-star Pullman Dakar Teranga (from $175). Request a sea-facing room and you may spot the Île de Gorée, a UNESCO World Heritage site roughly two miles offshore. From the 15th to 19th centuries, this speck of land functioned as the largest slave-trading center on the African coast — a history you can explore by touring its Maison des Esclaves, a merchant's house turned slavery memorial. Back on the mainland, browse the art studios and gallery at Village des Arts or the Pan-African collections at La Galerie Antenna and the IFAN Museum of African Arts. Watch the fishermen haul in their daily catch at Marché Soumbédioune in the old quarter, or shop Marché HLM for wax-printed fabrics and other graphic textiles. Surfing is another popular diversion in Dakar: Beginners can sign up for private lessons at N'Gor Island Surf Camp and then test their skills on the sandy breaks at Yoff and Virage Beaches. If the thrum of the capital gets to be overwhelming (over 2 million people live there, after all), go for a float on Lake Retba, a.k.a. Lac Rose — salty, bubblegum-pink waters about an hour outside of town. Even farther afield, about two hours south of Dakar, is the Petite Côte, where the Cap-Vert Peninsula meets the Saloum delta with a crush of fishing villages and golden beaches.
Urban Hikes and Antique Bookshops in Toronto
Couples seeking the romance of Paris without the expense often head to Québec City, but the other other option, particularly for those accustomed to cosmopolitan life in New York, is Toronto. Drop your luggage in a brand-new room at the moodily decorated Kimpton Saint George (from $253) and head west to the Museum of Contemporary Art ­Toronto Canada, which had a much-awaited reopening in September. For a High Line-esque fix, amble around the Bentway, a mile-long, mixed-use recreational space running under the Gardiner Expressway. You never know what will pop up there: a beer garden, a skate park, an ice rink, all of the above? (Yes.) Bibliophiles, meanwhile, love scouring the shelves at world-class antiquarian bookshop the Monkey's Paw, where unearthing obscure titles about wiener dogs or gymnastics pyramids is all in an afternoon's hunting. Another favorite Toronto pastime: snacking your way around the world without leaving the city. Hit up Maha's Egyptian brunch for basturma scramble with house-baked pita and cardamom-honey lattes, Mona's Roti for fiery Trinidadian doubles, Crown Pastries for delectable Syrian baked goods, Bu'na for traditional Ethiopian coffee, and Patois to revel in the mix-and-match mash-ups of pirogi-style kimchee potstickers and jerk-­chicken chow mein. Then burn it all off by hiking one of the steep and rugged trails within the ever-evolving Rouge National Urban Park. When fully realized, this protected green space will be 23 times larger than Central Park.
Ice Slides and Herbal Steam Showers in Harbin, China
Beijing, Shanghai, Chengdu — these are the cities that spring to mind when Westerners plan a trip to China. But if you've heard of Harbin, located in Heilongjiang, the northernmost province in the People's Republic, it's probably exclusively because of the annual Harbin International Ice and Snow Sculpture Festival (taking place this season from December 17 through the end of February). The event boasts enormous illuminated ice sculptures, ice slides, dog sledding, and other subzero attractions. Of course, deep winter in Harbin means average temperatures as low as minus-11 degrees Fahrenheit; the best way to warm up your bones is by booking a room within easy striking distance of the festival grounds. Perched along the Songhua River, the key water source for the festival's ice blocks, is the glamorous 344-room Songbei Shangri-La, ­Harbin (from $110); its indoor swimming pool, sauna, and herbal steam shower will instantly revitalize that winter skin. When you're all festivaled out, snap up tickets for a show at the Harbin Opera House or putter around the 14-acre grounds of the almost-century-old Jile Temple, which is dominated by a seven-story pagoda, and the Byzantine-style St. Sophia Cathedral, the largest Russian Orthodox church in the Far East. Just leave enough time for a day trip to Volga Manor in nearby Chenggaozi: The Russian-style garden park is dotted with more than 30 Russo-Chinese buildings, including a castle and cathedral ideal for selfie-snapping lovebirds — and worth the risk of your camera battery draining to zero in the extreme cold.
Craft Breweries and Rock Flats in Richmond, Virginia
With Philadelphia, Boston, and Washington, D.C., all within a four-hour drive of New York City, it's easy to overlook Richmond — a whole six hours away. But newlyweds who go the extra miles will find a relaxing, walkable city overflowing with charming Colonial rowhouses, inviting public parks, abundant international street art (thanks to the ambitious Richmond Mural Project), and a glut of craft breweries (the Veil Brewing Co. is top of the heap) and James Beard Award nominees (Sub Rosa Bakery, Metzger Bar & Butchery, Brenner Pass, Mekong, etc.). The lobby and rooms at the art-stuffed Quirk Hotel (from $309) are as polished as anything you'll find in Soho, while the exhibits at the sprawling Virginia Museum of Fine Arts are refreshingly diverse (Fabergé eggs in one hall, Congo masks in the next). Pick up what is arguably the world's greatest egg sandwich from Pop's Market on Grace and hoof it over the pedestrian footbridge to Belle Isle, where wooded trails, a quarry pond, and rock flats perfect for picnicking and sunbathing await. Dinner at neo-Greek haunt Stella's — with its flaming saganaki and filling artichoke moussaka — is another must.
12th-Century Castles and Pastel-Colored Boutiques in Ghent, Belgium
Located at the confluence of the Leie and Scheldt rivers in East Flanders, Ghent offers travelers a little of everything: a historic port, bicycle-friendly streets, innumerable intellectual pursuits, and, well, plenty of Belgian beer. A quarter of a million people live among its winding canals and elaborate architecture — which includes the 12th-century Gravensteen castle, a.k.a. Castle of the Counts, and the spectacularly arched St. Michael's Bridge, which looks especially romantic under the glow of evening lanterns. When the sun's out, pound the cobblestones in the pastel-hued neighborhood of Paters­hol, popping into small boutiques and mom-and-pop eateries; watch for migrating birds in Bourgoyen-­Ossemeersen, a 544-acre nature reserve on the city's outskirts; compare paintings by Hieronymus Bosch and James Ensor at the Museum of Fine Arts Ghent with whatever today's art stars are doing at S.M.A.K., one of the largest contemporary-art museums in Belgium; or just throw back a nice bottle of wine on the snugly packed terrace at Minor Swing, a popular jazz joint. If you plan on sleeping, the place to do it is 1898 the Post (from $173), a former post office with an ornate Neo-­Gothic façade. The hotel occupies the top two floors, its 38 rooms and suites painted in sumptuous dark colors and brimming with antique furnishings. For the ultimate treat, request the octagonal suite with 360-degree views of the starry-eyed city below.
Bayside Boardwalks and Mestizo Artifacts in Asunción, Paraguay
In the sleepy city of Asunción, moldering colonial buildings are just as photogenic as its grandest churches (of which there are many) and the resplendent Palacio de los López (where Paraguay's president goes about his governmental affairs). Kick-start your explorations at la Costanera, a lively boardwalk running alongside the Bahía de Asunción. The promenade got a reboot five years ago and is now a good place to catch a cross-section of locals mingling at sunset. El Cabildo, a salmon-colored town hall turned heritage museum, is a smart starting point for couples wishing to learn about indigenous Guaraní arts, and Centro de Artes Visuales/Museo del Barro can't be beat for centuries-old mestizo artifacts, indigenous masks woven from caraguatá fibers, and an extensive pre-Columbian pottery collection. Cuisine in Paraguay is as carnivorous as that of its neighbors Brazil and Argentina: Embrace the meat sweats by tucking into old-fashioned dishes like puchero (hearty beef stew) and milanesa de carne (breaded beef filets) at Bar San Roque, considered the oldest restaurant in the country. Rustle up tickets to a fútbol match in the Estadio Defensores del Chaco, and after you've cheered your throat raw, gulp down some rum-and-mint cocktails at the cheerful La Casa del Mojito PY bar in Loma San Jerónimo. Finally, get some rest at Las Lomas Casa Hotel (from $110), a 22-room boutique inn whose modern-neutral rooms have terraces so jammed with tropical greenery you'll swear you took a wrong turn in the jungle.
Ostrich Feeding and Mangrove Paddleboarding in Willemstad, Curaçao
Despite four weekly, nonstop flights between New York and Curaçao, the C in the Aruba-Bonaire-Curaçao trifecta of the Lesser Antilles gets remarkably little attention outside the Netherlands. Thus the historic district of Willemstad, the island's 145,000-­people-strong capital colonized by the Dutch nearly 400 years ago, is incredibly well preserved; the city's brightly colored buildings and natural harbor area have earned it UNESCO World Heritage status. Stay in one of the nine Balinese-style villas or eight beachfront pool suites at Baoase Luxury Resort (from $855), which also have an outdoor bathtub carved from Javanese rock (plus, it's a two-minute drive down the road to Sea Side Terrace for pan-fried whole red snapper). History buffs can tool around Fort Amsterdam, one of eight surviving fortresses that shielded Willemstad from intruders; learn about Curaçao's role in the transatlantic slave trade at Museum Kura Hulanda; or book a Jewish-heritage walking tour through Mikvé Israel-Emanuel, the oldest continually-­in-use synagogue in the Western Hemisphere. Elsewhere, take a 45-­minute guided tour of the 200,000-year-old Hato Caves, feed the big birds at Curaçao ­Ostrich Farm, see rainbow-hued fish darting in and out of a sunken tugboat off the coast of the Caracas Bay peninsula; and stand-up paddleboard through the Spanish Waters mangrove lagoon with tour company SUP Curaçao. Or you may do just as well doing nothing at all: The blond beach at Grote Knip looks onto screen-saver-worthy turquoise water.
Rooftop Spas and a Vintage-Bowling-Gear Gallery in Minneapolis-St. Paul
A honeymoon in the Twin Cities is like getting two vacations in one. If you base yourself at the lodge-inspired Hewing Hotel (from $189), located inside an 1897 brick warehouse with original pine beams in Minneapolis's North Loop neighborhood, you can easily weave between downtown and the state capital, St. Paul. Downstairs at Hewing's is Tullibee, a seasonally driven restaurant serving rustic cuisine inspired by the Minnesota woods. Away from the hotel's food, rooftop sauna, and spa pool, you can explore the Twin Cities' myriad museums: In Minneapolis, you have the excellent Minneapolis Institute of Art, American Swedish Institute, and the Walker Art Center; in St. Paul, there's the newly renovated Bell Museum of natural history and the rebuilt Minnesota Museum of American Art (reopening in December). Both towns enjoy an ethnically diverse food scene: In Minneapolis, there's Qoraxlow for traditional Somali dishes and Kado no Mise for insanely fresh sushi; in St. Paul, try Babani's for Kurdish cuisine and HmongTown Marketplace and Hmong Village for a wealth of Hmong street food. Back in Minneapolis, you can round out your cultural experience with a Broadway play at the Guthrie Theater or a quirkier spectacle at the House of Balls — a gallery stuffed with artworks carved from vintage bowling gear.
Ancestral Bath Treatments and Arabic Calligraphy Classes in Tunis, Tunisia
When it comes to North African tourism, Morocco and Tunisia can go head-to-head. Both countries promise attractive beaches, chaotic souks, Crayola-bright arched doorways, and that legendary Islamic hospitality. But generally speaking, you'll encounter fewer tourists and get more for your honeymoon money in Tunisia. Deep in the heart of Tunis's medina, Dar Ben-Gacem (from $104) is a 17th-century private home turned seven-room guesthouse with crisp whitewashed walls, stunning tile work, and home-cooked Tunisian meals served upon request. The boutique inn hooks up newlyweds with a variety of local experiences, including soapy ancestral hammam bath treatments, hands-on classes in Arabic calligraphy and traditional bookbinding, and two-hour city tours with architectural guides from the Doolesha collective. Meander the length of Avenue Habib Bourguiba in the city center to ogle the 125-foot-tall clock tower and the richly detailed mosaics inside the Cathedral of St. Vincent de Paul or pick up ballet or orchestra tickets at the grand Théâtre Municipal de Tunis. The National Bardo Museum, located in an opulent 15th-century palace, houses the world's most famous mosaics collection, while the B'Chira Art Center in Ariana, about 30 minutes from the medina, focuses exclusively on contemporary works. Devote a day to exploring both institutions' treasures, then retire to the glorious rooftop terrace at El Ali for refreshing Tunisian citronnade, Afro-Berber beats, and views of the historic ­Zitouna Mosque below.
*This article appears in the winter 2019 issue of New York Weddings.
More From New York Weddings
See All