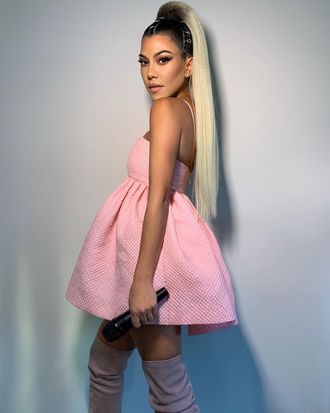 Kourtney Kardashian as Ariana Grande.
Photo: kourtneykardash via Instagram
Halloween: The time of the year when you can dress up as anything you want, human or animal, horrifying or slutty, obnoxious or understated. And many celebrities … choose to dress up as other celebrities.
The celeb-as-celeb costume is, in my opinion, perfect. Celebs have the wealth (and personal assistants, makeup artists, stylists, etc.) to invest in and create elaborate costumes, so while the transformation may not be convincing, the execution is, at the very least, stellar. Rita Ora dressed up as Post Malone? Hell yeah. Beyoncé and Toni Braxton? More of that, please. Below, the best of the best celeb-as-celeb costumes.
Chrissy Teigen and John Legend as Queen Elizabeth and Prince Philip
Kim Kardashian as Pamela Anderson
… and Ariel Winter as Pamela Anderson
Saint West and Reign Disick as Kanye West and Lil Pump
Rita Ora as Post Malone
Harry Styles as Elton John
Beyoncé as Toni Braxton
Mel B as Victoria Beckham
Gabrielle Union as Gwen Stefani
Nicky Hilton as Paris Hilton
Lisa Rinna as Erika Jayne
Ashley Graham as Jennifer Lopez
Kourtney Kardashian as Ariana Grande