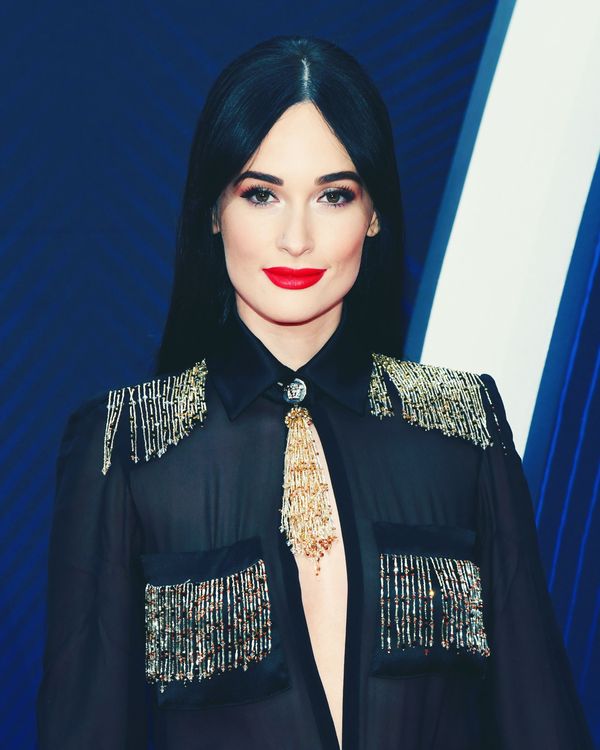 Kacey Musgraves in Versace.
Photo: Jason Kempin/Getty Images
On Wednesday night at the Country Music Association Awards (CMAs), one artist stood out from the rest on the red carpet: Kacey Musgraves.
The 30-year-old Texan singer with jet-black hair and a nose ring has never been one for convention. Her early hit "Follow Your Arrow" is all about doing "what you're into," even if that means kissing girls and rolling joints (or not). And her latest single "Slow Burn" openly references her LSD trip.
When it comes to fashion, Musgraves also has her own country outlaw look. At the CMAs, for example, she wore a custom black Versace suit with gold bling that melded traditional Western style with Italian glamour. So, the perfect combination of all our interests.
"I'm dying!" Musgraves told Entertainment Tonight when asked about her look on the red carpet. "I grew up singing and wearing all this traditional Western clothing, so it's an homage to my childhood and where I came from, and also country music. And it's high fashion. It's yee-haw couture! I'm calling it 'Yee-Sace.'"
It was a big night for Versace and country music. After winning the award for Album of the Year, Musgraves changed into an all-orange Versace look. And the brand also outfitted Brian Kelley and Tyler Hubbard of the Florida Georgia Line — plus their wives and kids.
"Versace hasn't dressed any country artists at CMAs before tonight," the duo's stylist Krista Roser told People. "This is really showing how the fashion world is embracing the country music format and and artists that fit their style."
If you think about it, country glitz and Italian glam are a match made in gold bolo tie heaven. In fact, Versace has been referencing Western style for decades, as evidence by the return of not only bolo ties, but also cowboy hats and big belts in its recent tribute collection to the late Gianni Versace. The resulting look is somewhere in-between Donatella Versace and Dolly Parton. Which, as Kacey Musgraves would say, is exactly what we're into.