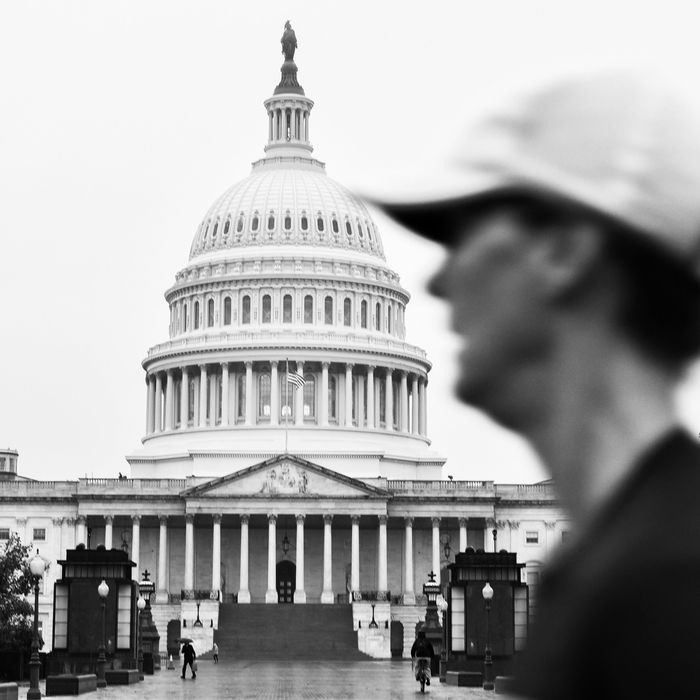 Photo: MANDEL NGAN/AFP/Getty Images
We haven't heard much about it, but along with everything else at stake, Tuesday's election could build a stronger bedrock for abortion rights — or it could hasten their end.
Earlier this year, Anthony Kennedy's retirement reminded us of the tissue-thin foundation on which reproductive freedom in this country has rested, always one death or retirement away from the Roe v. Wade apocalypse. What makes Tuesday so important is the near-certainty that the federal judiciary will not be a backstop on the most brazen encroachments on abortion rights. "There was very much a sense, when I started this work, that the courts would ultimately save us from the 400-plus abortion restrictions" passed by the states, Kelly Baden, who directs the reproductive rights effort at the State Innovation Exchange, told me earlier this year.
In the aftermath of Kavanaugh's appointment, the federal courts can no longer be counted on and things could get worse. If Republicans hold onto the Senate, as most forecasts think they will, they can keep appointing veritable teenagers to lifetime gigs on the federal judiciary, and maybe replace another justice or two. But even if that happens, there are some reasons for optimism. One is that the citizens of blue and purple states could finally vote in legislatures that pass pro-choice laws. Another is that, in contrast to elections past, abortion rights are now motivating more Democrats than Republicans to cast ballots, according to an analysis of two polls from Pew and PRRI.
In fact, the Pew poll showed that 61 percent of Democrats said abortion is very important to their vote this year, compared to 44 percent of Republicans. (Compare that to 2010, the bloodbath midterms when 51 percent of Republicans called abortion very important and only 37 percent of Democrats said the same. GOP wins that year sowed the seeds of hundreds of restrictions on abortion in the states.) Here are all the ways Tuesday's results could affect abortion rights:
On the ballot:
The most straightforward way voters will pick sides on abortion is through ballot initiatives in Alabama, Oregon, and West Virginia. Alabama's proposed constitutional amendment, which seeks to "recognize and support the sanctity of unborn life and the rights of unborn children, including the right to life," would be mostly symbolic, waiting in place for the Supreme Court to overturn Roe v. Wade, allowing states to ban abortion. West Virginia and Oregon's ballot measures want to strip abortion coverage from people on Medicaid and others on public insurance plans. (While there is a federal ban on most Medicaid funding of abortion, some states do cover the procedure, at times because a state court interpreted the state constitution as requiring it.) West Virginia senator Joe Manchin, the only Democrat who voted to confirm Kavanaugh, said in a recent debate that he opposes the amendment because it lacks exceptions for rape and incest. His Republican opponent, Attorney General Patrick Morrisey, supports it, unsurprisingly, but polls suggest Manchin is likely to coast to victory.
In the Senate:
If the battle over Kavanaugh wasn't harrowing enough, brace yourself for what might happen if there's another retirement or death among the nine justices. Whoever holds the majority in the Senate will help determine who fills that seat, or whether it gets filled at all. If the Democrats take control of the chamber, leaders could decide to hold any opening vacant for a Democratic presidency, as the Republicans did after Antonin Scalia died.
If the Senate stays Republican, look for an even quicker erosion of abortion rights, even if no seat opens up on the Supreme Court. The party that controls the Senate also determines the makeup of lower courts, who referee state-level restrictions on abortion that affect millions of people but might never make it up to the highest court.
Republican opponents of red-state Democratic senators have repeatedly made abortion a campaign issue. North Dakota Republican Kevin Cramer had his pregnant daughter appear in an ad criticizing Senator Heidi Heitkamp for voting against a 20-week abortion ban. Missouri attorney general Josh Hawley, who clerked for Chief Justice John Roberts and is challenging Democrat Claire McCaskill, ran an ad calling the Supreme Court "the last line of defense for our values." The fact that Indiana's Democratic senator Joe Donnelly calls himself pro-life hasn't prevented anti-abortion groups from targeting him, citing his votes against defunding Planned Parenthood and for the Affordable Care Act.
In statehouses:
Nobody knows what the reversal of Roe might look like in practice, but it's likely the Supreme Court will give states more power than ever to shape abortion law. Up for grabs on Tuesday: Control of at least one chamber of legislatures in states from Maine to Wisconsin to Nevada.
The Trump era laid bare how politicians in even the bluest states have avoided doing much to protect or expand abortion access, letting the courts do the work for them. New York's Reproductive Health Act — which would update the state's archaic pre-Roe abortion laws and allow abortions after 24 weeks for fetal abnormalities or when the woman's health is threatened, as well as permit nurse practitioners and physicians assistants to perform the procedure —has languished, thanks to a divided legislature and the refusal, until recently, of Governor Andrew Cuomo to spend political capital on it. If Democrats take the State Senate, that could change. Massachusetts and Oregon have already repealed their pre-Roe abortion bans and put in place expansive new laws; Rhode Island and New Mexico could follow, and the list could get longer depending on how Tuesday goes.
A good day on Tuesday for Democrats would mean ensuring legal abortion beyond just blue states. In purplish Michigan, Democratic candidate for governor Gretchen Whitmer, has campaigned on repealing the state's "zombie" abortion law, which wouldn't protect access if Roe was overturned. If pro-choice gubernatorial candidates like Andrew Gillum in Florida and Stacey Abrams in Georgia succeed, they'd be in place to veto any new restrictions.
No matter what the midterm results, it's clear that the future of abortion access will increasingly be a local fight. Which, in fact, might please one of the nation's foremost critics of relying too heavily on the Supreme Court to ensure reproductive freedom. In March 1993, mere months before Bill Clinton nominated her to the Supreme Court, then–D.C. circuit judge Ruth Bader Ginsburg gave a lecture arguing that by striking down all abortion bans at once Roe v. Wade "halted a political process that was moving in a reform direction" in the states, and thereby fomented a national backlash. (Both assertions are furiously debated by scholars.)
Only months before Ginsburg spoke, the court had issued a decision that had both given and taken away: Planned Parenthood v. Casey kept abortion legal but granted states more leeway to restrict it. Ginsburg said in her 1993 speech that she hoped that the result of Casey would be "a movement that addressed not simply or dominantly the courts but primarily the people's representatives and the people themselves. That renewed force, one may hope, will — within a relatively short span — yield an enduring resolution of this vital matter in a way that affirms the dignity and equality of women." That kind of political engagement to ensure women's fundamental rights didn't follow. The question is whether it will now.