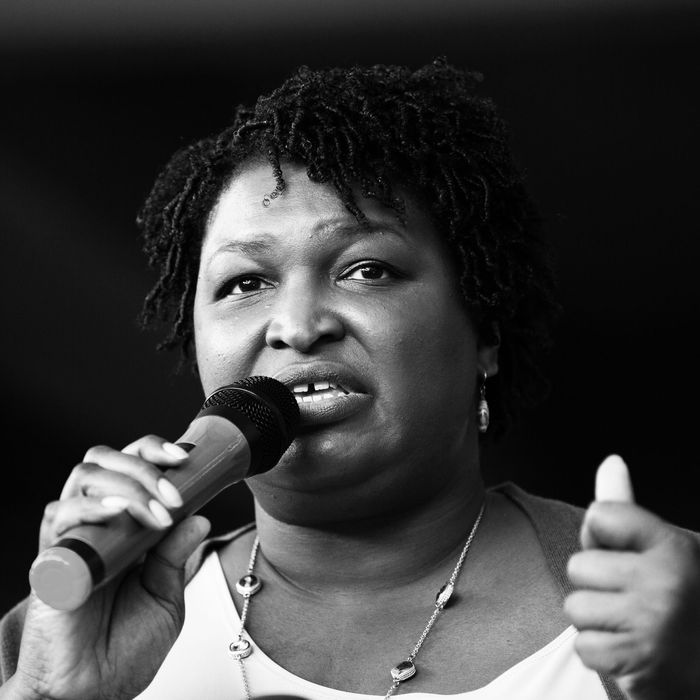 Stacey Abrams.
Photo: Jessica McGowan/Getty Images
While Stacey Abrams did not win her bid to become Georgia's governor in the legal sense, her historic campaign can claim a number of victories: She ignited a nationwide discussion around racist voter suppression at the hands of her opponent, former secretary of state Brian Kemp; galvanized young and non-white voters; filed lawsuits over the mishandling of provisional and absentee ballots; and nearly became the first black woman to ever be elected as governor.
On Friday, Abrams gave a "non-concession concession speech," as the Atlanta Journal-Constitution described it, in which she acknowledged that she had no further legal remedy, but refused to recognize the election results as "right, true or proper." Over the weekend, the Cut reached out to three black women who live in Georgia. Each woman is processing the race differently, but all expressed a similar sentiment: They know this is the beginning of something bigger than an individual politician's success.
And Abrams herself isn't going anywhere. Already, the Democrat is talking about running for elected office again, and has plans to file "major federal lawsuit against the state of Georgia for the gross mismanagement of this election and to protect future elections from unconstitutional actions." Though she has ended her candidacy and acknowledges Kemp as Georgia's "legal" governor — but not a "legitimate" one — she's prepared to "fight on."
"I'm angry because you can be a genius, you can run the best campaign Georgia has ever seen, and it still not be enough."
I run Stacey's initiative the New Georgia Project, and we've registered over 300,000 people of color to vote, all across the South. We want to bring Georgia's underrepresented and underserved communities into the democratic process to fundamentally change the way politics gets done.




Was I optimistic and hopeful ahead of the race? Absolutely, but it was a very measured optimism, given how intimately familiar I am with Brian Kemp and his low-grade, systematic attacks on Georgia's election infrastructure. In the beginning, there was the belief that Stacey would not meet the traditional Democratic performance — so, not get 45 percent of the vote, because she's a woman and she's a woman of color. She went from that to her essentially her winning, even with all of these votes that were not counted.




I'm angry. Brian Kemp isn't even qualified to carry Stacey Abrams's handbag. That he stole this election, and that people are ready to go back to business as usual, as if we aren't at a crime scene, as if this isn't the blueprint for how elections are going to be stolen all over the country, is disgusting to me. It's frustrating because when we told people that this was about the very integrity of our elections, people tried to say we were being hyperbolic or shrill. I'm angry because you can be a genius, you can run the best campaign Georgia has ever seen, and it still not be enough.




However, I am encouraged because there were people out there who shared our values and are on our side. Some said that Georgia could never elect a black woman in the primaries, and that was proven wrong. I'm also really proud of Georgia because I've been saying for a long time that Georgia is America's newest swing state. So on the one hand, I am very angry and bitter. On the other hand, I am super encouraged because on international stage, all of these old assumptions about women candidates and black candidates have been destroyed in front of the world to see. —Nse Ufot
"It's not over for her, or for us."
I first heard about Stacey Abrams a little while after the primary elections. I was just finishing out my maymester classes and preparing to start summer classes. I liked that her platform was for all individuals, including the marginalized, the underrepresented, and those that may have felt forgotten, regardless of race or socioeconomic backgrounds. Before the election, I was very optimistic she would win.




As a young black millennial in America, seeing a black woman pushing boundaries on a political platform in a state like Georgia was inspiring. Stacey empowered me and reminded me to stay true to my convictions and the power of sharing your voice, whether it is on a small or larger scale. I was upset at the circumstances that led up to her concession. However, I am so encouraged by what Stacey accomplished. I had never seen so many of my peers take action towards being politically aware and active. I definitely believe Stacey played a part in what was the catalyst to this shift in many millennials. I am confident this is just the beginning. It's not over for her, or for us. —Krystal Samuels
"Abrams did win. We won."
When the Netroots convention occurred last summer, I was not an Abrams stan. But over time, from listening to her, I saw the possibility of building an effort that can help set in motion a change in the way we run elections, build with voters, and invest in non-voters. Her focus on not shying away from a fight gave me one more role model of a free black woman who was unbossed and unbothered.




Obviously I have mixed emotions, but for the most part I am invigorated and proud. This isn't the end — those weren't parting words [in her speech on Friday], but a launch pad for furthering the work that has already begun. When you look at what was accomplished in this race with the collective work of so many groups, we were successful in running the most competitive race in over 20 years and empowering voters across the board. Although she did not win in the traditional sense, the greater victory in this race is the national conversation and commitment to organizing around fairness in elections and specifically fighting these systems which continue to disenfranchise voters. We are not defined by the limitations of others. Abrams did win. We won. —Anoa Changa