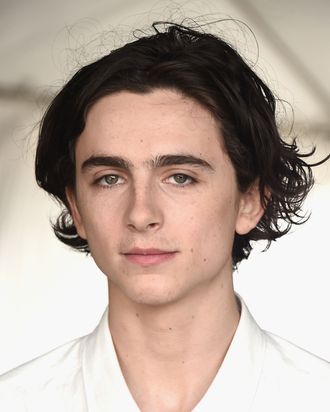 Timothée Chalamet.
Photo: Amanda Edwards/Getty Images
Timothée Chalamet's hair is great. It's thick, wavy, shiny, and beautifully messy looking, falling into his eyes with a seemingly unstudied blend of attitude and mystery. His hair has been seen most prominently in Call Me By Your Name, Lady Bird, and on the cover of GQ, which called it "once-in-a-generation."
Women, specifically queer women, are taking inspiration from the young actor to get Timothée Chalamet–inspired haircuts. Forget the Rachel — is the next big haircut "the Ti-mo-tay"? The Cut talked to three women who have it about why they were inspired to make the cut.
I have a tendency to copy celebrity hair. My last drastic cut was Kristen Stewart's back when she had her first asymmetrical haircut. I went from really long hair to the K.Stew hair, and that came, not so coincidentally, around the time that I was coming out as a lesbian. I think that was definitely connected.
I saw [Chalamet] on the cover of GQ and was like, I really want that that haircut. Usually I'm pretty impulsive about those decisions. I went the next day and got it done.
Pretty soon after, I actually saw Timothée. We were eating in the same restaurant. He was in a baseball cap, and I think he was trying not to be recognized. He took off his hat eventually and then he had hat hair. But that's kind of my favorite thing about his haircut — it looks very messy. It's bedhead, but it's styled to look like an unstyled look, and I like that.
Right after I graduated from college, I was like, I'm going to chop off all my hair. With really short hair, I thought that I could dress more like a boy. I wanted to look like that shitty Bushwick art boy that you date for two months and then he dumps you out of the blue for no reason. I think I succeeded, and then I was like, I'm going to do the femme version of that too. It got to the Timothée Chalamet length a couple months after that.
It was really fun because I got the attention that I wanted, and I got the hair that I wanted. My dad is not the biggest fan in the world, and my mom loves short hair on girls but she didn't like how short I went.
Timothée Chalamet is not a hypermasculine sort of dude, so I think it's a haircut you can adopt. It does walk that androgynous line — it's a very soft haircut. It's gentle and romantic.
I got a pixie cut in 2015. Then I started letting it grow out and it was a bad shaggy cut until it got to the Timothée length we're talking about. When I finally got a cut that was a little bit more mature, a little more funky and androgynous, which is kind of my vibe, it just felt more like me.
My hair is naturally predominantly wavy, not quite curly, with straight segments. It's not evenly textured across my head, which is why — big reveal — I have a perm. I couldn't curl it or straighten it before; it would just poof up. I get a little bit of body with a perm.
When I first cut it, it was a big deal because my hair was everything. I was that girl in high school that had the very long hair. I certainly liked the short cut, but my family's Italian, and my Nonna had a conniption. She was like, Oh my god. Your beautiful hair, you look like a man. I had hair to my shoulders, and she still said that.
I don't mind the comparison to Timothée. I think he's got a really cool haircut. I like that my hair is so voluminous. It's so low maintenance, but it looks like I did a lot to it.