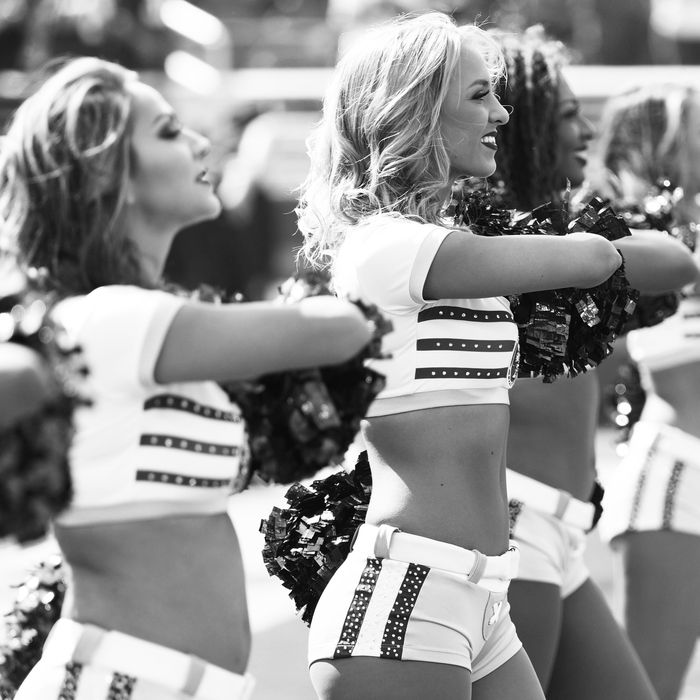 49ers cheerleaders.
Photo: Cody Glenn/Icon Sportswire/Icon Sportswire via Getty Images
Ahead of a game against the Oakland Raiders, a 49ers cheerleader took a knee during the national anthem in an apparent act of protest against police brutality.
On Thursday night, a Gold Rush cheerleader dropped to one knee while the others remained standing, which was captured by NBC Bay Area reporter Damian Trujillo. The cheerleader, whose name has not yet been reported, has not spoken of her motivations, though her action appears to be a part of a protest against racial injustice. In 2016, former 49ers quarterback Colin Kaepernick took a knee during the national anthem to protest police brutality against people of color — a demonstration that inspired other NFL players to do the same, infuriating conservatives and the NFL alike.
Though the unidentified cheerleader's team did not join her, Lenny Herold, who was in the stands during the game, told HuffPost that neither the stadium nor her team appeared to be opposed to her demonstration.
"No one else that I know of noticed or reacted," he said. "She stayed with her teammates for the rest of the game, and they appeared to support her."
Last year, five Kennesaw State University cheerleaders and one Georgia Tech dancer took a knee during the national anthem, but for the most part, cheerleaders have not partaken in the protest — especially those in the NFL. In an interview with Elle.com, former and current cheerleaders argued that demonstrating would not be taken well by their captain or their team, as their job is "to make everyone happy."
"It's not that we women don't have an opinion; we have opinions," one cheerleader told Elle. "Many of us have other jobs while we are cheering, there are doctors and politicians out there on the field. We do this because we love to dance, and our job as cheerleaders isn't to create controversy."