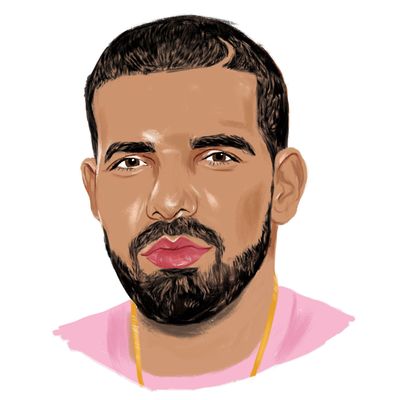 Drake.
Illustration: Meryl Rowin
What Leo, Drake, and a few other renowned bachelors might get for the guys in their wedding (hint: not a flask) if they were ever to actually get married.
Jared Leto
How to Give Good Style by Murdock London
"You want to make sure the longer-haired and bearded supporting acts come to your wedding looking well groomed, after all." —Sam Lobban, vice-president of men's designer and new concepts. $56 at Nordstrom.
John Mayer
Handwoven Belt by Mashburn + Bands of L.A.
"Sid Mashburn has the best boho belts, in a variety of different styles and colors. You can find the right shade for each one of your groomsmen." —Jeanne Yang, stylist. $50 at Sid Mashburn.
Drake
Flight Force Zoom Bee Drone
"This is a palm-size camera that takes videos and stills from 50 feet overhead; it can capture all the angles of those hot dance moves." —Eric Rutherford, model and brand strategist. $50 at Brookstone.
Leonardo DiCaprio
Alpaca Poncho
"They can throw it on for the wedding-night bonfire or at their next music festival. It's also handmade by a Peruvian artisan, and the proceeds benefit unicef." —E.R. $108 at unicefusa.org.
Odell Beckham Jr.
Customized All-White Nike Roshe Shoes
"You can add the wedding date and each groomsman's initials on the heel — crisp, cool classics with a hint of surprise that makes them feel special." —E.R. $95 at nike.com.
Plus … The Best Groomsmen Gifts on Amazon
Five of the top-reviewed items (which means they've earned four- and five star reviews, and lots of them) that would be great for the wedding-party guys. By Maxine Builder
Photo: Courtesy of the vendor
4.5 stars, 135 reviews
"You can really hear it pop when you open it after resealing. Such good quality that I have given it as gifts."
Photo: Courtesy of the vendor
4.5 stars, 311 reviews
"A great amount of heat … Don't doublethink the name."
Photo: Courtesy of the vendor
4.5 stars, 860 reviews
"Like rubbing an ice cube across my face."
Photo: Courtesy of the vendor
4.5 stars, 941 reviews
"I clip it onto the fence in the garden, my hook in the shower, … onto my bike. When it gets dirty, I just rinse it off."
Photo: Courtesy of the vendor
4.5 stars, 831 reviews
"I wanted something fun for the groomsmen without spending a fortune."
*This article appears in the winter 2019 issue of New York Weddings.
More From New York Weddings
See All