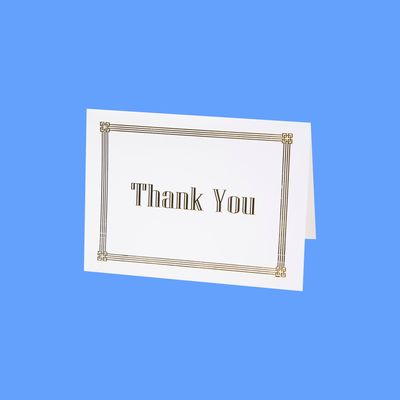 Photo: iStock/Getty Images
If you're older than 9, it's hard to resist the urge to roll your eyes when someone at the Thanksgiving table suggests, "Let's all go around the room and share what we're thankful for!" It's a pretty corny holiday ritual you mostly do to keep your mom or your most momlike friends happy, but a robust body of psychological research actually links these sorts of gratitude exercises with increased happiness, health, and overall well-being.
In other words, there are some very practical reasons to get into the spirit of things tomorrow by taking a minute to remember the reasons you're #blessed. These are lessons that can be applied year-round.
You'll get some decent sleep for once. For a 2011 paper in Applied Psychology, researchers asked a group of study participants to keep a gratitude journal (something many of the studies on this subject have in common). These participants were all students who said they had trouble sleeping "because their minds are racing with stimulating thoughts and worries," the researchers write.
For 15 minutes before going to sleep, the students were instructed to write about the things they were thankful for in a journal. After a week of this, these students reported both quieter minds at night and improved sleep than they'd experienced before starting their gratitude journals. (Bing Crosby was way ahead of the game here.)
You'll be happier. Giving someone a long overdue thank-you will increase your own happiness, and the mood-boosting effects of that simple act of gratefulness could last as long as a month. That's according to a study led by Martin Seligman, the pioneer of the modern positive-psychology movement. Seligman gave a series of six tasks to more than 400 people to test different ways of improving people's moods: Some participants were instructed to reflect on and write about their personal strengths, for example, while others were told to think about their personal strengths and find new ways to use them every day for a week.
Just one of those six tasks involved gratitude: The participants were asked if there was someone in their lives who was once particularly kind to them, but whom they never properly thanked. They then were instructed to write and hand-deliver a thank-you letter to this person. In the end, the gratitude task had the biggest impact on the participants' happiness, and the effects were still measurable when the researchers checked in a month later.
You might actually even exercise. Once a week for ten weeks, researchers instructed study participants to list five things that had happened over the previous seven days that they were grateful for; another group was told to write about the five things that had most annoyed them that week; and a third was instructed to simply write about things that had happened, with no emotion attached. Not surprising, by the end of the experiment, those who'd done the gratitude exercise were more likely to feel optimistic about their lives. But they also reported exercising more than the people who'd spent the past two and a half months making a weekly list of grievances.
You'll appreciate your partner more, even if you're imagining things. For two weeks, researchers told 65 cohabiting couples to keep nightly diaries, jotting down the nice things that they'd done for their partners and that their partners had done for them. As you'd expect, when the researchers checked in with their subjects after this little experiment, the couples reported feeling closer to their partners and more satisfied with the relationship than they had before the study started. (The researchers call the tactic a "booster shot" for romantic relationships.)
But what's also interesting is this: When the researchers compared the diaries, they found the stories they told didn't always match up; sometimes, one half of the couple reported being grateful for something the other half didn't mention. It doesn't matter if their partner actually did something kind for their sake, just that they perceived an action that way.
Your underlings will work a little harder. In a recent study published in the Journal of Personality and Social Psychology, researchers visited a call center at a university, where employees call alumni to ask for donations. They observed one group of fund-raising employees on a regular day, noting how many calls they made. On a different day, the researchers observed a separate group of fund-raisers — but before they began working, the director of the department gave a little speech noting how thankful she was to the fund-raisers. That day, these employees made about 50 percent more calls than the previous group. Managers, never underestimate the power a simple thank-you has over your minions.
This article was originally published in 2014.