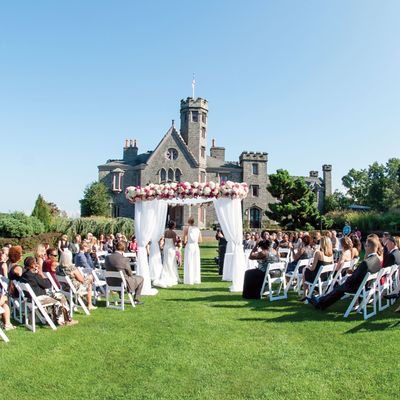 "People still talk about the chuppah to this day," says Liz.
Photo: Artvesta Studios
After eight years of dating, Liz Lops, 46, proposed to Keisha Bell, 50, at Christmas with a video montage of their greatest moments of 2016 — it ended on an image of a ring. "Liz is super-creative," says Keisha, the managing director at a financial-services firm. It was Keisha who took on the creative role for the wedding planning, however, choosing Whitby Castle for its blank-slate interiors and ceremony-friendly outdoor space. "It's a Rye golf club so probably one of the whitest places in the state. We were like, 'Are we adding a little flavor to this place?' " Keisha jokes. Liz surprised Keisha with a performance of the "Single Ladies" dance with their friend's 9-year-old son, a Broadway actor; the other guests continued to cut up the floor as the playlist went on. "My college song was 'Jump Around,' so it was a bunch of 46-year-olds jumping around to that song," says Liz, who's a teacher. Still, adds Keisha, "even though we were among 130 people, it also felt like just me and her."
Keisha Bell & Liz Lops
Whitby Castle at Rye Golf Club
Married: September 17, 2017
The Details:
Dress: Love by Pnina Tornai
Jumpsuit: Elisabetta Polignano
Brass band: Sugartone Brass Band
Flowers: Evelisa Floral & Design
Hair and makeup: Get Your Glam On, Lucero Artistry, Eruan Salon and Spa
Planner: Björn & Company
Officiant: Beloved Unions by Lissette Marrero
Photographs by: Artvesta Studio
*This article appears in the winter 2019 issue of New York Weddings.
More From New York Weddings
See All