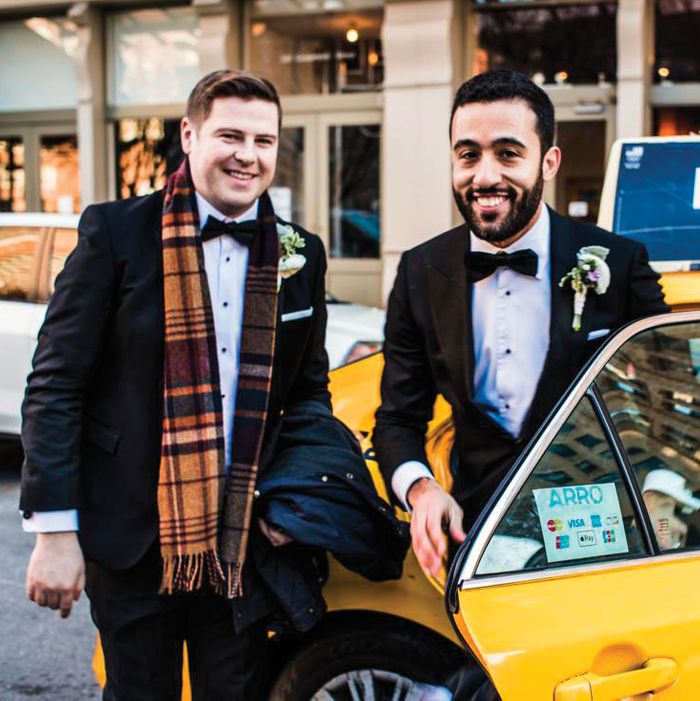 "In the cab from City Hall was the first time we got to be alone. We looked at each other and said, 'We're married,' " says Chris.
Photo: Angela Cappetta
After spending six years dating between New York and London, Carlos Valcarcel, 33, proposed to Chris Currie, 31, on a cliff in Puerto Vallarta. They'd originally envisioned a larger wedding, but because of visa issues the wedding had to happen fast. "Our lawyer called and suddenly we had three weeks to plan it," says Carlos, a vice-president in alternative investments. On one of the coldest days of 2017 ("I had long johns on under my tux," Carlos says), the couple exchanged vows at City Hall, followed by morning cocktails at Sarabeth's in Tribeca and then lunch at Liberty House Restaurant in Jersey City, where their families finally had a chance to bond. (The long-distance relationship had made it too difficult for them to meet one another.) "Within seconds, our mothers were chatting away like lifelong friends," says Chris, a consultant. "We weren't able to get a word in!"
Chris Currie & Carlos Valcarcel
City Hall, Sarabeth's, and Liberty House Restaurant
Married: December 29, 2017
The Details
Suits: Moss Bros. (on Chris, left above), Suitsupply (on Carlos, right above)
Flowers: Dawn Melanie Designs
Rings: Tomas Edipson
Planner: Elizabeth Katusa
Photographs by: Angela Cappetta
*This article appears in the winter 2019 issue of New York Weddings.
More From New York Weddings
See All