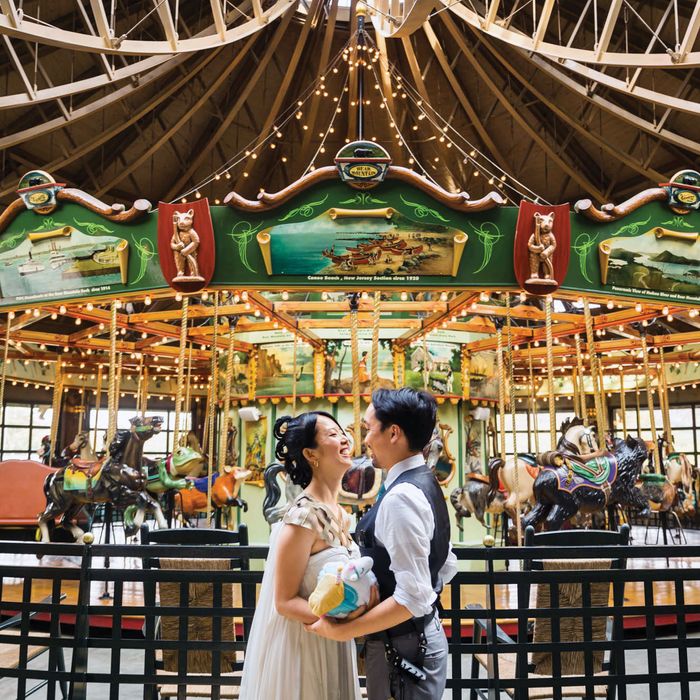 Nancy Xu and Jeff Deguzman.
Photo: Kelly Williams
"We're both pretty geeky," says Jeff Deguzman, 32, a social worker, whose new wife, Nancy Xu, 31, is an information architect. The pair were set up by a friend on a board-game night in 2011 that foretold Jeff's eventual proposal (a treasure hunt in the city) and their nuptials. The only weekend available for their chosen venue happened to coincide with NY Comic Con, which the couple attends every year. Their invites encouraged guests to cosplay; the bridesmaids carried bouquets that were actually plushies by Squishable, and the guest book was fashioned from Jenga pieces. "Both of our parents emigrated to the U.S., and they kind of were like, 'It won't be traditional Chinese or Filipino anyway,' " says Nancy. "My dad low-key cosplayed as Albert Einstein."
Nancy Xu & Jeff Deguzman
Merry-Go-Round Pavilion at Bear Mountain State Park
Married: October 7, 2017
The Details
Ceremony Dress: Catherine Deane with DIY leather shoulder piece
Bridesmaid Dresses: ScholleDress with DIY leather belts
Shoes: Naturalizer with DIY paint
DJ: DJ MilkMoney
Cake designer: Homestyle Desserts Bakery
Hair: Wendy Truong via Instagram, Meijinghair
Photographs by: Kelly Williams
*This article appears in the winter 2019 issue of New York Weddings.
More From New York Weddings
See All