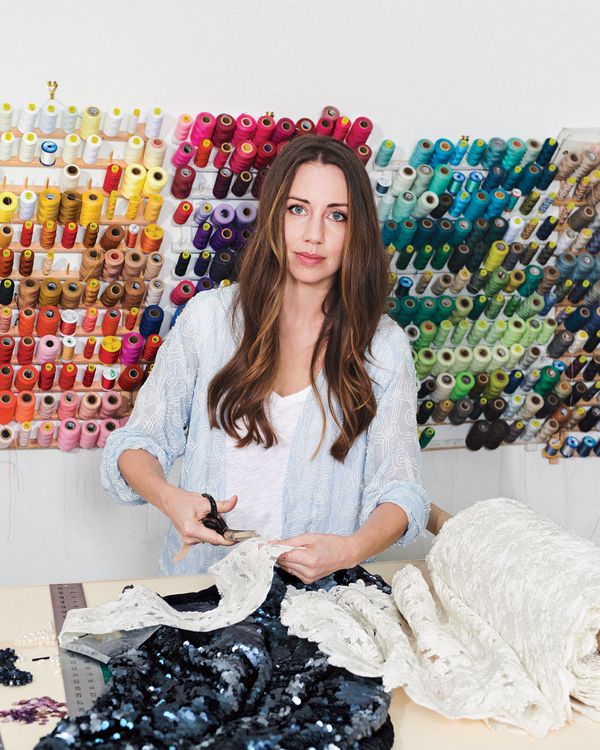 Christy Rilling
Photo: Kyle Dorosz
Say you're making Kate Upton's wedding-reception dress — which you did. How many fittings does that require?
We did five fittings. The fabric she wanted was heavily encrusted with beads; when we cut into it to make the dress, each individual bead had to be sewn down so it didn't fall off. And it had a built-in corset — we've kind of become known for our flexi-boning, which we construct from scratch as the skeleton of the dress. It gives you a lot of support but with an elasticity that allows you to eat and breathe and move like a human being. It just makes you feel really good. In general, though, even for a less involved custom gown, five fittings is typical.
Which amounts to how much of the bride's time — and money?
About four to six months. For pricing, a rule of thumb is a custom gown will cost at least three times the typical starting price of a bridal-boutique gown off the rack. Or there's the semi-custom option: For a recent Brooklyn wedding, we airbrush-dyed a lace gown from Reformation (if you're just bringing us a dress to be airbrush-dyed, the pricing starts at about $1,000). We remade the original acetate slip in a four-ply silk crêpe, because it takes well to fabric paint — the result was this shockingly beautiful dégradé of colors in a sorbet palette of coral, turquoise, goldenrod yellow, and sage green. Once the lace was overlaid, it looked like stained glass. We also custom-made a four-ply crêpe coat to go with it; it stayed open so that it showed her dress underneath. She could put it on right after the ceremony to hang out and take pictures.
Do clients also come to you to repurpose vintage dresses?
Yes, we recently had a bride who wanted to use the fabric of her grandmother's wedding dress. We dipped elements of it in hot pink, which covered up the discoloration of the original fabric. You can incorporate family heirlooms in smaller ways, too — like having a tailor deconstruct your grandmother's brooch and sew it on as a detail.
What's your most common semi-customization request?
Adding sleeves, often to make a dress appropriate for a religious ceremony — which can look beautiful. Designing, say, a fitted sleeve with a bohemian L shaped ruffle at the bottom. But the process isn't always as simple as it seems. The armhole of an existing sleeveless dress may be too tight to accommodate a sleeve, meaning those seams will need to be taken out first or else adding the sleeves will make the arms feel choked. I usually ask for a muslin fitting for the sleeve so I can envision it before I cut into the actual fabric. I'm Michelle Obama's tailor, and between that and making custom designs for Vogue covers, I've learned not to leave very much to chance.
212-564-8307; by appointment only at studio@christyrilling.com.
"Before you commit to a tailor, ask if they have experience making patterns from scratch, which will help them see the big picture."
*This article appears in the winter 2019 issue of New York Weddings.
More From New York Weddings
See All