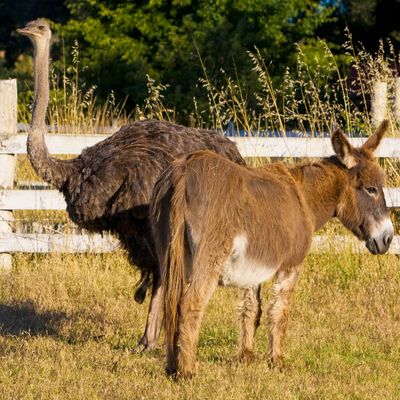 Emu and donkey.
Photo: George Rose/Getty Images
In the most unlikely yet beautiful of pairs, a male donkey and female emu have apparently "fallen in love" in North Carolina. According to their new caretakers, they like to "cuddle and even sleep together."
The animals' guardians at Carolina Waterfowl Rescue are unsure of when the partners started to develop feelings for one another, but they believe their love has been growing for years. Before the Carolina Waterfowl Rescue took in the animals on Monday, they had been living at a farm in Kershaw, South Carolina, that the owner had abandoned just last week. In the opinion of Jennifer Gordon at the Rescue, their love was tragically born out of loneliness on the farm.
"They like to cuddle and even sleep together," Gordon told the Charlotte Observer.
Though the Carolina Waterfowl Rescue was initially unaware of the emu and the donkey's bond when they saved them this Monday, they quickly realized what was going on between the two. When volunteers tried to separate all the rescued animals by species, they foolishly ripped apart the emu and the donkey, to both of the animals' dismay.
Per the Observer, the donkey started to cry, and the emu grew increasingly upset, pacing "around like an expectant father." The Rescue answered their impassioned pleas and put them in the same enclosure.
Since the pair's love has gone viral, the Rescue has been inundated with calls from people who are understandably concerned about the emu and donkey's future. ("We can't separate them, so we need someone who is willing to adopt both a donkey and an emu. That may not be easy," Gordon had told the Observer.)
The organization posted on Facebook on Thursday morning, reassuring the couple's many fans that they will not be separated, though they remain in need of a "permanent forever home." One hour later, the Rescue had more exciting news; after being crudely referred to as Donkey and Emu, the lovers finally had names.
"We are excited to introduce Jack and Diane," the post reads. A story where two creatures with different looks, backgrounds and even breeds learn to stand together, protect each other and love."