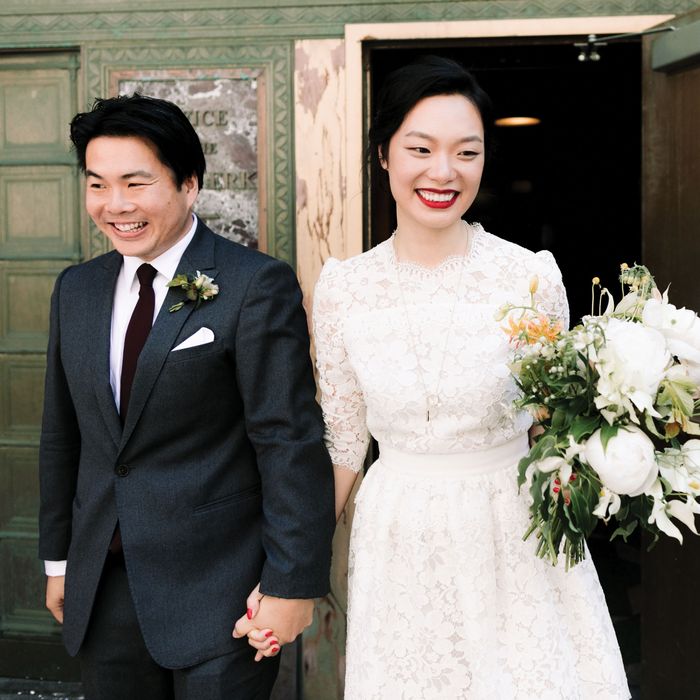 "What happens when you try on an Alexander McQueen dress is—you love it," Qing Qing says of her outfit. "It's the biggest splurge of my life."
Photo: Unique Lapin Photography
Qing Qing Chen, 33, a writer and project manager, and Ken Li, 39, an entrepreneur, met and reside in Beijing, but they chose Ken's old neighborhood around the bottom of the Bowery for their wedding. "My family is huge — my dad has four brothers in the New York area, their children are here, and my grandma still lives on Cherry Street — so it made sense to do something here," he explains. "I really wanted it all to be close to City Hall," Qing Qing says, so the couple stuck to a one-mile radius downtown, with a family dinner at Oriental Garden and an after-party at the Wooly Public. For the ceremony, "We wanted to have, like, five or six people, but then everyone said, 'I'm coming!' " Ken recalls. At the end of the night, Qing Qing attributed her exhaustion to jet lag and all the hoopla, but the next morning the couple found out they were pregnant. "I still can't believe it!" Ken laughs. Qing Qing was only seven weeks along, so her Alexander McQueen dress was still a perfect fit.
Qing Qing Chen& Ken Li
City Hall, Oriental Garden, and the Wooly Public
Married: June 22, 2017
The Details
Dresses: Alexander McQueen (ceremony), custom cheongsam (reception)
Suit: Armani
Shoes: The Row, TOMS
DJ: Jon Santos
Flowers: Saipua
Hair and makeup: VickyC5
Rings: Erica Weiner
Photography by: Unique Lapin Photography
*This article appears in the winter 2019 issue of New York Weddings.