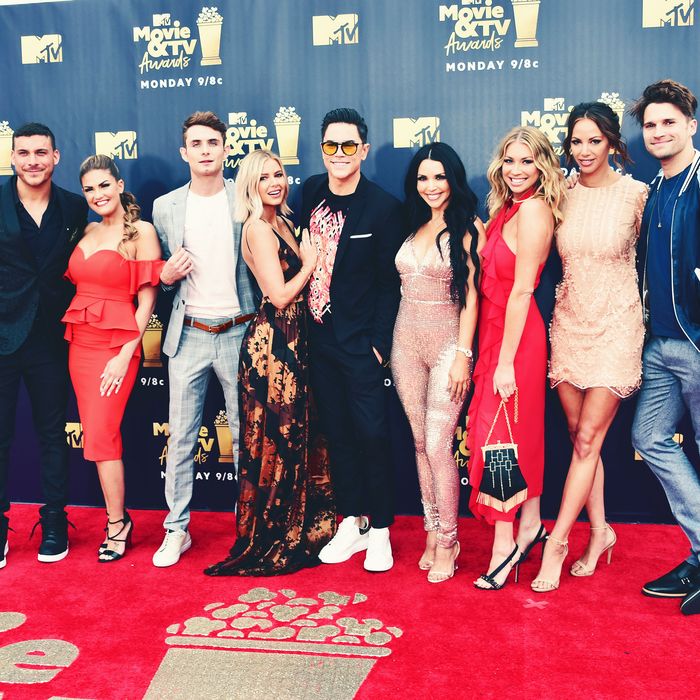 Our friends.
Photo: Alberto E. Rodriguez/Getty Images for MTV
A light shines through clouds beneath a dark sky. We wince and turn our heads. The glow burns our expanded pupils; the sudden illumination frightens us. "I'm not really sure what I've done to you," the beam booms. "But I'll take a pinot grigio." Oh thank God, Vanderpump Rules is back!
Our sexy Bravo bar friends return for their seventh season on Monday, December 3. They've been away since April, and we have missed them so much, even though we follow them all on Instagram and are very up-to-date on all of their lives (last week, Tom, Tom, Ariana, and Katie were on vacation in Tokyo). To return our minds to their normal, well-greased Vanderpump state, we thought it would be best to take a look back on where we were at the end of last season, and look to where we might go from there.
Oh, "Patrick" — were we ever so young? Do you even remember him? At the end of Vanderpump Rules' sixth season, Stassi's horrific on-again, off-again boyfriend Patrick reached the apex of his on-screen terror, telling Lisa Vanderpump he "liked watching [her] walk away." Oh, Patrick, you stupid shit. You big dumb asshole, not to be rude. You little garbage bitch. Remember when he didn't know how to say "clerical" and then misused "fastidious" in an attempt to explain to Stassi why she wanted to plan parties, or whatever? That guy sucked.
Anyway, he's gone now, and Stassi has a new boyfriend: Beau. I've watched so many hours of Beau in the past few months via his and Stassi's Instagram stories that I feel like he is already a cast member, but in fact, he will make his Vanderpump debut this season. He's even going to be in the opening credit group photo:
He seems nice and I like him.
Is Jax's infidelity everyone's business? A good topic from one of last season's reunion episodes, and a question to which the answer is yes. Last season we were witness to perhaps the best scene in reality-television history, when poor, sweet Brittany was presented with audio of Jax having sex with Faith (a fellow SUR server) while she was hosting a housewarming party with Jax. Then she played the audio for everyone else at the party. Absolutely incredible television.
Brittany and Jax's relationship was, correctly, over at the end of the season. Since then, Brittany and Jax have gotten engaged. Heh. Life … is certainly … full. It seems we'll see their unfortunate engagement in the premiere episode. At least their pending nuptials will keep Jax from moving to Florida to be social-media puck boy for a hockey team.
When we last saw Lala, she (as a singer) performed a surprisingly decent set with DJ James Kennedy. The above clip is from the premiere episode, so do not watch if it you do not want a spoiler, but suffice to say: Things are not well with DJ James Kennedy's SUR-related relationships. As we know from the trailer, this season Lala calls James's girlfriend Raquel a "Bambi-eyed bitch." As we remember from last season, it is not about the pasta, and also James has no qualms expressing his physical affection for Lala in front of their respective significant others. (Remember what happened in Big Bear?) Poor Raquel.
While this doesn't seem to change, one thing that does is the by-name mention of "Rand," a.k.a. Randall Emmett, a.k.a. Lala's man, a.k.a. friend of Mark Wahlberg and allegedly the real-life inspiration for Entourage's Turtle. He's lurked through past seasons in gifts and private jet rides, and this season he's there by name. He and Lala also got engaged over the break. Congratulations to us all, and particularly to Mark Wahlberg.
Haha, remember the rumor that Kristen and James hooked up in Mexico because a pillow was in Jax's hotel pool, and then Sandoval thought he'd heard James say they hooked up instead of what he did say, which is that they hung out, while the boys were out golfing in the stretch of 100 episodes that took place in Playa del Carmen? Remember? I wonder if we'll ever find out what happened in that pool. Hm. This season, Kristen remains with her boyfriend Carter. From the season seven trailer, we also know she falls over a table at some point. I am looking forward to that moment, no doubt.
Speaking of Big Bear (we spoke of it just a moment ago in a parenthetical), Scheana is no longer with the dreaded Rob, thank God. Remember when she was like, "Oh, I actually don't like flowers." "Oh, I actually don't like gifts." "Oh, Rob actually doesn't even like kissing, [GAHH], so why would he have kissed another woman with several witnesses?" "Oh, Rob doesn't say 'I love you,' which makes me know for sure that he loves me even more than if he did say it." Remember how Rob set up a TV in seven minutes, or whatever?
Well he's gone now, thank God, and it seems at least for a while Scheana will be single. But I have it on good authority that Scheana is currently, at this moment, dating a man from Scranton, PA. (I know this from Scheana's Instagram and also from my cousin who saw them wandering around Scranton while she was at work.) (She's a hairdresser in Scranton.) (My cousin, I mean.) (The guy Scheana's dating is the guy they were trying to hook up with Brittany that one time, and then Jax got mad.) (Remember?) (He's from Scranton.) (I am too.) (Or he at least went to the University of Scranton.) (I'm not sure.)
Who else? Katie and Ariana, but I don't really know that much is up with them. They're mostly just trying to make sure their male partners' heads don't fall off and their brains don't fall out of their ears before Tom Tom opens, I guess. Trying to make sure Schwartz doesn't get too drunk and go over the side of an infinity pool. Trying to make sure Sandoval doesn't accidentally create a cocktail featuring a sexy poison. Ariana, as we know from the trailer, apparently has a joint birthday party with Stassi, to which I'm looking forward. Etc. But anyway speaking of Tom Tom:
Of course, we have the epic struggle of Tom Tom. When we left Tom Tom last season: It was struggling. When we find Tom Tom this season: It is struggling. Will it ever open? Will our boys ever realize their dream? Will our Lisa ever open another one of her restaurants? Of course, because we are in the future, we know the answer is yes. (I visited Tom Tom over the summer, in case maybe you didn't see that article?) It does open eventually. But now we get to see how that managed to happen.
I absolutely cannot wait.