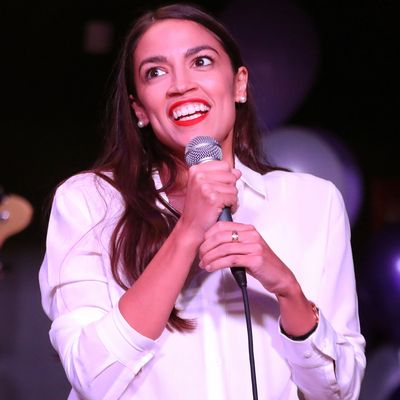 Alexandria Ocasio-Cortez addresses a crowd of her supporters in Queens after winning her election to the House last night.
Photo: Rick Loomis/Getty Images
Women made history this Election Day, with the highest-ever number projected to win seats in the House of Representatives: As of early Wednesday morning, 96 women have reportedly won House races, with 31 women newly elected to the House and 65 female incumbents. The prior record of women in the House was 85 representatives, according to the Congressional Research Service.
The women elected in this year's midterms include Democrats Rashida Tlaib and Ilhan Omar, the first Muslim women ever elected to Congress, as well as Sylvia Garcia and Veronica Escobar, the first Latina congresswomen in Texas. Ayanna Pressley officially became Massachusetts's first black woman elected to Congress, after unseating ten-term Representative Michael Capuano in the state primary. And as anticipated, Alexandria Ocasio-Cortez won her election to the House in New York's 14th Congressional District, becoming the youngest woman ever elected to Congress.
The first Native American women were also elected. Democrat Sharice Davids, a member of the Ho-Chunk Nation, defeated the Republican incumbent in Kansas's Third Congressional District by nine points, becoming not only the first Native American woman elected to Congress, but also the state's first openly gay representative — and the first former mixed-martial-arts fighter. Deb Haaland, who is an enrolled member of the Pueblo of Laguna, won a seat in the First District in New Mexico.
"There is going to be a historic number of women walking onto the floor of the U.S. House in January … They're going to change the way things work," Stephanie Schriock, the president of the pro-choice PAC Emily's List, told BuzzFeed News. "This is gonna be the most diverse freshmen class of women that we've ever brought in by far."
Women also made history in the Senate and in governorships. Arizona is guaranteed to elect its first female senator, with two women — Democrat Kyrsten Sinema and Republican Martha McSally — facing off in a close race after Jeff Flake's departure. Meanwhile, Florida elected its first openly lesbian mayor, Teri Johnston.
But although women came out in droves to vote for left-leaning candidates, forming what many are calling a "pink wave," many white women still voted for Republicans — including Republican men. In Georgia, Republican Brian Kemp received 50.5 percent of the electoral vote for governor, beating the progressive candidate Stacey Abrams by a small margin; if elected, Abrams would have been the first black woman elected as governor in the U.S. A staggering 76 percent of white women voted for Kemp, who boasted about being "politically incorrect" during his campaign, while 97 percent of black women went with Abrams. Likewise, in Texas, 59 percent of white women voted for Republican Senator Ted Cruz, while 95 percent of black women supported his challenger, the beloved Beto O'Rourke.
Nevertheless, the historic record of women and a Democratic majority in the House shows some promise for the years ahead.