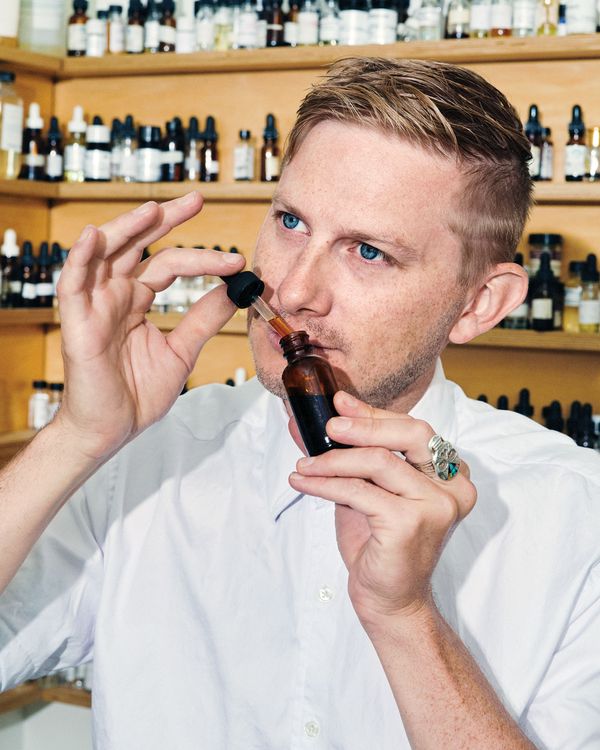 David Moltz.
Photo: Kyle Dorosz
How do people want to smell on their wedding day?
It's about being draped in your best personal fragrance ever but also one that fits the setting. Like for my sister's wedding in France, I customized a fragrance with French flowers and herbs like anise, lavender, neroli, and mimosa. For a friend who worked for the designer Todd Snyder, I did a rich jasmine chypre with a big dose of a rare pungent oud from Thailand. That's not actually something you would be able to buy in a store — oud is so rare because it's a natural oil that the agarwood tree produces only when infected by a specific fungus — but the point is it was very personal. It's about the mood you want to create: Do you want a south-of-France kind of ambience with the scent of rose fields and jasmine? Do you want to evoke an icy Russian night with juniper and thyme?
What if you're not sure what you want to evoke?
When I'm helping my friends with their wedding scents — especially if it's not just their personal fragrance but a scent they want to use for the venue, which is actually a thing couples consider now — I like to ask for a mood board with colors, songs, and travel destinations they like. From there, I put various fragrances on blotter strips; there's usually one they keep coming back to and resmelling, which is a telltale sign. That's usually the one. Then again, some people come in with a very specific vision: I recently worked on this one scent for a warehouse venue; the guy wanted it to smell like wood crates and a floor cleaner from the '80s. I'm used to challenges like that. I also just scented a design fair, and for the various stations I had to re-create the aroma of a ballpark, an airplane entryway, and a cheesy '90s nightclub.
What if a couple wants to try to scent the venue themselves without bringing in a professional?
Honestly, this is tricky to do if you're not a professional, but since it can cost $20,000 and up to hire a scent specialist, it might be worth trying it on your own. The idea is to start with a very concentrated perfume. Most perfumes have about a 20 percent concentrate; you want to amp that up to 50 to 60 percent. You can go into a niche perfume shop (much easier if you know someone there), whether it's D.S. & Durga or Aedes Perfumery or Twisted Lily, and ask to purchase a more concentrated version of the scent you want for your wedding (you'll end up paying the price of more like two bottles, rather than one). Then take a 200-milliliter bottle of that (for a big ballroom, you may need multiple bottles) and spray the hell out of the venue about an hour before people get there. Don't spray directly on any walls or furniture, which can stain; stick to less conspicuous spots that hold scent, like underneath the entry table where people get their place cards. You can also use diffusers; I was scenting an art show in Dublin, where there were three rooms with super-high ceilings, and I used those ultrasonic diffusers you can find on Amazon to bomb each room with perfume. Or you could do something opulent like a hundred candles with notes of alpine or ocean, or whatever fits your vibe.
"When you wear a strong scent for your wedding — as couples do from places with fragrance cultures, like India — it becomes part of the fun."
*This article appears in the winter 2019 issue of New York Weddings.
More From New York Weddings
See All