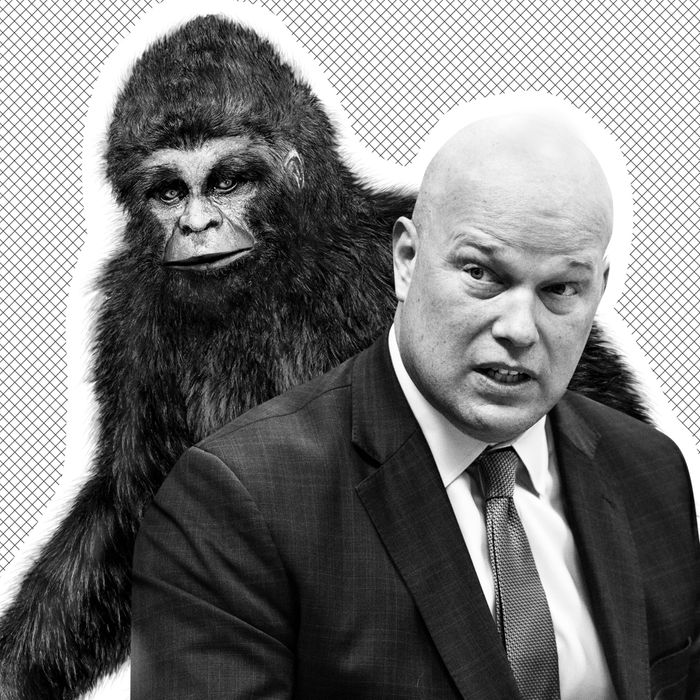 If you thought we were only going to have one man in government tied to the mythical Bigfoot during the Trump administration, you were wrong. Matthew Whitaker, the acting attorney general, apparently sat on the board of a company that offered a $1 million reward to anyone that could provide evidence that Bigfoot was real.
Thanks to the Washington Post, we now know that Whitaker served on the board of World Patent Marketing starting in 2014. World Patent Marketing was an … interesting company. They were sued by the Federal Trade Commission in 2017 and in early 2018 they were ordered to pay $26 million.
Beyond their investment in Bigfoot — the company reportedly claims to have DNA evidence that the famed cryptid exists — the company wanted to create an entire community around Bigfoot believers called Squatch World, including hosting a celebrity event called "You Have Been Squatched!" One executive believes that Sasquatch pursuits could become a "billion-dollar brand," once Bigfoot is actually discovered. They also apparently dabble in time travel. According to a 2016 video posted on the company's Vimeo page, "time travel wasn't just an idea, but a reality," and that "if you think it's a fantasy, then think again …"
World Patent Marketing was involved with more mundane matters as well; the company also applied for a patent for a device called the "Masculine Toilet," which would be designed with a deeper toilet bowl to prevent well-endowed men from having their genitals come into contact "with portions of the toilet, which is undesirable as those portions may be contaminated from human waste." The press release in which this product was announced was the same one that proclaimed Whitaker had been appointed to the board.
According to the Miami New Times Whitaker's involvement in the company was not passive. He once sent a threatening email to a unsatisfied customer, and was apparently comfortable selling World Patent Marketing products – another video on their Vimeo page features Whitaker highlighting the functional design of a razor blade.
Justice Department spokesperson Kerri Kupec told CNN that the acting attorney general "has said he was not aware of any fraudulent activity. Any stories suggesting otherwise are false."
Okay … but what were Whitaker's thoughts on Bigfoot?