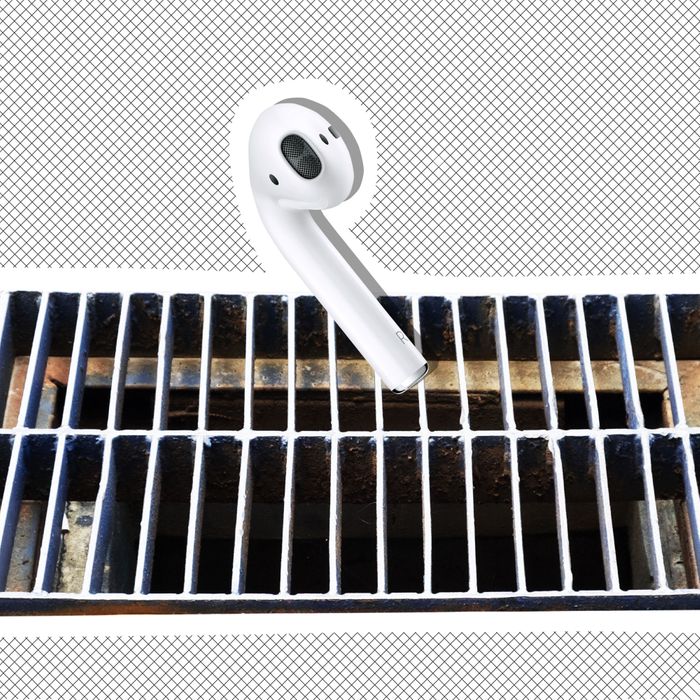 Photo: Getty Images, Apple
This is a story about a girl named Lucky.
Actually, my name is Emilia, and this is really about how I dropped one of my Apple AirPod headphones down a subway grate this week, and then somehow got it back. It's a story that a lot of AirPod owners can probably relate to — or one that makes them deeply anxious.
Here's how it went down.
Tuesday, November 27 - 6:53 p.m.
I exit the New York Magazine office on Canal and Varick Street and walk to the curb. As I wait for the light to change, I pull my AirPod case from my coat pocket and flip it open. I dig the right earbud out with my thumb and index finger, and it suddenly slips, tumbling onto the subway grate below. I watch as my little white Pod bounces around in slow motion, trying to cheat death.
And then it's gone.
Stunned, I immediately do the thing that most people do when something tragic but sort of funny happens to them: I pull out my phone and post an Instagram story.
It's my worst AirPod nightmare realized, and there's not a thing I can do about it. (Besides tell everyone.) The AirPod is mere feet away, but I can't reach it through the grate. So, I take a deep breath and walk away. Before getting on the train home, I add an addition to my Instagram story: "Fuck."
Wednesday, November 28 - 11:00 a.m.
When I finally arrive at work the next morning, I step directly over the subway grate. Yup, the AirPod is still there.
Feeling sorry for myself, I return to Instagram, where people have been messaging me their condolences for my loss, telling me that they, too, have misplaced their AirPod headphones — some also on the subway. I've never received so many DMs in my life. Like, hundreds and hundreds of DMs from people I haven't spoken to in years, or only slept with once. Clearly, I hit a nerve.
Wednesday, November 28 - 11:07 a.m.
When I share a video of my lonely AirPod still lying in the grate, despair suddenly turns to hope. "Wait, you can totally get this back," messages my high-school friend, Sam. He suggests that I get a tape measure, stick a piece of gum or tape to the end of it, and use it as a makeshift fishing rod. Others send similar suggestions, including my brother, who says I should use a magnet on a string.
Honestly, gum is a bad idea. (Have you ever chewed gum??) But the magnet-on-a-string thing is intriguing. It's the middle of a workday, though. Where am I going to get a magnet? I take my problem to the Cut Slack channel, where my helpful colleagues suggest I ask our facilities manager, Kermith, for help.
Wednesday, November 28 - 1:03 p.m.
"Heyyy … Random question … " I begin. I ask Kermith for a magnet strong enough to pick up a lost AirPod headphone, but small enough to fit through a subway grate. Being the serious facilities manager that he is, he doesn't ask any questions.
"Let me check," he says.
Minutes later, Kermith comes over to my desk and whips out this insane-looking, orange extendable magnet rod. I gasp. He explains that it's a tool he uses to fish rogue staples out of copiers and printers in the office. "It's perfect!" I say, jumping up in excitement. I'm absolutely positive that this is going to work.
"Just don't lose it," Kermith says. But I'm pretty sure he's excited, too.
Wednesday, November 28 - 1:18 p.m.
My co-worker Diana and I run downstairs, our adrenaline pumping. We go to the Blue Bottle coffee in the lobby and explain breathlessly that we need some string to tie around a magnetic rod to retrieve a lost AirPod. The baristas stare back at us, confused for a moment, and then disappear into the back. They return with exactly what we're looking for.
"Good luck!" they say. "Tell us how it goes." New Yorkers coming together!
At this point, I feel like I can flip a car. My hands tremble as I lower the rod down into the grate. It fits almost perfectly, as though it were made for situations like this. Diana, my stage mom, tells me to go slow, so that I don't miss it. And then, click, we make contact.
I'm yelling but also trying to focus as I reel in the AirPod. I don't think I'm emotionally prepared to lose it another time. As I reach the top of the grate, things get trickier. Somehow, I have to get the rod out while not knocking the AirPod off of it. I poke around, trying to cup it with my index fingers, while Diana yells at me not to drop it.
"I got it!" I scream.
I pull the AirPod out like the Sword of Excalibur and hold it over my head, jumping for joy. I feel more gleeful than I have in … I can't even tell you. I'm high on life. Diana cheers. The random street cleaner who tried to mansplain magnets to us cheers. The Blue Bottle staff cheer. We did it, man. We actually did it. My AirPods and I got a second lease on life.
Phew. I'd like to thank everyone for their patience and support throughout this AirPodessy, especially Diana for capturing it all on video (above), and my editors who let me focus on nothing else. But most importantly, I'd like to thank to all the friends, family, and total strangers in my Instagram DMs, who were there with me every step of the way.
In conclusion, the moral of this story is to never give up. And that AirPod headphones are probably a scam.