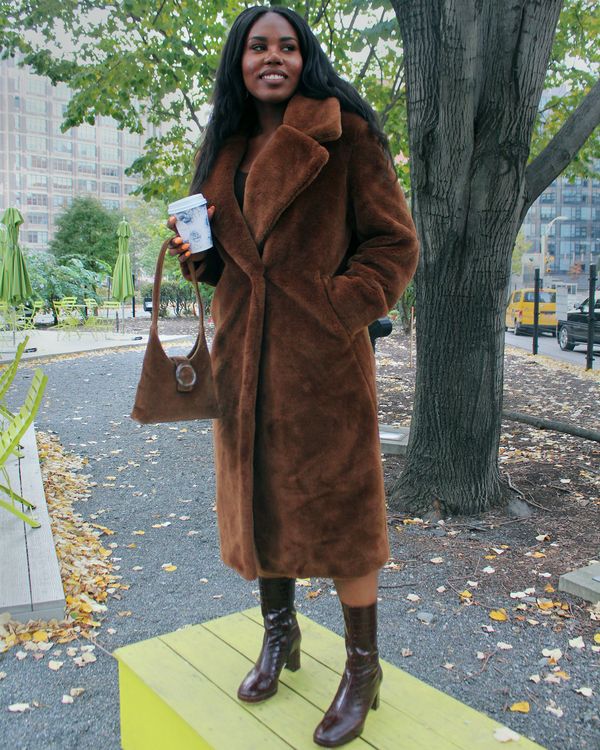 Photo: Photo: Bailey M. Kircher
My obsession with the color brown started with Jacquemus' spring 2018 collection. It was the runway show that spawned a thousand trends: the micro mini bags that only fits one lipstick, the gigantic straw hat that brought new meaning to UV protection, the beaded asymmetrical earrings my boss couldn't stop obsessing over. But it was the colors that stuck with me the most, especially the rich, dimensional shades of brown.
These browns have names like "chocolate" and "chestnut" and "mocha." They're rich, decadent, and warm and delicious; I like to think of them collectively as "sweet browns." For a spring show, during a season when everyone else is showing a palette of florals and pastels, they felt appealingly unusual. There was something effortless but surprising about them that captured the spirit of Simon Jacquemus's whimsical cool girl.
I made it my mission to build my entire fall wardrobe around the color. But while hunting down brown coats, brown boots, and brown pants and skirts, I realized I wasn't alone — brown had become an industry trend across brands high and low. Brown as a neutral during the cooler months isn't a novel idea by any stretch, but with this particular rich shade trickling into fast-fashion brands like Zara and Mango and other contemporary labels like Staud and By Far, it feels like it's officially a fashion moment.
Still, not everyone loves the color. Personally, I think it's universally flattering, but the Cut's senior market editor Diana had a visceral reaction against it. "I just feel like it washes out my skin, and it makes me look gray and sickly," she told me.
So consider this my attempt to persuade the brown haters that sweet brown is as sweet as it sounds. Below, I've assembled five all-brown outfits. As with most monochromatic looks, the trick to pulling them off is to experiment with texture, fabrication, and shade variations. Read on for a full week of ways to style the color.
Day 1
H&M definitely got the brown memo. If you squint, this chocolate brown dress could almost pass for Jacquemus. I added a belt in a more rust color to break up the richness of the brown, and add more of a silhouette.
Day 2
With boots as dramatic as this snakeskin pair from Miista, it's always a good idea to style from the bottom up. These browns are a little more orange-y than the Jacquemus one — call it a sort of milk chocolate. Contrasting a fluid satin or silk skirt with a chunky knit is one of the oldest winter styling tricks in the book, but it still looks good.
Day 3
Most sweatsuits are made for running errands on days where you don't really want to be seen. This one is levels ahead in that it's not just trendy brown, but also sparkly. You can pull it off with boots just as well as you can with sneakers.
Day 4
It took me a full hour of milling around Forever21 before I found this trenchcoat, but it was worth it — it's under $50 but feels and looks deceptively expensive. Snakeskin is another big trend that is slowly worming (snaking?) its way into my closet, and I love that these pants fall into the brown family and still work like a neutral.
Day 5
I'm not a winter person, but I do love breaking out my faux-fur coat. This one has such a perfect blend of fit, silhouette, and shade that our editor-in-chief Stella Bugbee thought it was Max Mara. Sadly, others have caught onto its magic and it's now sold out, but there are similar options out there. To break up the fluffiness, I paired it with snakeskin-embossed Miista boots that I wish I could wear every single day of my life.
If you buy something through our links, New York may earn an affiliate commission.