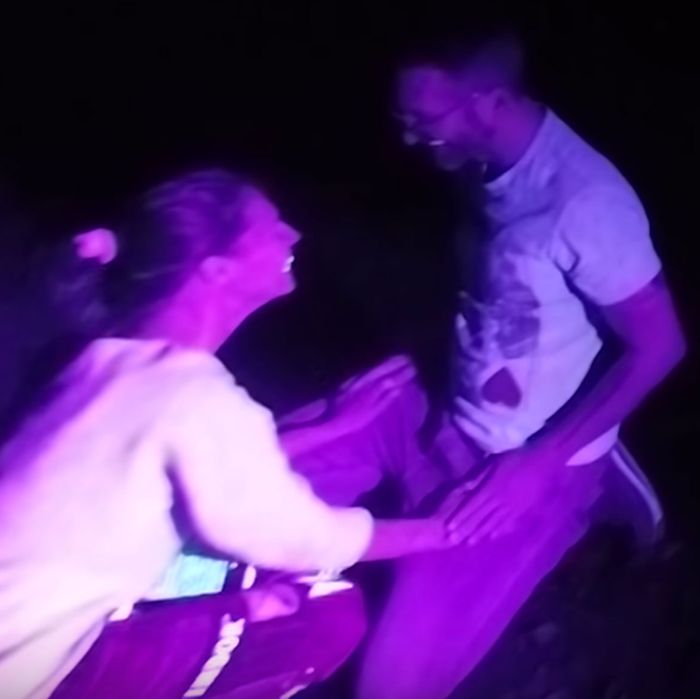 Amanda Knox and Christopher Robinson.
Photo: RobinsonKovite/Youtube
On Friday, TV host and activist Amanda Knox announced she was engaged to her longtime boyfriend, Seattle author Christopher Robinson. Knox posted a video of Robinson's sci-fi-themed proposal, which involved a "meteorite," ominous music, a black light, and a smoke machine, and the whole thing is very dorky and sweet.
"It was just your average Sunday night, when suddenly …" Knox captioned the video.
In the full-length video on YouTube, filmed by Robinson, Knox is sewing when the pair hear a loud, theatrical crashing noise outside, and dramatic music starts playing. "What are you doing?" Knox laughs. Giggling, she goes to investigate what Robinson called a "meteorite" and finds a tablet that tells the story of their love and the "the Knox-Robinson Coalescence."
"What do we do, Robinson?" Knox laughs.
"I don't have a ring," Robinson replies (explaining in text at the end of the video that she doesn't wear rings). "But I do have a big rock."
He goes on, "Will you stay with me until the last star in the last galaxy burns out, and even after that? Amanda Marie Knox — will you marry me?"
Knox beams and says "Yeah" and they kiss and it's so cute and I've watched it four times and if you need a break from all the terrible news out there, please enjoy this exceedingly charming video.