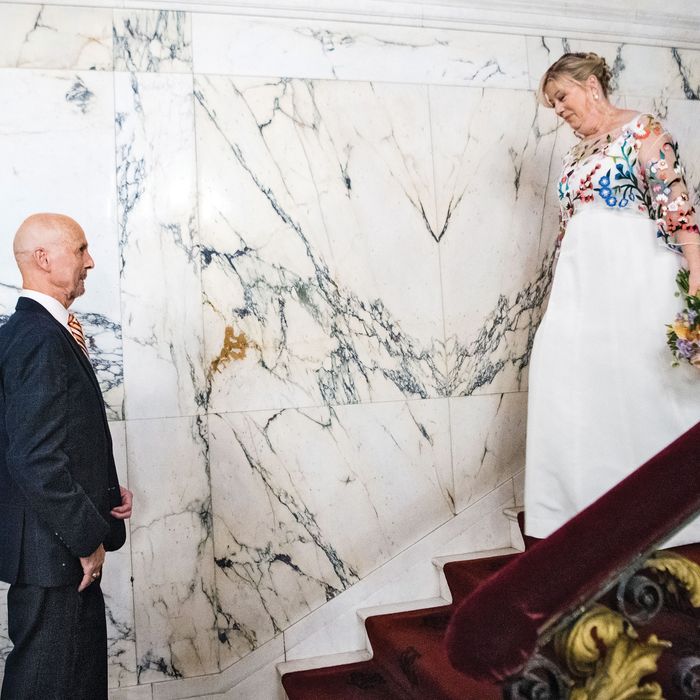 Betsy Bart and Bob Rovinsky.
Photo: André Maier Photography
"It's a Nancy Meyers movie plot," jokes Betsy Bart, 61, of her romance with Bob Rovinsky, 78. The pair corresponded over email between New York (her) and Sweden (him) for years before meeting, as Bob and his then-wife were fans of Betsy's oil paintings; the two later lost their beloved first spouses a year apart. "Bob was my email voice of hope," Betsy says. They finally met in person in New York. "We were friends. It never occurred to me that there would be anything else. Ever," she says. They married at the Metropolitan Club in front of 75 friends and family. "I would have married Betsy in the men's room of the BMT subway line; it would have made no difference to me," says Bob, a retired professor of Scandinavian languages. "But she wanted to have a nice, happy celebration. She has exquisite taste." The couple's first dance was to "The Best Is Yet to Come," and Betsy later unveiled a surprise groom's cake on which she had hand-painted her new husband's tattoo designs. "I was gobsmacked," he says.
Betsy Bart & Bob Rovinsky
The Metropolitan Club
Married: October 8, 2017
The Details
Dress: Lee Anderson Couture
Suit: J.Crew
Cakes: Madison Lee's Cakes
Flowers: Floralies Events
Hair and makeup: Meryl Proctor at Ashimoto
Planner: Stillwell Events
Photographs by: André Maier Photography
*This article appears in the winter 2019 issue of New York Weddings.
More From New York Weddings
See All