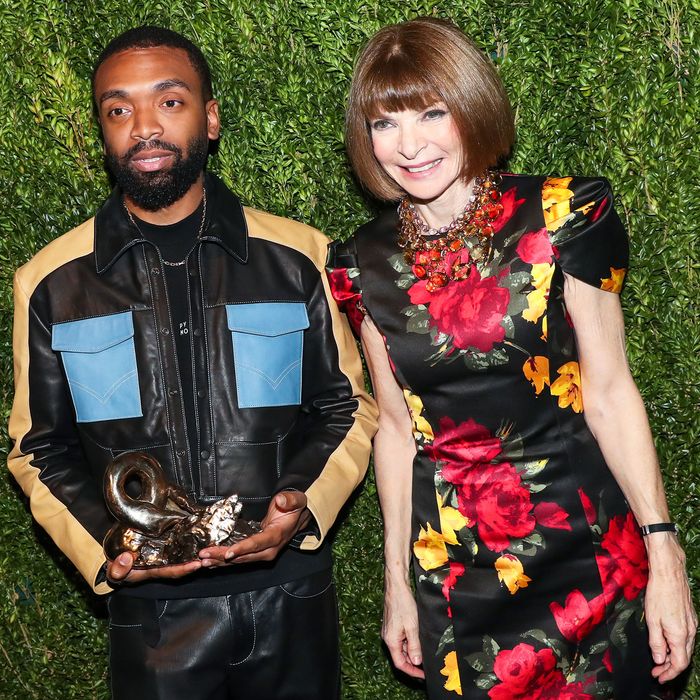 Photo: Neil Rasmus/BFA.com
On Monday night, the CFDA/Vogue Fashion Fund (CVFF) hosted its annual awards ceremony at the Brooklyn Navy Yard. There was a lot to celebrate: This year's ten finalists were a diverse group of designers filled with promise. They were joined by past winners and nominees, many of whom have gone on to helm successful brands of their own, as well as future hopefuls. And the CVFF itself was celebrating 15 years of supporting all of the above.
"Much has changed about the industry," Anna Wintour told the Cut of the last 15 years. "But some things haven't: Designers starting out still need guidance and exposure — and money." The CVFF is also still serving chicken pot pie for dinner.
Wintour has been doling out blunt truisms to New York designers since she helped establish the CFDA/Vogue Fashion Fund in 2003, when the industry was still recovering from the events of September 11, 2001. "We wanted to prove that we were not defeated," Wintour said of her original motives. "[We] wanted to act to help and sustain our community, particularly those who were in the most fragile stages of their careers."
"Anna has really been the main engine behind the Fund," added Diane von Furstenberg, chairwoman of the CFDA. "And when Anna Wintour decides something, she gets what she wants."
Yes, we all know that Wintour rises to a challenge. And here we are, 15 years later, in the midst of what you might call a "fashion crisis," when the old system simply isn't viable, when Condé Nast is cutting losses and Wintour's own position at the helm of Vogue has been questioned. Still, the CVFF (with the help of sponsors) is prepared to invest $400,000 in a designer's future, no strings attached. In the cynical world of fashion, such support might seem too good to be true. What's the catch? Is this all some elaborate PR stunt for Vogue? Or, is it possible that Anna Wintour actually just has New York fashion's best interests at heart?
For the finalists, there's certainly a lot to be gained — especially the money. Even runners-up get $150,000 each, which is enough to take their businesses to the next level. If she had won, finalist Batsheva Hay planned to hire her first full-time employee; other designers might use the money to make an already-good product even higher-quality.
Cash aside, though, every finalist I spoke to — past and present — told me that they gained invaluable mentorship and a long-lasting support network along the way. If this sounds warm and fuzzy, it also seemed genuine. It's like going to college and joining a fraternity, as finalist Kerby Jean-Raymond of Pyer Moss described it. "Eventually," he said, "you're going to have to make some friends if you want to survive."
Since launching his brand in 2013, Jean-Raymond has been hesitant about applying to the CVFF. "I'd been nominated for things and dropped for things, and it was just a constant state of Build you up to break you down," he said. "But what's cool about the Vogue Fashion Fund is that winning is not really the biggest part of it. The real value is the circle, or family, that you essentially join."
When von Furstenberg visited Jean-Raymond's studio, for example, she listened to his story and offered to buy him a ticket to Haiti, where his family is from, out of her own pocket. ("She's like the best auntie that I never had," said Jean-Raymond with a laugh.) And when Anna Wintour offered to share her contacts with him, she opened more doors than one.
"I was really surprised," said Jean-Raymond. "I was expecting some Project Runway–type of egomaniacal … I don't even know what I was expecting, but I went in there with a frown on my face. I've been on the outside of fashion for a long time, and I was comfortable with my position as an outsider. And I think they proved me wrong, as far as not being supported."
Hay only launched her namesake brand two years ago, but has swiftly been embraced by Vogue as a pioneer of the "prairie dress" trend. She says her experience with the CVFF raised more questions than answers, though, which was helpful in its own way. When she presented to Wintour, for example, the first thing out of Wintour's mouth was: "So, your stuff is all the same?"
Hay was crushed. But Wintour's comments, which weren't necessarily negative, sent her on a creative journey that ultimately left her better for it. "It's good to be challenged and have to think about what you're doing a little bit more," Hay said of the process. Maybe her stuff really is all the same, and maybe that's okay. "It's shifted from being this fun thing that I keep on rolling with," Hay added of her business. "I'm still rolling, but with different expectations of myself. There's a whole new pace to what I'm doing. It's great, but it's also scary and confusing."
It can be hard to tell what the CVFF is looking for in a winner. Fashion designer Recho Omondi, for example, spoke about applying on her podcast, The Cutting Room Floor, in an episode titled "What Does Vogue Believe In?" Having been rejected as a finalist this year, she was curious to know what, exactly, qualified those ten who were accepted — beyond their talent. Are the judges looking at the clothes? At who wears and sells them? At how many Instagram followers a brand has? "I don't know enough about what they're looking for to be disappointed," Omondi said in hindsight of the experience.
It's true that there's never one straight answer to the question of what CVFF judges are looking for in a winner. Some designers had to apply multiple times before breaking through; many never get to call themselves a part of this "family." But it's also true that the CVFF is looking for everything. (Von Furstenberg described one winning quality as a "reason to be.") It's a broadness that's both freeing and frustrating.
So the CVFF certainly has its flaws. When Eva Chen, head of fashion partnerships at Instagram, shared a photo of this year's judging panel, some commented on its lack of diversity. But the Fund's leaders say they're working to be more inclusive and relevant.
"I think the Fund has done a good job, in the last few years, of evolving as the industry has evolved," said CFDA president and CEO Steven Kolb. "I would like us to continue on that journey — to not look at it so traditionally because the way brands are starting is very different than it was 15 years ago. So, embracing new models of commerce, scheduling, collaboration, influence, and brands that are more than just a fashion line. And also reflecting the culture of our country in terms of race, ethnicity, and gender."
Chen's role as a judge for the past two years is a good indication of the CVFF's evolution. Vogue's stamp of approval still means a great deal for a designer, but social-media relevancy is just as valuable. Chen said she now leads group sessions with the designers and offers herself up as a resource as they grow their platforms. Designers are also now required to give an investment pitch as a final challenge.
"It's not enough that our finalists are talented," said Wintour. "They have to understand the world today, and how to put themselves out there."
That being said, the process is a two-way street, and the judges gain valuable insight into how the industry currently operates. "I've learnt a great deal about hard work, humor, and humility," said Wintour of interacting with the finalists. "And that being a talented young designer in New York often involves a tenth floor walk-up."
This, everyone can agree on: Making it in fashion is an uphill battle. For upstart brands, it can seem like a near-impossible feat. And even for past winners — a list that includes Altuzarra, Alexander Wang, Public School, Proenza Schouler, Rodarte, and most recently, Telfar — there are always going to be challenges, and many have hit the reset button since. Some names, like Doo.Ri, Sophie Theallet, and Trovata, are also no longer in operation. Winning is no guarantee.
To present this year's awards, Wintour enlisted actress Emily Blunt, who played the assistant to an Anna Wintour–type character in A Devil Wears Prada. Runners-up were Emily Adams Bode, a fledgling menswear designer who sources one-of-a-kind vintage fabrics, and Jonathan Cohen, a women's designer who launched his label in 2011. Finally, Kerby Jean-Raymond of Pyer Moss took home the grand prize.
"I'm going to say something that Anna probably doesn't want me to say…" added Jean-Raymond when he came to the podium to accept his award. "She's a really nice person."
In the audience, Wintour smiled.