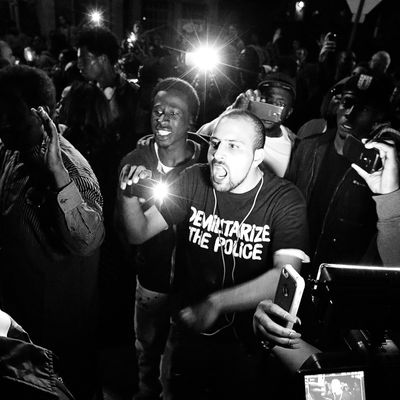 Bassem Masri, center, confronting a St. Louis police officer in Ferguson, Missouri, on Wednesday, October 8, 2014.
Photo: David Carson/MCT via Getty Images
Bassem Masri, 31, a Palestinian-American activist who live-streamed throughout the protests against police brutality and the murder of Michael Brown in Ferguson, Missouri, has died. Reports of his death circulated on social media on Tuesday, with other prominent activists and journalists offering condolences and memories about the man, who was known for his strong, outspoken beliefs, and his thoughtful conversation.
According to the St. Louis Post-Dispatch, Masri was found unresponsive on a bus in Bridgeton, Missouri. He was declared dead at a hospital 11:09 a.m., after someone on the bus attempted to administer CPR.
A man named Faizan Syed, who identified himself as a family member of Masri's, posted about his death on Facebook. "A gentle man who was fierce when he faced injustice," Syed wrote. "In his short life he did as much if not more to unit the fight for black liberation and Palestinian liberation. We ask everyone to pray and make dua for Bassem and his family. May Allah accept his sacrifices for justice and overlook his flaws and mistakes."
Masri is not the first person connected to the Ferguson protests to die in the years since the protests against the killing of Michael Brown. Danye Jones, and Darren Seals have both been found dead since 2014. Jones death was considered by police to be a suicide, but his mother Melissa McKinnies — who is a prominent activist herself — suspected foul play. Seals was found shot to death and set on fire, and his murder has not been solved.
Wesley Lowery, a journalist who covered the Ferguson protests, remembered Masri "defining character from those nights in Ferguson." Lowery wrote on Twitter that Masri was "as committed an activist as I've known." Brittany Packnett wrote that Masri's investment in liberation was "real, and his commitment was unwavering."
Funeral services for Bassem Masri will be held on Wednesday.
This post will be updated as more information becomes available.