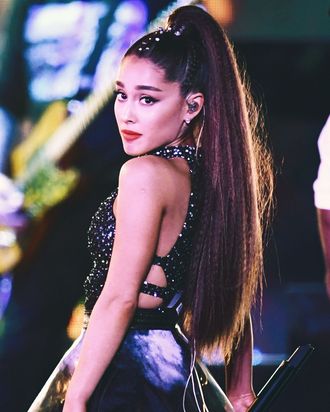 Ariana Grande.
Photo: Kevin Winter/Getty Images for iHeartMedia
Ariana Grande, a Cancer queen, is handling her split from ex-fiancé Pete Davidson better than most people handle being ghosted after two dates. She has returned her ridiculously expensive engagement ring, released a catchy (and respectful!) breakup anthem, and she's already making playful jokes about the institution of marriage. Yesterday, when the Zoe Report posted an Instagram about picking out "the perfect" ring for your fiancé, the 25-year-old singer couldn't help but leave a little unsolicited advice for those looking to make the ultimate commitment to their partner.
In the Instagram, a woman's hand is adorned with what appears to be seven rings, most of which are apparently engagement rings. "13 tips & tricks for finding the perfect engagement ring (including the popular metal you should actually avoid)," the caption reads. Grande, who follows the Zoe Report's Instagram and clearly has a lot of thoughts about engagements, figured she might as well toss in some concise input on how to find your partner's dream ring: "don't."
A few hours after she gave her advice, an account tagged on the original post Instagrammed a screenshot of her comment with the caption, "When @arianagrande reminds us all how much she hated being engaged," along with some very evocative emojis: 🙈😂🥂🤣.
In all fairness, Grande never said she "hated being engaged." As she sings in her breakup anthem, she's even "thankful" for Davidson. But right now, she doesn't even want to think about marriage — she's into doing her own thing.
Engagements? Thank u, next.