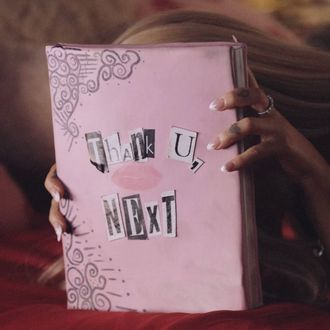 Ariana Grande.
Photo: arianagrande@Instagram
After spending the past few weeks building up anticipation for her yet-unreleased music video for "Thank U, Next," Ariana Grande released a damn teaser for the vid on early early Tuesday morning.
Earlier this month, Grande gave a glorious The First Wives Club–inspired performance of "Thank U, Next" on Ellen, and has since continued to drop hints on social about the upcoming music video that pays tribute to a handful of iconic movies. In the teaser Grande dropped just a few hours ago on Twitter and Instagram, she parodied the classic "Who Is Regina George" scene in Mean Girls alongside Troye Sivan, YouTuber Gabi DeMartino, Jonathan Bennett (the actor who played heartthrob Aaron Samuels in the original movie), and Stefanie Drummond.
The star-studded teaser features no music, but instead the actors speaking about Grande as if she played Regina George.
"Ariana broke off an engagement so I found a guy to propose to me and I broke off an engagement," says Drummond, who also reprised her original Mean Girls role for the music video. The teaser also features Bennett delivering a line about his hair looking "sexy pushed back," and DeMartino bearing a crazy resemblance to Grande.
So should we be expecting teasers for all the other movies Grande is reenacting — Bring It On, Legally Blonde, and 13 Going On 30 — or will she finally relieve us from waiting?