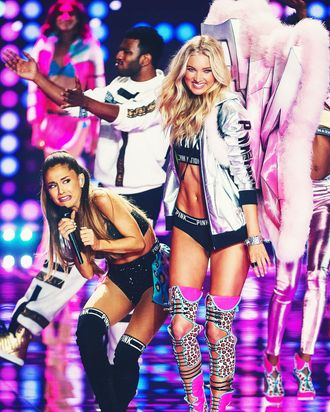 Ariana Grande being hit with a wing.
Photo: Michael Stewart/FilmMagic/Getty Images
Victoria's Secret Fashion Shows follow the same formula year after year: Lots of models, lots of underwear, trendy musical guests, one especially pricey and pokey bra. But a few years ago, we were blessed with an accidental deviation from the plan when angel Elsa Hosk knocked into Ariana Grande with her oversize wings.
The photo of this remarkable event (at left) is highly meme-able, full of emotion, and proof that Ariana Grande has been a hilarious person for at least four years now. Let us first set the scene: Back in December 2014, Ariana Grande (one of the four performers alongside Ed Sheeran, Hozier, and Taylor Swift) was just beginning a stirring rendition of the hit "Bang Bang," kicking of the PINK University portion of the show.
Hosk (this year's wearer of the Fantasy Bra) opened the segment wearing an extremely beefy set of pink wings — wings much bigger than tiny Ariana Grande, who soon found herself their victim.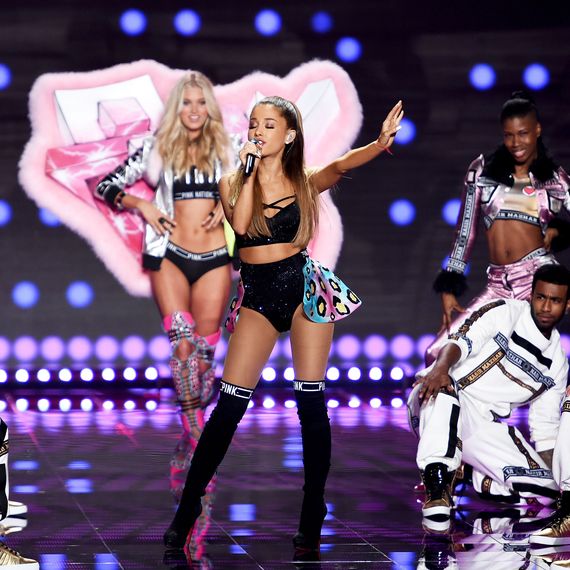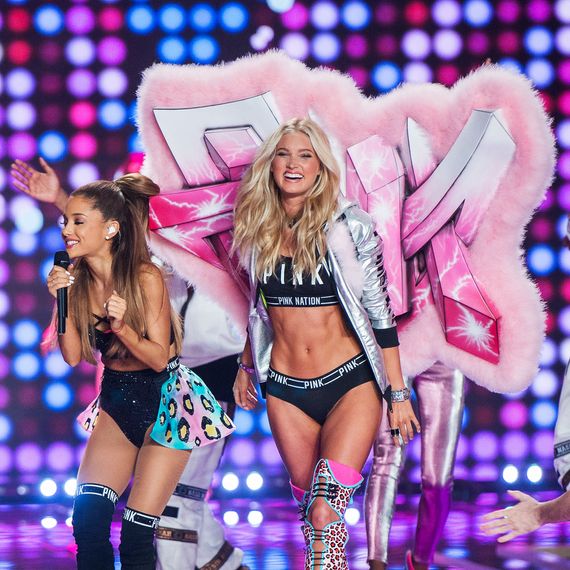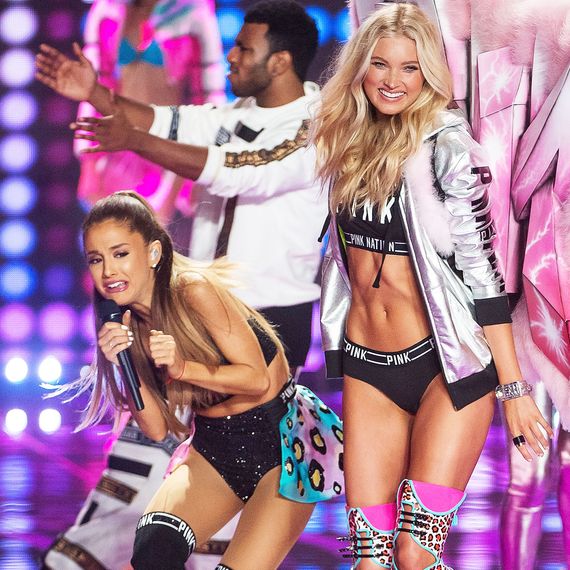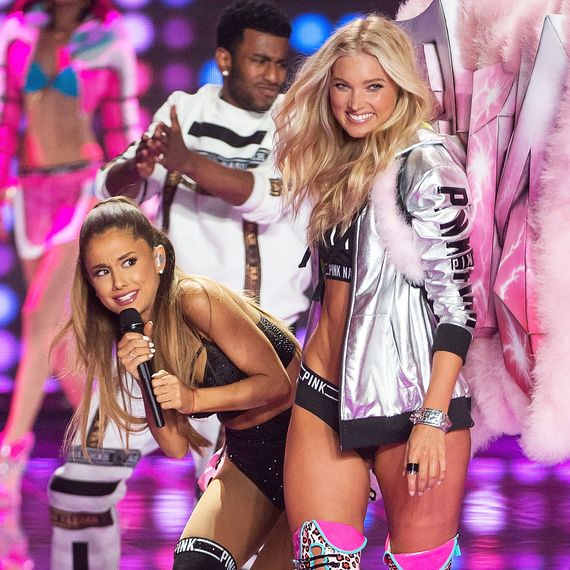 She handled it with humor and grace, as she always does.
The wing hit was never broadcast — VS tapes two shows well in advance so incidents like this don't air — but we'll always have the evidence that it happened thanks to photographer Michael Stewart.
In honor of Ariana's latest release reflecting on the past, and Elsa's promotion to Fantasy Bra wearer, I approached five different Angels backstage at this year's show and asked them to help paint a more vivid picture of the incident. Here are their stories:
"I remember exactly where I was when it happened. I was in line waiting to walk in that segment. Ah, poor Ariana. She was amazing though. She made me such a big fan of hers on that show."
"I was backstage! But I didn't realize it happened — I only saw the picture afterwards. Her face was really funny. We had a meeting about it. Ed [Razek] said, "Don't kill each other on the runway. Give each other space." And then we all did it right during the second show."
"I was on the runway! I was in the same section! I didn't see it happen because I was a little further behind. And I was really nervous because it was my first time walking the show, so I was just thinking about nerves the whole time.
But I love Ariana. Her new song is so good. I only saw the photo, and it isn't the exact moment of the hit; it's her trying to hide from the wing, and she's so cute. But at the same time, I wish it didn't hurt her. She is beautiful, and the wings are beautiful, and we want them both to be on the stage together."
"Oh, I was backstage. Watching it on the screen, watching it all go down. We were all like, Ohhhhh myyyyy God … But thankfully she was safe!"
"Oh my goodness, I don't remember where I was but I do remember watching that. It was such an epic moment, though, you know? It's classic. It just shows how the show actually goes down. Sometimes there's mistakes, sometimes things happen; you just have to work around it."
Wing-wearer Elsa Hosk was backstage but unavailable for comment at the time.