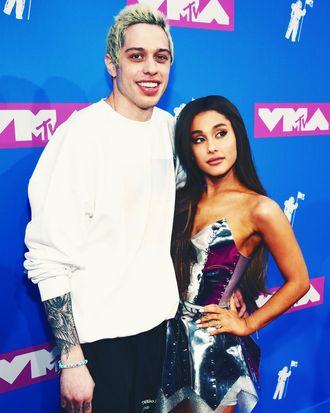 Pete Davidson and Ariana Grande.
Photo: Kevin Mazur/WireImage/Getty Images
The coupling and subsequent uncoupling of Pete Davidson and Ariana Grande has had enough ups and downs, and at least one person is ready for the drama to end.
Despite some initial post-breakup drama, the two are now totally cool with each other (evidenced by her lyric, "and for Pete I'm so thankful"). Now her manager, Scooter Braun, wants you to know that nobody hates Pete, who is a good guy!!
After deleting his Instagram account during their relationship, Davidson made his return to the platform on Wednesday to promote his upcoming movie Big Time Adolescence. Arianators couldn't resist the opportunity to flood his post with a slew of "thank u, next" comments.
One fan, however, apparently took it too far when they commented, "ur cancelled tysm for breaking up with ariana bc she's doing much better BYE," prompting a response from Braun about how great of a guy Davidson truly is.
"Stop the bullshit," Braun wrote. "It is nothing like that and Pete is a good dude. No one has hate for this guy and he is a stand up guy. Show respect because trust me everyone on this side knows he deserves it and wishes him well."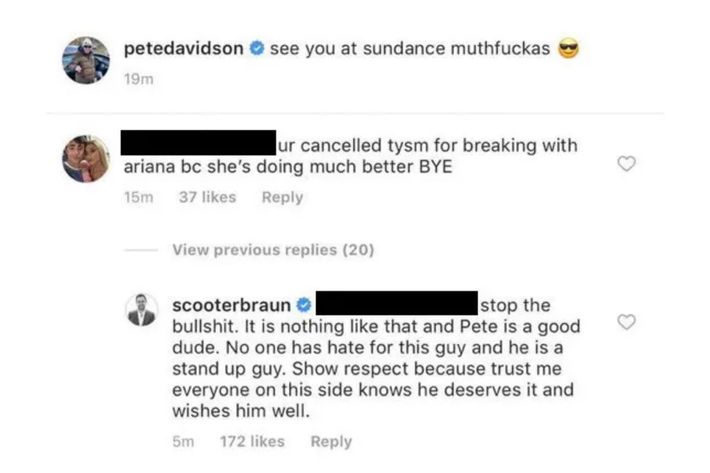 So there you have it: Everything is fine, and the Grande team just wants the best for him. And don't worry too much about Pete — if anything, he still has the support of Queer Eye's Tan France and Jonathan Van Ness, who respectively commented, "YES PETEY!!" and "Can't wait babyyyyyyyyyy!!!!!!!!!"