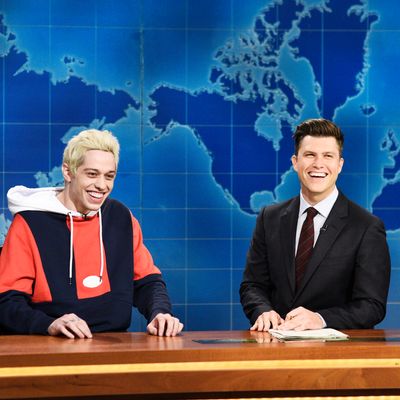 Pete Davidson on
Saturday Night Live
.
Photo: NBC/NBCU Photo Bank via Getty Images
Pete Davidson spent 15 seconds addressing his breakup with Ariana Grande on Saturday Night Live over the weekend, something he reportedly decided to do after hearing Ariana's new song "thank u, next." According to TMZ, SNL's executive producer, Lorne Michaels, signed off on Davidson's prepared remarks.
"I know some of you are curious about the breakup. But the truth is, it's nobody's business and sometimes things just don't work out and that's okay," he said, at the end of a Weekend Update segment where he made fun of various politicians' appearances. "She's a wonderful, strong person and I genuinely wish her all the happiness in the world. Now go vote on Tuesday."
It was previously reported that Pete cut an entire sketch about his breakup with Ariana after she tweeted out her disdain for the joke he made in a promo aired last week.
Pete has been pretty quiet about the breakup so far. He briefly mentioned how "stupid" it was to get matching tattoos with his ex during a comedy set at a charity event, and he got a post-breakup haircut, but other than that, he hadn't directly mentioned it before his comments on Weekend Update.
Their breakup was announced in mid-October. Ariana's song "thank u, next" addressed not only her breakup with Pete, but many of her past relationships, including with Mac Miller and Big Sean. She took the high road with her song, and it seems like Pete tried to do the same with his on-air acknowledgment.