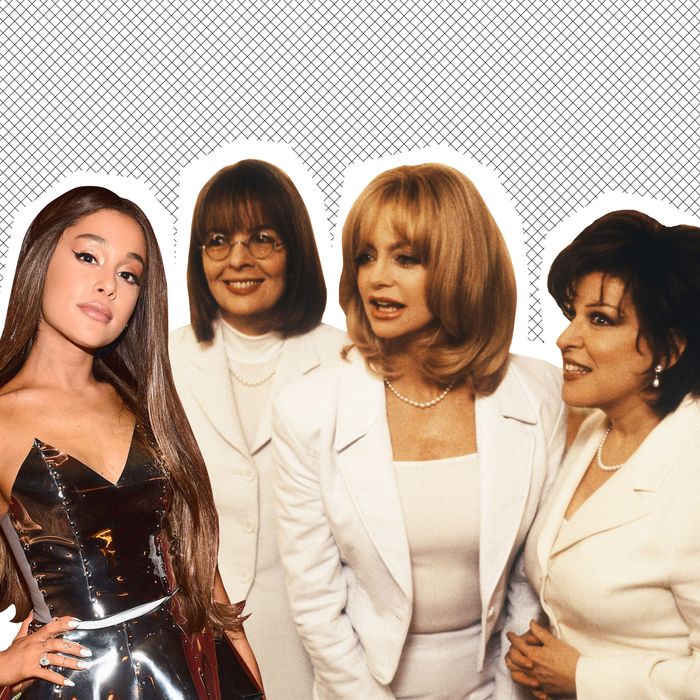 Ariana Grande and the ladies of
The First Wives Club
.
Photo: Paramount/Rex/Shutterstock/Getty Images
Three women clad in white suits team up to sing an anthem of freedom in the wake of a life-changing breakup, bidding adieu to the men of their past and ushering in a new age of independence and personal growth. These women? Ariana Grande, plus Victoria Monét and Tayla Parx, performed her new song "Thank U, Next" on Ellen, paying homage to a similar moment from one of the greatest breakup movies of all time, The First Wives Club.
In case you grew up under a rock and didn't have access to movies until right now, first of all, congrats on escaping, and secondly, let me explain why The First Wives Club is so important. The movie centers on a group of women who lost touch after college, only to reunite years later after one of them commits suicide. Each of the remaining women — Elise (Goldie Hawn), Brenda (Bette Middler), and Annie (Diane Keaton) — has been left by their husbands for younger women (and in Annie's case, her couples' therapist). They unite to take revenge on their exes, and end up finding themselves along the way. To sum it up, the movie is perfect.
But perhaps the most perfect moment — in a sea of perfection, there must always be an outlier — occurs on the opening night of the women's crisis center that these "first wives" are opening. Brenda, in true Bette Middler fashion, begins to sing the opening lines of "You Don't Own Me," as Annie, in a total Diane Keaton move, tells her to stop. But then Elise, as only Goldie Hawn could, joins in, and next thing you know, the three are performing the anthem of true independence — "You don't own me/ I'm not just one of your many toys" — as the iconic trio we all so desperately needed.
It's only fitting that Grande would honor this moment while performing "Thank U, Next," the song she released after her breakup from quickie fiancé Pete Davidson. Grande and the SNL star started dating in the spring — shortly after they both broke up with other people; he with Larry David's cool daughter Cazzie David, and she with the late Mac Miller — and were engaged within weeks. A media frenzy (they got matching tattoos! They moved in together! They got a freaking pig! He has BDE!) followed the couple during their relatively short romance, and tragedy struck after Miller died in September. It was reportedly shortly thereafter that Grande wasn't ready to get married to Davidson, and they parted ways.
In her new song, "Thank U, Next," Grande explains why she needs to be alone. Each of her significant exes — including Davidson and Miller — taught her a lot about life, from patience to love and what it's like to be hurt. But it was time for her to get to know someone else: herself. "I've loved and I've lost/ But that's not what I see/ 'Cause look what I found/ Ain't no need for searching," Grande rejoices in her song, performing on Ellen in full "First Wives Club" gear and in front of a similar set of white dining tables.
I'm normally terrified of remakes of my favorite movies, but this short homage brings me sheer joy. Thank U, Ari.