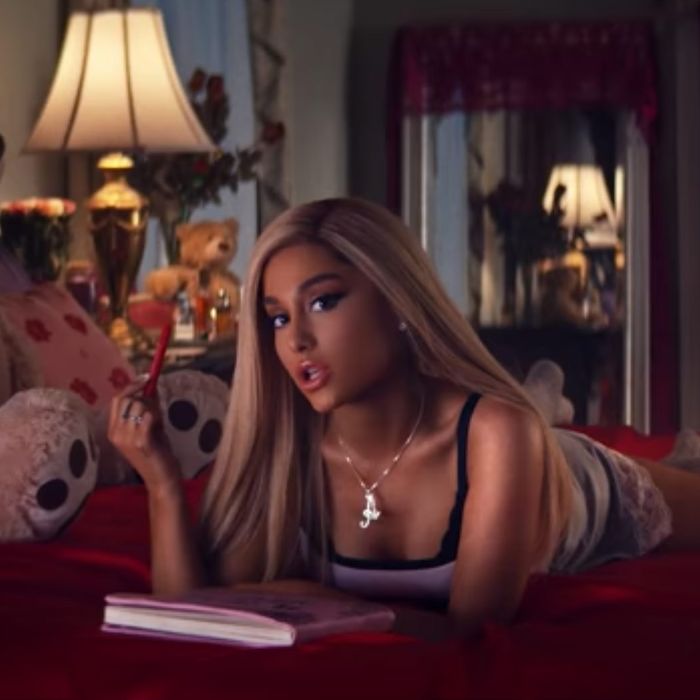 Oooh what's inside, Ari?
Photo: Republic Records
Pete Davidson's legendary dong has been the talk of everyone on the internet for approximately 100 years. Although the promise of a future in which he and Ariana Grande live happily (and sexually satisfiedly) ever after might be gone, our collective knowledge of his phallic situation remains. And it has been further cemented in the annals of pop-culture history by Ariana's new music video for her breakup anthem "thank u, next."
This music video has been awaited anxiously ever since the pop star started dropping hints that it would reference beloved teen movies like Mean Girls and Bring It On. But nothing could prepare us for the shout-outs to Pete Davidson, or specifically his D. In a blink-and-you'll-miss-it reference (like so many in the video) we get a shot of Ari pasting photos of her exes into her own Burn Book, and scrawling HUUUUGE on the page dedicated to Pete. (Also visible are the words "i love u always" which is good, but alas not as HUUUUGE as the dong news.)
We're also treated to a very fun Easter egg toward the end of the video, which re-creates the "bend and snap" scene from Legally Blonde. Enter manicure queen Paulette Bonafonté's lover: The UPS Man. But instead of a UPS badge he is wearing a BDE badge (which stands for Big Dick Energy, if you've managed to read this far without knowing that).
Truly, Ariana Grande: thank u.