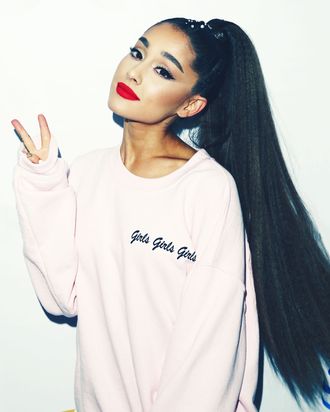 Ariana Grande, with ponytail.
Photo: Jesse Grant/Getty Images for iHeartMedia
Last night, Ariana Grande shared a mystifying photo with her Instagram followers: a captionless, smooth-skinned, bunny-filtered selfie — with no ponytail in sight. The singer, like ex-boyfriend Pete Davidson, appeared to have spontaneously cut her hair short, as one does post-breakup.
Many fans quickly pointed out in the comments that Grande would no longer be able to don her signature high pony, making the ponytail the next aspect of her former life that she is "so fuckin' grateful for" yet happier to leave behind.
Some also noted, however, that it's possible this was Grande's hair all along, since her ponytail is really just a mass of extensions.
In any case, we've come up with a few theories as to where Grande's ponytail really went:
Into the void.
Down the sinkhole that has swallowed up all your white socks.
Off into the sunset with the remainder of Pete's bleached-blond tips.
Wherever Melania went.
To go discover herself.