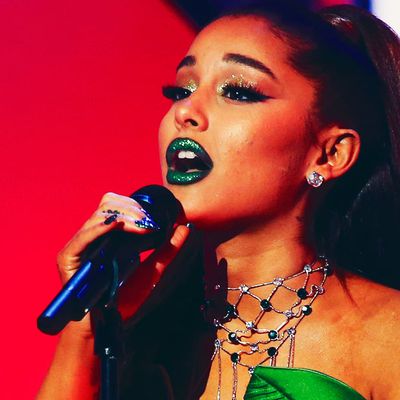 Ariana Grande.
Photo: Eric Liebowitz/NBC/NBCU Photo Bank via Getty Images
Just days after pointedly subtweeting Pete Davidson over his inability to keep his mouth shut following their split, Ariana Grande has released a song that references their former relationship. On Saturday night, by total surprise, she dropped the a breakup anthem, "thank u, next." Fans wasted no time reading into it, but were surprised by what they found. While Grande could've released a scathing track, she dropped one that was, instead, respectful and mature.
What does the song title mean?
Last Thursday, SNL dropped its video promo for Saturday night's episode; in it, Davidson asks musical guest Maggie Rogers if she wants to get married — an offer she declines, to which Davidson responds, "0 for 3." This was a clear reference to the fact that he and Grande had called off their passionate four-month-long engagement just a few weeks back. Grande seemed to respond in a series of now-deleted frustrated subtweets, one of which read, "thank u. next."
Between the timing of the release — half an hour before SNL! — and the name of the song, the track came off as wonderfully petty at first blush to some.
Is it, though?
Sorry … but no. Although she does explicitly talk about her exes — she name-drops Big Sean, Ricky Alvarez, Pete Davidson, and Mac Miller (though by first name only) in the first verse — the sentiment is very magnanimous:
Thought I'd end up with Sean

But he wasn't a match

Wrote some songs about Ricky

Now I listen and laugh

Even almost got married

And for Pete, I'm so thankful

Wish I could say, "Thank you" to Malcolm

'Cause he was an angel
The tone of the song is anything but petty or angry or dramatic; it's appreciative. "Thank you, next," she sings, "I'm so fuckin' grateful for my ex."
How did everyone respond?
None of Grande's exes explicitly responded for nearly 48 hours, which perhaps had something to do with Grande's claim that she played the song for two of them before she released it. On Sunday, in response to a fan joking on Twitter about Sean and Ricky hearing the song for the first time with bewilderment, Grande wrote, "they heard it before it came out <3 :)"
But on Monday night, Alvarez acknowledged the song when he posted a video to his Instagram Story of him listening it; when he got to Grande's line about him, he dramatically zoomed into his face. The video was comical, and Grande seems to have appreciated it.
"HAHAHAHAHHAHAHAH IM SORRY U GOT THE WORST LINE," she wrote on her own Instagram story. "It was meant v lovingly."
Alvarez accepted to apology, posting once more on his Instagram Story, "Nothing but gratitude. Thank u, next. (Those songs are fire tho… you're welcome)." (Grande wrote two songs about Alvarez in 2015 and 2016: "True Love" and "Moonlight.")
While Grande let some of her exes listen to the song before she released it, Davidson reportedly wasn't one of them. He seems to have taken it pretty well, though, as immediately after the song dropped, Davidson reportedly asked Lorne Michaels if he could talk about Grande on that night's episode of Saturday Night Live — so, he technically was the first to respond. After getting Michaels's approval, the comedian spent a mere 15 objectively respectful seconds addressing his breakup during Weekend Update. (Last Friday, he reportedly cut his original breakup skit following the backlash.)
"I know some of you are curious about the break-up," he said. "But the truth is, it's nobody's business and sometimes things just don't work out and that's okay. She's a wonderful, strong person and I genuinely wish her all the happiness in the world. Now go vote on Tuesday."