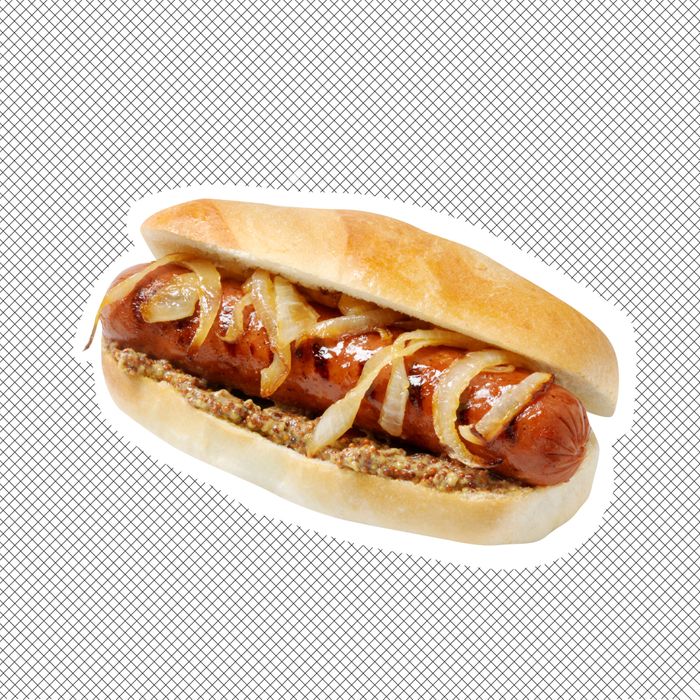 A proper sausage, with onions on top.
Photo: Getty Images
We may be a nation on the brink of civil unrest, but we're not alone. Australia has been facing its own "existential crisis" lately, its very foundation threatened with an "outrageous," "BEYOND ridiculous," suggestion that could potentially "ruin" the country: that those consuming sausage confections put their onions below the sausages, rather than on top.
This appalling suggestion comes from the brazen Bunnings Warehouse, a national hardware store chain; it was supposedly an earnest effort to curb onion slippage. Since Australians often set up community fundraiser barbecues (or "sausage sizzles") outside Bunnings stores, the chain was worried sausage eaters would come inside, drop their onions, and lead other customers to slip and fall — and potentially sue.
"Onions can be slippery when they fall out of a sausage sandwich," Bunnings wrote in a flier distributed to community groups, which included step-by-step instructions for building a sandwich. "To make sure that onions don't end up on the ground and pose a slipping risk, please apply a small amount of onion to the bread under the sausage when serving."
The statement was nothing short of offensive for many Australians, who saw the recommendation — dubbed #sausagegate on the internet — as an attack on their personal freedom.
One Twitter user pointed out that putting onions below one's sausage could actually increase the risk of spillage, as the bread would get soggy and lead to total collapse.
Bunnings stood by its recommendation with a statement, assuring its customers that they made it "in the best interest of customer safety," not as a marketing ploy. "Safety is always our No. 1 priority," said Debbie Poole, a spokeswoman for Bunnings. "Regardless of how you like your onion and snag," — Australian slang for sausage — "we are confident this new serving suggestion will not impact the delicious taste or great feeling you get when supporting your local community group."
Meanwhile, Australia's prime minister, Scott Morrison, weighed-in on the national debate, after a reporter asked whether he thinks Bunnings' suggestion was "un-Australian."
"Whether the onions are on top or underneath, I'll always be buying sausages on bread," he said. Now that's diplomacy.