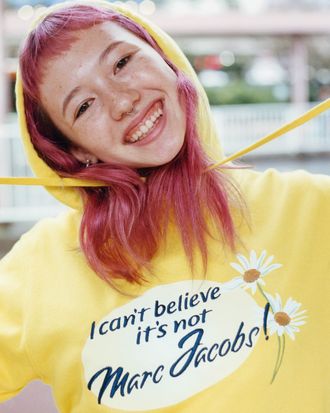 Ava Niuri in her own design.
Photo: Courtesy of Marc Jacobs
It's the day after Halloween and you may already be thinking about bagels — a warm, toasted everything bagel slathered in cream cheese from your favorite deli ready to soak up all the sugar and other toxins you may have put in your body last night. If you weren't already craving a giant serving of carbs, Marc Jacobs would like you to reconsider.
Jacobs's new limited-edition collection with artist Ava Nirui is a collection of tongue-in-cheek streetwear. Nirui first collaborated with Jacobs on a sweatshirt that read "Mark Jacobes." This time, she enlisted some of her friends to put a creative twist on plain hoodies. Avi Gold, founder of the label Better, designed my personal favorite, the one that replaces the "O" in Jacobs with a bagel. Idea Books, a publisher, created one inspired by lottery tickets (too soon). Streetwear designer Julian Consuegra made streetwear cute with a series of illustrated characters on the shirt. Finally, Nirui herself referenced a certain margarine logo and made a sweatshirt reading "I can't believe it's not Marc Jacobs."
The collab is available now on the Marc Jacobs site. For $195 you can dress like a hypebeast with a good sense of humor. Watch the campaign video below.