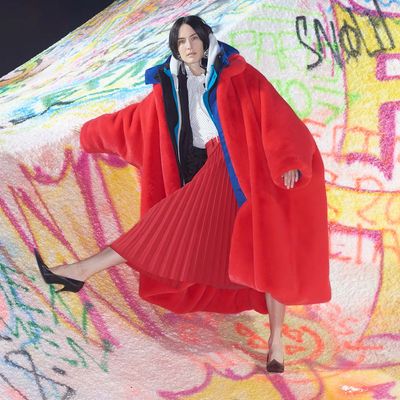 Photo: Courtesy of Balenciaga
You could argue that backstage is half the fun of a fashion show, but up until now, Demna Gvasalia at Balenciaga has kept the curtain pulled tightly shut. Of course, he had a reason. The label is releasing a book of behind-the-scenes images from the winter 18 show — the one with all of the coats.
Johnny Dufort and Pierre Ange Carlotti were the only two photographers allowed into Balenciaga's process. The book, titled Balenciaga Winter 18, takes the reader through casting and styling up to the actual show. According to a release, this is the first of a series of "creative documentation projects." The book is not just a book, but a "Balenciaga artifact."
"I realized that every show I do from now on for Balenciaga is cinematographic in terms of concept and setup, and each of them I'd like to accompany with some memorabilia, something that actually puts you into that show and the process behind it."
To make the book even more special, all of the pictures were infused with two neon shades to make a higher quality, almost-feels-like-you're-there picture. You'll have to buy the book (on sale today) on Balenciaga.com to test that theory. In the mean time, see some exclusive photos below.