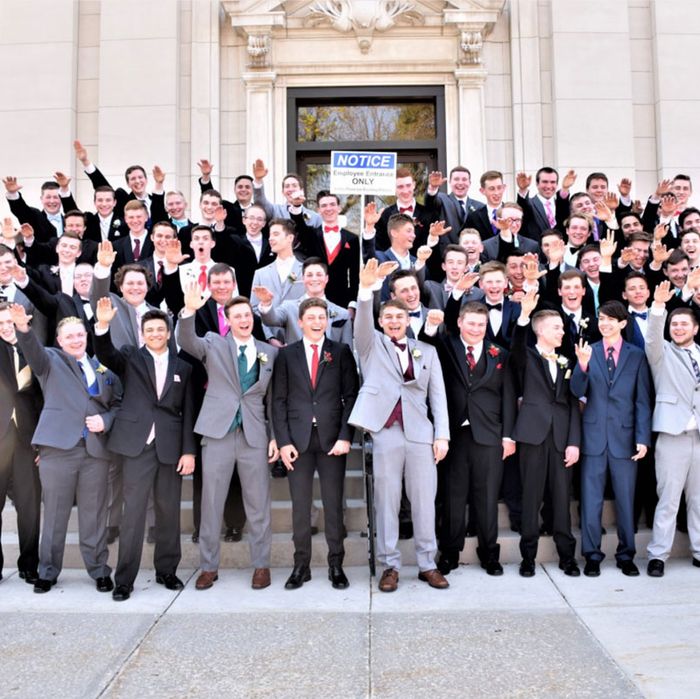 The boys of the Baraboo class of 2019.
Photo: @jules_su/Twitter
A photo of a group of boys at their junior prom went viral on Monday, when it was posted to social media, and reposted by journalist Jules Suzdaltsev. In the photo, most of the 60 boys from Baraboo High School, where students of color make up 12 percent of the nearly 1,000 students, in Baraboo, Wisconsin, are doing the Nazi salute and laughing. The photo was taken last spring. According to one user, the salute was done at the suggestion of the photographer, Peter Gust.
Suzdaltsev posted the photo and asked "if anybody from Baraboo High School in Wisconsin can clue me in on why it appears the entire male class of 2018 is throwing up a Sig Heil during their prom photos — that would be great."
Not long after, he began to receive messages from Baraboo alumni, who spoke of students yelling "white power" in the hallways after Trump was elected, and others who were frequently being called racial or transphobic slurs by white students. Many of the students messaging Suzdaltsev also said that the school failed to act in meaningful ways when instances of verbal abuse were reported.
Within hours, Baraboo School District responded with two statements. The first statement said that the photo did not reflect the educational values and beliefs of the school district, and that they are "investigating and will pursue any and all available and appropriate actions, including legal, to address."
The second, which was also shared to Twitter, was addressed directly to parents in the district. The letter stated that the school would be monitoring closely who was and was not allowed on campus, and told parents that were not prohibited from talking to the press, but also were not required to.
"Let us be very clear: hate has no home in the Baraboo school district," the statement continued. "Our schools are spaces where all people … are respected and celebrated."
The photographer, Peter Gust, posted a statement to his website — though it is unclear who it is directed toward or what it means. The photo of the boys was posted on his website until Monday. He called some people "in society" "jerks," and ended the statement with "Be kind, Be gentle, Be civil!"
In response to the circulation of the photo, groups outside of Baraboo, Wisconsin, weighed in. The official Twitter account of the Auschwitz Memorial responded to the photo, offering Baraboo School District lessons on intolerance.
The museum posted an additional statement about the photo.
"This is why every single day we work hard to educate. We need to explain what is the danger of hateful ideology rising. Auschwitz with its gas chambers was at the very end of the long process of normalizing and accommodating hatred."
Baraboo residents also responded to the photo circulating. On Monday night, in the same spot that the photo was taken in the spring, community members sat holding signs that read "I choose love." A Facebook post from one of the organizers of the event wrote that the event was not a protest. "We are simply coming together as a community to spread LOVE. Please spread the word and LET'S SHOW UP, BARABOO!!"
Wisconsin State Representative Jon Erpenbach also released a statement about the photo. "There is no place for hatred, intolerance and racism in our society," Erpenbach said. "Unfortunately, based on what these students see coming from the White House, some of them may believe what they have done is acceptable. It is absolutely not. Leaders, from the president on down, need to condemn racism in all its forms and work toward a world where we learn from the mistakes of history."
The Baraboo Police Department posted a statement to their Facebook announcing that "officers are assisting the Baraboo School District with their investigation into this matter."