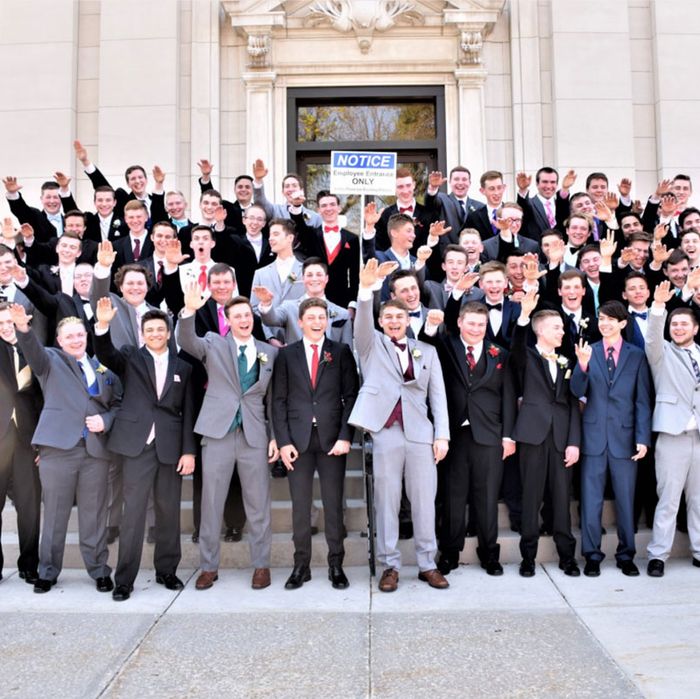 The boys of Baraboo's class of 2019.
Photo: @jules_su/Twitter
Two weeks after a photo of 60 boys from Wisconsin's Baraboo High School class of 2019 appearing to make the Nazi salute went viral, a school district official said in a letter that they are "not in a position to punish the students for their actions" because of their First Amendment rights, the New York Times reports.
When the photo first gained national attention, Baraboo superintendent Lori Mueller said in a statement that the school district was "extremely troubled by the image," that "hate has no home in the Baraboo School District," and that they would be launching an investigation into the incident. Then, in a follow-up letter to parents a couple of days later, Mueller apologized for the pain the photo caused, but also noted that they can't know the "intentions in the hearts" of those involved.
This is apparently not the first time Baraboo officials have used the First Amendment to protect students displaying racist behavior. After journalist Jules Suzdaltsev shared the disturbing photo on Twitter earlier this month — writing, "If anybody from Baraboo High School in Wisconsin can clue me in on why it appears the entire male class of 2018 is throwing up a Sieg Heil during their prom photos — that would be great," — he began receiving messages from Baraboo alums. They told him that some boys in the picture had made racist statements before, and that one shouted "White power!" in the halls of the school following Donald Trump's election. When they alerted administrators, they say the school told them that they couldn't do anything to discipline the boy because of his First Amendment rights.
One of the boys told Suzdaltsev that Peter Gust, the photographer who snapped the picture of them before their prom, told the students to "to make the sign." Gust denies this, telling WISC that he was simply telling the boys to wave good-bye to their parents.
Shortly after Sezdeltsev posted the image, the Auschwitz Memorial shared his tweet, writing, "This is why every single day we work hard to educate. We need to explain what is the danger of hateful ideology rising. Auschwitz with its gas chambers was at the very end of the long process of normalizing and accommodating hatred."