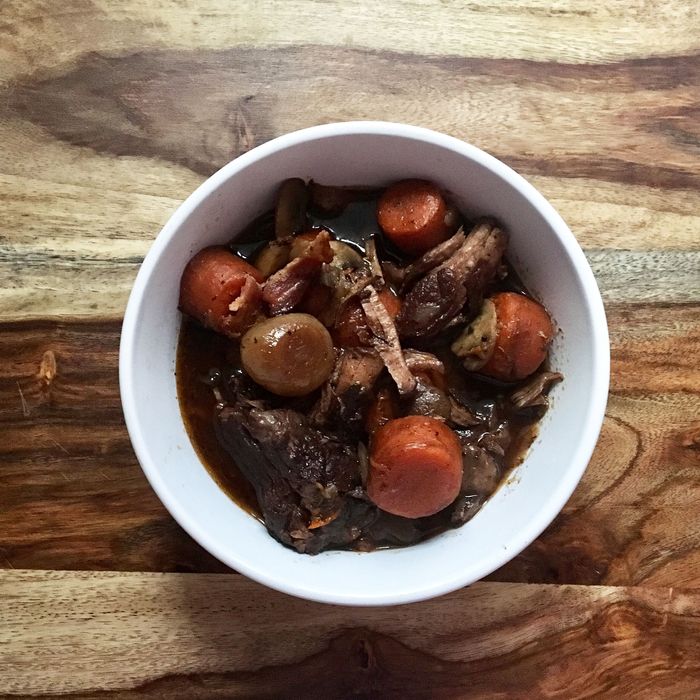 Beef.
Photo: Madeleine Aggeler
Over Easy is a weekly food column by a 20-something woman who can barely cook an egg and just wants to learn how to throw together an elegant three-course meal for her friends.
Here are some things you can do in ten hours:
• Fly from New York City to Vilnius, Lithuania.
• Run two marathons.
• Listen to this ten-hour video of the Chainsmokers and Coldplay's "Something Just Like This" playing on a loop.
• Watch the entire Matrix trilogy, and then nap for three hours.
• Make a batch of beef bourguignon.
So far, I have only done one of those things — the beef bourguignon one — which I will tell you about shortly. But in case you read this and think, Hmm, I don't think that's how I'd like to spend ten hours of my short life, well, now you have some other options.
I wanted to make beef bourguignon because the traditional French stew is a culinary rite of passage, an iconic dish that says you've graduated as a home cook from dry, turgid scrambled eggs to elegant, involved, time-consuming fare. Julia Child made it for her first episode of The French Chef in 1963. Almost half a century later, Amy Adams and her terrible haircut ruined it in Julie & Julia. In 2004, Ina Garten included a recipe for it in Barefoot in Paris, and then, her close personal friend Jennifer Garner made that recipe for Victor Garber when they were shooting Alias together. (Iconic!)
Eager to join the ranks of the Childs and the Gartens and the Garners, I decided to make a batch. Almost immediately, I encountered an obstacle: Both Child and Garten use Dutch ovens in their recipes, and though I had recently, after a night out, spent several hours hungrily browsing luxury cookware, even going so far as to drop a Dutch oven in the shopping cart, I fell asleep watching the Great British Bake Off, and did not actually purchase one. Using a Dutch oven makes the whole process much quicker — only about 2.5 or three hours (Jennifer Garner said she prepared the stew for Victor Garber on a Saturday night "after a long week." I wonder what season it was). All I had was my slow cooker though, and a much longer cooking time (roughly two hours of prep, plus eight hours of cooking, so ten hours).
For my stew, I mostly followed Judy Kim's slow-cooker beef bourguignon recipe at Delish, but I also referred to Emma Christensen's recipe at the Kitchn. Christensen notes that you can sear the meat and sauté the vegetables the day before you cook them in your slow cooker, so on a Sunday, I went and purchased all of my ingredients, and began prepping.
I started with the vegetables and herbs, first cutting four carrots into one-inch pieces, slicing ten ounces of cremini mushrooms, mincing two cloves of garlic, and chopping up a tablespoon of fresh thyme. For the onions, Kim's recipe calls for little cipollini ones, but the smallest onions I could find at the store were boiling onions — regular onions that have been harvested when they're still young and small. The mesh bag I bought them in had a label that instructed me to remove the skins by boiling the onions for three minutes, cutting off the non-root end, and then squeezing them out. The bag sounded confident, so I followed its directions. It worked well.
Then, I embarked on an hour-long journey of discovery with oil. In the past, it has been nearly impossible for me to fry, sear, or sauté anything in a pan without something burning and setting off the fire alarms. After watching Julia Child's beef bourguignon episode of The French Chef though, I realized it was because I had not been using enough oil, and that I was setting the heat on my burner too high, immediately burning away what little oil I had.
So, with plenty of olive oil in the pan, I fried eight strips of thick-cut bacon, and then dried them on paper towels. It's important to use enough oil when frying the bacon, not only so you won't set off your fire alarms, but because you'll cook everything else in that remaining bacon grease.
When the bacon was done, I took out the two pounds of beef chuck I bought, which had been cut into roughly one-and-a-half-inch cubes, and patted each piece dry with paper towels, per both Judy Kim and Julia Child's instructions. "If you don't have the meat dry, you can't brown it because it's as though it were steaming," Child explained on The French Chef. "There's water on the bottom of the meat, and it just steams rather than browns." The browning gives a depth and complexity to the flavor of the stew, preventing it from tasting like boiled meat.
With Child's admonition to "not crowd the pan" in mind, I browned the bits of chuck in some bacon grease, four or five at a time, searing each side for two or three minutes. When the grease would start to overheat and smoke angrily, I turned the temperature down, and added more oil, and miraculously managed to cook all of the meat without a single fire alarm screaming at me.
When the beef was done, I dropped it in the slow cooker, and then poured some red wine into the pan to deglaze it, scraping around the edges with a wooden spoon. Deglazing gets all the brown, crispy bits off of the pan, and also cooks off the wine's alcoholic bite, so the flavor is more mellow. I poured the deglazing wine into the slow cooker, then added more bacon fat to the pan to sauté the vegetables. I sprinkled them with salt, and cooked them in two batches, for about five minutes each, until the edges of the carrots and onions were brown, and poured them into the slow cooker. I also added two tablespoons of tomato paste, two cups of beef broth, a bay leaf, and the rest of the bottle of wine.
Finally, for my last fry job, I added the last of the bacon grease to the pan, and sautéed the sliced mushrooms for about three minutes, until they were brown and soft, and then set them aside (the mushrooms and bacon don't go into the stew until the very end). At this point, Kim suggests mixing butter and flour in the pan to add to the mushrooms, but Christensen didn't have that in her recipe, and I was pretty tired of standing in front of the stove, so I skipped it, put everything away for the next day, and went to bed.
Would you like a quick break before I go on? Here's Jennifer Garner describing her first evening cooking Ina Garten's beef bourguignon for Bon Appétit:
I remember being in my little house listening to music and drinking a glass of gorgeous red wine. (Always cook with a wine you'd like to have at the table, right, Ina?)
So true. Isn't that a peaceful image? Okay, back to the cooking.
The next morning, I plugged in my Crock-Pot at 6 a.m., and set it on low for eight hours. I know this doesn't technically count as eight hours of me cooking, exactly, but it was eight hours I had to spend smelling the delicious, meaty aroma of the stew waft around my apartment without being able to eat it, which was extremely trying.
At 2 p.m., I cut up the strips of bacon and stirred them and the onions into the stew, tasted one bit of beef that burned off the skin on the left side of my mouth, let it cook for 15 more minutes, and at last, it was ready!
When I was in middle school and experimenting with cargo pants and a middle part, I was repeatedly assured by well-meaning adults that looks don't matter. This wasn't true at my middle school, where no one wanted to make out with someone who looked like Cousin Itt and whose thighs were adorned in 72 baggy denim pockets. But it certainly was true for this beef bourguignon. Yes, it looked like medical waste, but the taste was velvety smooth, a luxurious meat bath for my tongue. The umami of the meat, the sweetness of the onions, and saltiness of the bacon all shined without overpowering each other. My roommate had a bowl when she got home later, and said, "Holy shit," which is a very good review.
Was this stew worth ten hours of my life? Absolutely. And the flavor only improves with time. I've had beef bourguignon for lunch every day this week, and although a big bowl of hot meat in the middle of the day has certainly had a negative impact on my productivity, it's been very enjoyable.
If you want to listen to that Chainsmokers song on a loop instead though, I understand.
My Report Card
Preparation: B+
Taste: A
Meatiness: A+
My Overall Performance: A