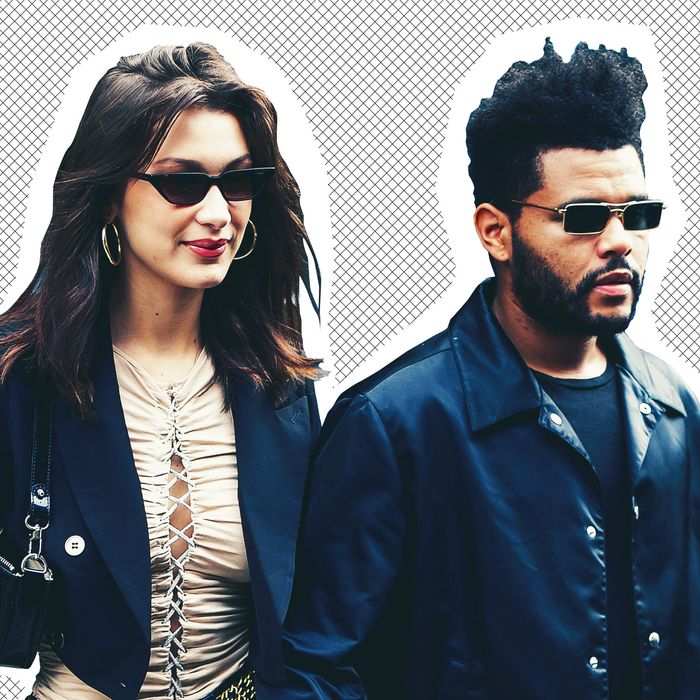 The summer of celebrity engagements is over, but now we are entering holiday season, which is when a lot of normal people get engaged. Will Bella Hadid and the Weeknd a.k.a. Abel Tesfaye be among them? Us Weekly says: yes!
The tabloid reported this morning that the Weeknd, 28, is planning to propose to Hadid, 22, ASAP. "They're madly in love with each other," a source told the mag. Well, great. The two have been dating on and off since 2016, though they took a long break last year, during which the Weeknd dated Selena Gomez. Now, however, they are fully committed to each other: Us Weekly notes that Hadid recently moved in with the Weeknd in New York. "He asked her to move in and she, of course, agreed," said a source. "She felt that this was the next best step in their relationship."
The New York Post, of course, has the details: The paper reported last month that the Weeknd rented a penthouse in Tribeca for $60,000 a month to share with Hadid. Jessica Biel and Justin Timberlake also have an apartment in the building, which has "a pool, a children's play room, a gym, a wine room." Congrats to everyone!
Us Weekly also reported this week that Chris Pratt and Katherine Schwarzenegger are going to get engaged "soon," but we knew that. A source told the tabloid that Pratt has been turning down work "so he can spend time with" Schwarzenegger. The mag also described Schwarzenegger as Pratt's "author love," which, I mean, technically, yes, she is an author, and she is his love, but lol. (Her titles include Maverick and Me, a children's book about her dog, and two self-help volumes: Rock What You Got and I Just Graduated … Now What?)
Paris Hilton, meanwhile, has ended her engagement to The Leftovers actor Chris Zylka. Did you remember that they were engaged? According to TMZ, she has yet to give back the $2 million pear-shaped diamond ring Zylka gave her (which he apparently got at a deep discount in exchange for providing the jeweler valuable Paris Hilton publicity).
—
Hailey Baldwin exhibited some interesting behavior on Instagram this week. First, she changed her name to @haileybieber, signifying once and for all that she is officially married to Justin Bieber, God help her. Then she accidentally followed a Selena Gomez fan account. (Gomez, of course, is Bieber's most significant ex-girlfriend: The two got back together for the last time — we can hope — at the end of last year, right after Gomez broke up with the Weeknd.) The fan account, @houseofsel, posted a screenshot of Baldwin apologizing for the follow. "hey followed you by accident so sorry!" she wrote.
Surprisingly, Baldwin did not immediately throw her phone in the ocean afterward. Instead, she continued to follow other people on Instagram, including the Democratic Socialist superstar and Congresswoman-elect Alexandria Ocasio-Cortez.
One small blessing from this week:
Mandy Moore got married in her backyard.
–
And here's an interesting blind item from this week, care of our favorite actress, Instagram personality, and late-night talk show host Busy Philipps. Earlier this month, Philipps appeared on the The Late Show With James Corden and revealed on air that 22-year-old Netflix heartthrob Noah Centineo "ghosted" one of her friends on Raya. Of course! This is the most Hollywood thing I have ever heard.
And then this week, Philipps appeared at the Vulture festival and said she felt bad for bringing up the ghosting story on TV, but then she gave us some more crucial clues: She noted that the friend is a writer on her show, Busy Tonight, and that she's in her 40s. That narrows it down quite a bit — there are only three writers on Philipps's show.
My guess is that Centineo was chatting with Kelly Oxford, 41, an author and social-media personality who writes for Busy Tonight. In June, TMZ reported that Oxford was dating DJ Flume, who is 26.
—
Finally, I'll leave you with this photo of Gwyneth Paltrow and her children Apple, 14, and Moses, 12, shopping in New York together on Monday. I hope you all get a chance to hit up the sales this weekend!
Thank you for gossiping this week, and happy Thanksgiving. Don't forget to email me at allie.jones@nymag.com, send me a message on Twitter, or contact me on Signal if you'd like to chat.