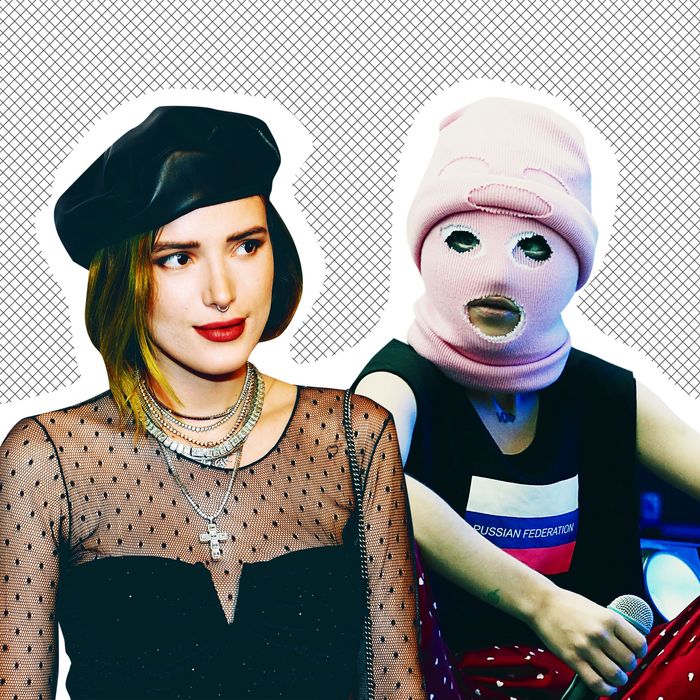 Bella Thorne and a member of Pussy Riot.
Photo: Getty Images
Like any prolific conflict, the feud between actress Bella Thorne and Pussy Riot, the Russian feminist punk rock protesting group, began with an invitation to Russia. Pussy Riot invited Bella to Moscow after pointing out on Twitter that Bella Thorne's new ski mask merchandise looked "exactly like" their "colorful feminist ski masks."
And that's not untrue — Pussy Riot is known for their brightly colored masks, which they wear during protests and performances. "We hope it's not merely an act of appropriation," they continued on Twitter. "And bella indeed will join pussy riot and protest with us on the red square."
Bella, in a masterful use of the English language, responded:
Bella's ski masks are part of a merchandise release for Filthy Fangs, the record label she is signed to. The masks, which are called "Watch Your Shit B**** Ski Mask" sell for $25, and feature "ff" sewn onto the front. Some pointed out that while the ski masks did look similar, calling it appropriation would be a bit of a stretch. "Trademark infringement maybe; copyright violation possibly. Appropriation?"
In fairness to Bella, and to hopefully offer potential peace, brightly colored ski masks aren't exclusively a Pussy Riot statement piece. They were worn in the end of that James Franco led fever dream Spring Breakers, and also sometimes, by people who ski. Let's hope we can find a resolution to this feud that involves both parties being able to cover their faces in brightly colored thread as much as they'd like.